14500 m2 care home for Skien Municipality
"The inauguration last week was the culmination of a visionary project that started with a competition back in 2017, followed by a great user process to lay the right foundation for the design process. The new care centre is centrally located in the city, so the synergy between life at the care home and the city has optimal conditions. We've had a great collaboration with our Norwegian partners and the developer and look forward to returning once the residents have settled in," says Janina Zerbe, Creative Director and Partner at KHR Architecture.
KHR Architecture was responsible for the concept and layout of the building, wooden facades facing the courtyard, fixed furniture and colour schemes.
In addition to the 112 residential units, there are common areas that can also be used by day users. There is a library, music and ceremony room, exercise room, among others, which provide the basis for an active life and social interaction, even without having to leave the property.
The Norwegian Minister of Health and Care Services, Ingvir Kjerkol, and the Mayor of Skien helped cut the ribbon and declare Kverndalen Bo- og Dagcenter open.
KHR Architecture has a long tradition of creating welfare architecture, including healthcare and hospital buildings, with a special focus on housing that supports social sustainability.
As more and more nursing home residents are affected by dementia, KHR Architecture works with experts in the field to create the best possible environment for residents, their relatives and carers. Read more about KHR Architecture here.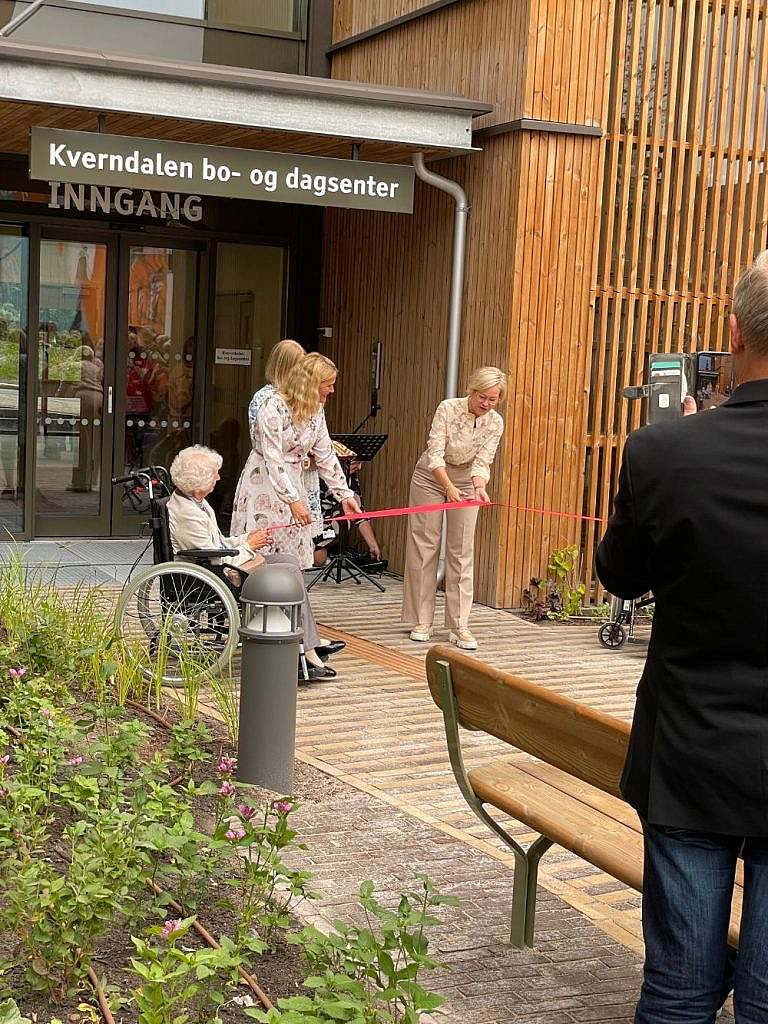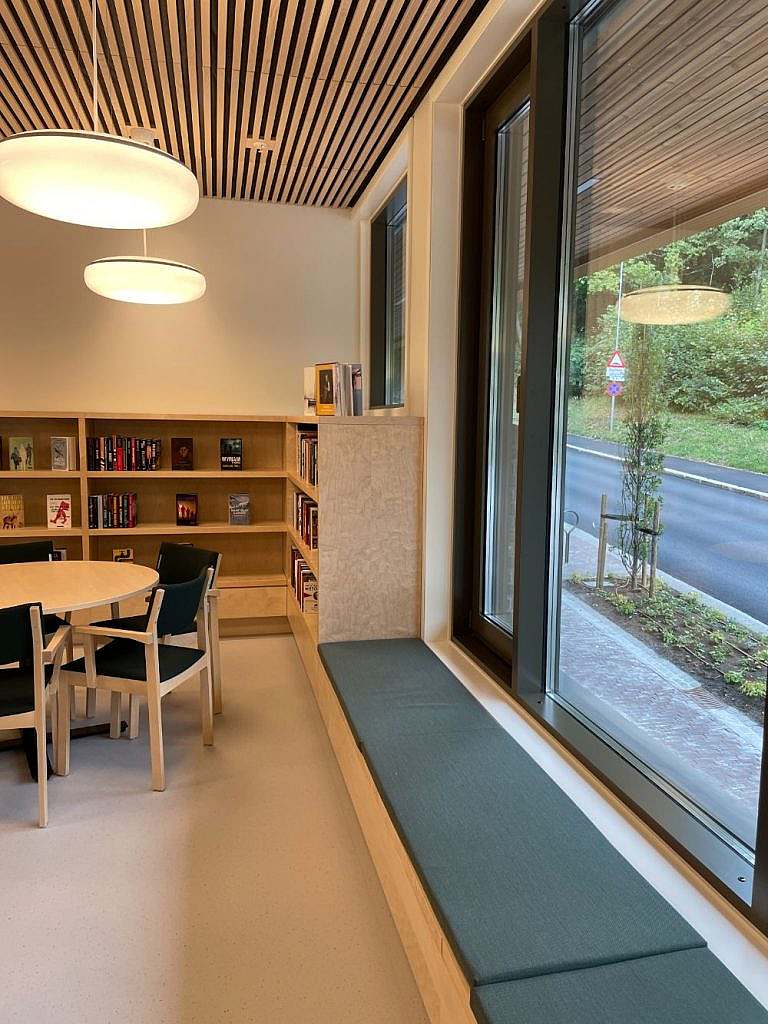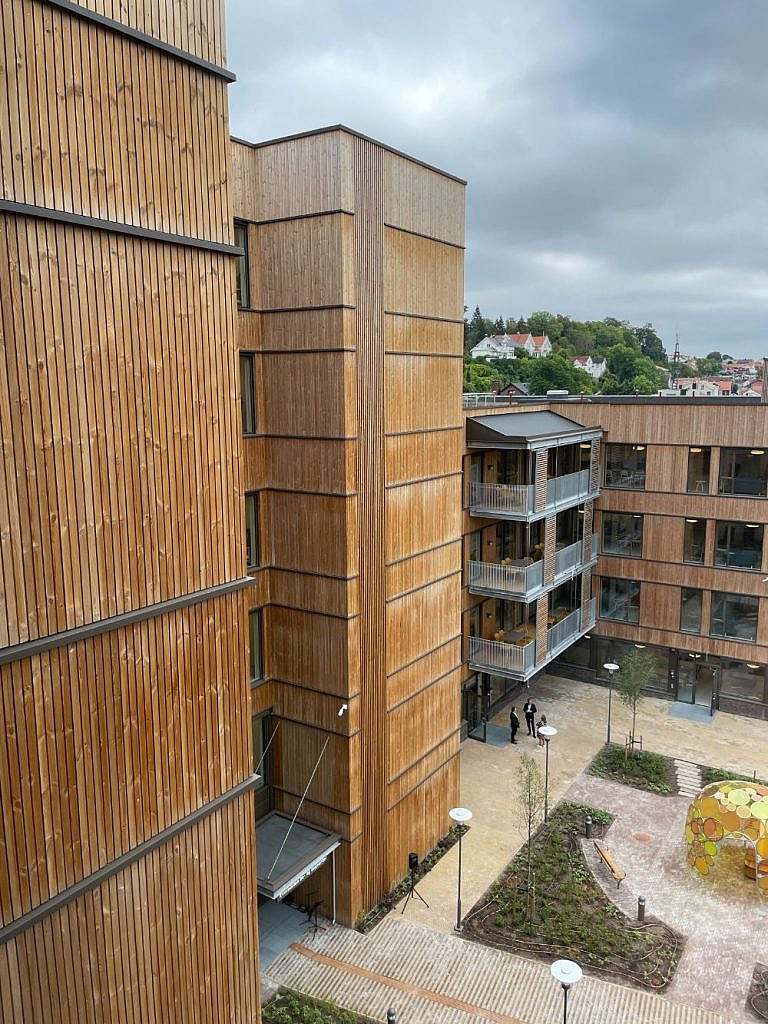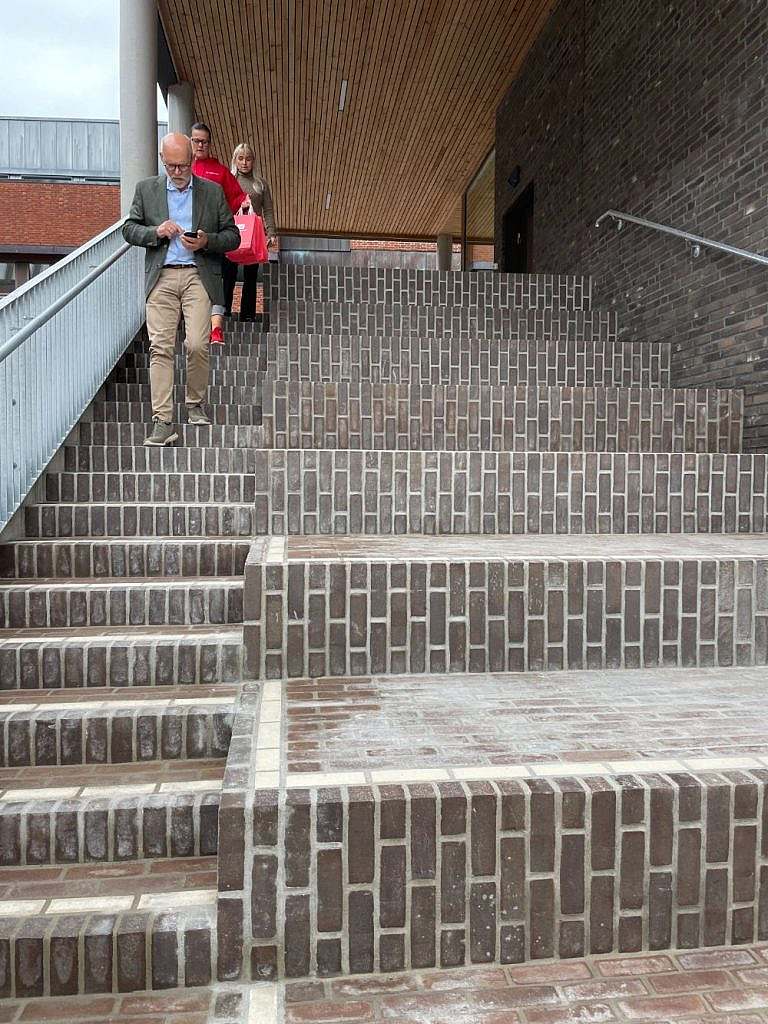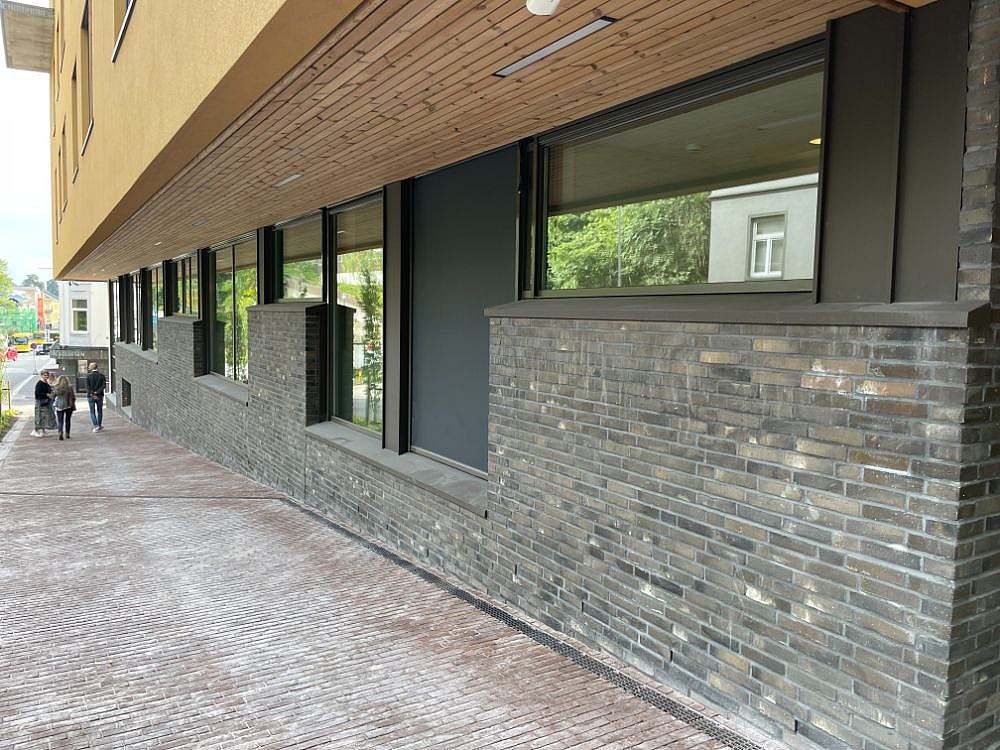 KHR Architecture to bid on AUH Psychiatry in Skejby
"This is fantastic news for our entire team of Amber Infrastructure Limited, Kemp & Lauritzen, Raundahl & Moesby, NIRAS and us at KHR Architecture! We are a strong team in securing a solid funding package over more than 25 years and our expertise in psychiatry and somatic will be a valuable resource.
We look forward to working closely with Central Jutland Region to deliver the best solution in the public-private partnership, which is in line with our long tradition of creating welfare architecture with people at the centre," says CEO Lars Kragh.
In July, the Central Denmark Region put a new contract out to tender for a public-private partnership (PPP) for an expansion of the psychiatric ward at Aarhus University Hospital with a new forensic psychiatric ward and an office area for clinical staff totalling approximately 4,500 m2.
Three teams have now been selected to work with the Central Denmark Region to clarify solutions and conditions for the construction before submitting a well-qualified final tender for the project in early 2024.
The new building will be built together with the remaining psychiatric facilities to ensure the daily function and internal logistics, and one of the judging criteria will also be how well they manage to create a design that fits in with the existing framework for AUH Psychiatry. The expansion is part of the nationwide effort to strengthen forensic psychiatry in Denmark, where KHR Architecture has been the total consultant and architect for Sct. Hans New Rehabilitation Psychiatrywhich in 2022 was named healthcare building of the year.

Read more about KHR Architecture's services in health buildings and see concrete project examples.
North German competition hat-trick
"We are very happy with our North German hat-trick. Competition is tough in Germany, so we have deliberately chosen to focus on Berlin and the North German region. With three projects within a limited radius, we are now reaping the synergies of this focus," says Partner and Creative Director Janina Zerbe from KHR Architecture.
KHR Architecture and bpplan architekten und ingenieure won another school project in the town of Sattrup earlier this year and last week announced that they have won the competition to redesign a large Olympic centre in Hamburg.
"Our proposed solution was significantly different from what the client had proposed in the project brief, so we were excited about the reaction when we personally went down to present the project to the jury. Fortunately, they really liked our project proposal, whose concept solves the task better than they had imagined possible."
"One of the key features is that the large sports hall will be half buried, so that one half can be covered with classrooms and the remaining part of the roof can be used as an outdoor area in extension of the schoolyard. The idea is to combine a solid steel base with a lighter wooden structure to give the building a lower carbon footprint and a lighter look. In this way, the relatively limited space on the site is optimally utilised and the new building will not appear too bulky."
"Now we need to put together a strong team for the tasks, so if you are an experienced architect or designer with German competences, you are very welcome to send us an application."

Read more about the project here.
Green light for the Gardener's Garden
"We are very pleased that Hvidovre's municipal council has given the green light for Gartnerhaven, which will create 600 new homes for the city and at the same time provide Hvidovre's citizens with more nature. We have been a consultant for Sweco on the extensive urban planning work that forms the basis for the entire project, and now we are looking forward to getting started on the fine 18,000 square metre housing project that we will design for our client Core Bolig X," says Torben JuulDesign Director and Partner at KHR Architecture.
KHR Architectures Urban planning expert Elisabeth Jeppesen has been responsible for the urban development process as a consultant for Sweco. She explains:
"Local plan 472 now makes it possible to realise a large nature area and several residential areas on an area east of Byvej and north of Brostykkevej, which was previously part of one of the Fingerplan's green wedges. The approximately 360,000 square metres of land, equivalent to about 50 football pitches, has previously been used for agriculture and horticulture, which has given the project its name. Within the entire area, only 100,000 square metres may be used for housing. This means that the majority of the large urban development area will be converted into a natural area that everyone can enjoy."
The masterplan for Gartnerhaven and the local plan are a collaboration between Stender, Plushusene and Core Housing X. In addition to the extensive overall and local planning work for Sweco, KHR Architecture has outlined an 18,000 square metre residential project for Core Bolig X on one of the area's four building sites.
"The Finger Plan was revised in 2019, and this has opened up the possibility of building on the edge of the green wedge if you also improve the quality of the area's nature. This not only secures 600 new homes, but also creates a natural area that benefits the entire neighbourhood. The agreement is that the developers are responsible for creating the nature area and then transfer the nature area free of charge to Hvidovre Municipality," explains Elisabeth Jeppesen from KHR Architecture.
"As an urban planning consultant, I have been involved in drawing up the masterplan, which today has resulted in a local plan that makes Gartnerhaven possible. Now I'm looking forward to the next phase, where KHR Architecture is the architect for one of the three housing projects to be built in Gartnerhaven."
Housing with a focus on wellbeing and community
"Core X Bolig focuses on developing affordable housing, while at the same time the architecture promotes community and contact with the new natural area," says Design Director and Partner at KHR Architecture, Torben Juul.
"By building both townhouses and apartments of different sizes, we create an environment that matches different needs and allows people to stay in the neighbourhood, even if they eventually need more or less space,"
"A total of 224 Swan-labelled homes will be built on our development site, all of which will have an outdoor space in the form of a balcony or terrace and the point houses will have green sedum roofs. Three different building typologies and shifts in the individual houses, as well as setbacks in the facade, will be used to create a more dynamic expression. Not least the interaction with the new nature will make this project something special, and I'm sure it will be an attractive place for families with children and others who want to live in green surroundings close to the city."
Background
What is KHR Architecture's role in the Gardener's Garden?
As a consultant, KHR Architecture has been involved in the development of the masterplan and local plan, as well as outlining one of the four construction projects to be built in Gartnerhaven for Core Bolig X.
Elisabeth Jeppesen from KHR Byplan has followed the project from master plan to finished local plan and, as a consultant for Sweco, guided the development team behind the project safely throughout the process, coordinated and delivered the deliverables and dialogue with Hvidovre Municipality's administration.
KHR Architecture is also the architectural consultant for Core Bolig X, the developer of 18,000 square metres of housing in Gartnerhaven.
What will be built in the Gardener's Garden?
There are a total of three building plots in Gartnerhaven, all of which are zoned for residential construction of a total of approximately 600 homes. KHR Architecture is the architectural consultant for the construction of building plot IIb with 32 terraced houses and 192 apartments divided into 3 main building typologies, all of which are three storeys high: Point houses, terraced houses and long houses. The townhouses are built around a centrally located distribution area and have green sedum roofs. The 32 terraced houses have south/southwest-facing terraces and classic pitched roofs with dark slate cladding, while the longhouses have a more modern, asymmetrical pitched roof. Both the townhouses and longhouses contain single-storey apartments of varying sizes. Read more about the project here.
What is the legal basis for Gartnerhaven in Fingerplan 2019?
Finger Plan 2019 § Section 18(9):
"The areas 1 and 2 at Byvej (Hvidovre Municipality) marked on map appendix E can be removed from the inner green wedges and transferred to the outer metropolitan area, rural area. A transfer of the areas to the outer metropolitan area, urban area and urban development on the areas requires that area 3 is permanently transferred from agricultural use to a green area for general, non-urban outdoor recreational use. In addition, a transfer requires that green connections and path connections are ensured from area 3 westwards towards the green wedges at Vestvolden. The stated prerequisites for area 3 must be fulfilled within 48 months from the entry into force of Fingerplan 2019. Otherwise, areas 1 and 2 will be returned to the inner green wedges.
What paved the way for the above change to the Finger Plan?
Following an enquiry from landowners in the area, Hvidovre Municipality entered into a dialogue with the Danish Business Authority about a change of use of the area east of Byvej and north of Brostykkevej in Hvidovre.
This resulted in section 18(9) of Fingerplan 2019.
What does the change mean in practice?
§ Section 18(9) allows for the transfer of parts of the inner green wedges east of Byvej to the outer metropolitan area, where housing can be built.
The area transfer and subsequent urban development requires that the majority of the area is permanently transferred from agricultural use to a green area for general, non-urban outdoor recreational use. This means that the principle of green wedges is maintained on large parts of the area and that urban development takes place in connection with the existing city.
The area where Gartnerhaven is to be established has until now been used for horticulture and agriculture. A total of four building plots have been zoned, owned and developed by Core Bolig X, Stender and NREP/Plushusene.
How did the new Local Plan 472 come about?
With the new Fingerplan 2019 in place, landowners, with the help of Urban planning expert Elisabeth Jeppesen prepared a joint masterplan for the area - both the residential areas and the nature area - and requested Hvidovre Municipality to prepare a new planning basis. Hvidovre Municipality decided to initiate the local plan process based on the master plan.
On 29 August 2023, a new local plan was adopted to realise the master plan's visions of a new large nature area and two new residential areas. The focus here is on developing an attractive nature and residential area with a focus on communities and recreational values, where the interaction between nature and the open residential structure gives the area some very special qualities.
Visualisation: The image on this page is a visualisation made for a local plan proposal and does not show the final project proposal. Image rights: Hvidovre Municipality
Wins redevelopment of Olympic base
"It's a great assignment in an international league that we are proud to have won and are very much looking forward to getting started. We don't have anything similar in Denmark, and it will be both fun and challenging to create a centre where top Olympic athletes can train, live and receive healthcare support," says Janina Zerbe, who as partner and creative director is primarily responsible for the project at KHR Architecture.
"The assignment spans a number of different building typologies and includes both renovation and new construction. The project is divided into five phases and has a total building area of 16,820 square metres with everything from sports and swimming pools to housing and underground parking. In addition, there are outdoor areas, including a number of outdoor sports facilities, which will be constructed in the final phase of the project."

"It is also part of the Olympiastützpunkt project to create a new space for the neighbourhood that both the athletes and the public can enjoy. We always think about our architecture in relation to its surroundings, so it's great that as part of the project we'll be helping to create outdoor spaces that will bring the whole area together, where a new primary school and media centre will also be built in the coming years."
"We won the contract together with our German partner bpplan, a smaller studio with good local knowledge and extensive experience in timber construction, which will be useful in the project. At KHR, on the other hand, we have experience with large-scale projects and the full range of typologies that the new Olympic Centre requires. In this way, our studios complement each other very well."
"The German market is highly competitive, so we have deliberately chosen to concentrate our efforts on Berlin and Northern Germany. It's great to see that the strategy is bearing fruit. Hamburg has many public construction projects to be realised in the coming years, so the Olympic Centre is certainly not the last project in the city we will bid on," concludes Janina Zerbe.
Facts about the project
Olympic base is a state-funded centre for top athletes from Hamburg and Schleswig-Holstein who participate in Olympic or Paralympic sports at an elite level. There is a special focus on the sports of beach volleyball, swimming, badminton and handball. In addition to training facilities, the centre offers services such as physiotherapy, sports medicine, psychology and nutrition. Athletes can stay on-site in the "athletes' house", which will be newly built in the third phase of the project.
New builds and remodelling will primarily take place in the western and northern part of the area and includes five sub-projects. It starts with the demolition of the existing Aqua Sport Hotel, followed by the construction of a new Olympic training centre. This will be followed by the construction of an underground car park, student housing and the 'athletes' house' residential complex, and finally, the existing swimming stadium will be expanded. The gross floor area is approximately 16,820 m².
Construction of outdoor areas includes additional sports areas, especially beach volleyball courts and, not least, a unifying square for the area, linking the Olympic Centre with a new primary school and a new media centre, which are being built in parallel as separate projects, an existing sports elite school and the main street Dulsberg Boulevard.
The entire area is located in the green belt, "Grünzug Dulsberg", which was created way back in 1918 as part of a then-new residential area.

The competition proposal was developed in collaboration with Alex and Odin Arkitekter.

See more of the project here.
KHR Architecture is looking for designers, architects, project managers and client advisors
We are looking for experienced people who, like us, are passionate about realising innovative, long-lasting architecture that makes a positive difference for users. You will be part of a team that works together with great professional and human integrity to promote good architecture through the projects we undertake for and with our clients. With us, there is room for creative expression, initiative and good colleagueship regardless of seniority or function.
Specifically, we are looking for experienced people for the following positions:
KHR Architecture is known for creating large-scale welfare architecture projects for public clients, especially hospitals and schools. Social sustainability has therefore always been a key focal point, which we now systematically incorporate into our processes and concepts. We are also increasingly solving projects for clients in the private sector, where you will work with residential projects or commercial buildings, such as domiciles, offices or retail; including transformation and space planning tasks. Together we will find the tasks that best match your competences and interests.

Are you looking for a position as a project manager? it is important that you have a good overview and strong communication and collaboration skills. You are able to successfully complete the project in all project phases on time and with the right architectural quality.
You ensure an ongoing dialogue and alignment of expectations with the customer, authorities, business partners and colleagues on the project, and you understand how to use each individual's skills and expertise optimally to ensure good dynamics in the project team - Read more here.
If you are looking for a position as a design engineer, you are You are an experienced Revit user with a flair for detail, preferably with a craft background. It would be an advantage if you are familiar with Molio's description tools. You may even be able to carry out calculations and financial estimates on projects. We emphasise that you have an architectural understanding and help ensure the architectural coherence of the projects from main idea to detail - read more here.
Are you looking for a position as a design architect? You must be able to ensure consistency between the main architectural idea and the project's detailing. You have a good understanding of constructability and project phases and deliverables. You can design in Revit, combined with Rhino/ Sketchup/ Nscape - read more here.
Looking for a position as a client advisor, you have a strong technical background, preferably an engineering background and many years of experience, e.g. from working with/at property companies, property funds and pension funds. It is natural for you to have professional customer contact - also in English - and you have a good commercial understanding of the customer's situation - read more here.
We offer flexible working conditions, freedom with responsibility and a professional but relaxed working environment with room for laughter. We go on annual study trips, have a delicious lunch scheme, good coffee, fresh fruit, a massage scheme and a Friday bar.

About us
At KHR, we challenge each other and our clients to realise the full potential of each project. We have the courage to innovate, while building on generations of architects and designers' experience of creating spaces and architecture for people through our 77-year history.
We offer a creative environment where architecture is in focus and constantly evolving. We endeavour to make good matches between the uniqueness of a project and the interests and skills of our employees. It is important to us that our employees thrive in the open and informal working environment and have the opportunity to further develop their competences. Right now, we are approximately 60 building designers, architects, engineers, consultants and administrative staff working in cosy offices in the Gunboat Houses on Holmen.
KHR Architecture will create a better environment for people with care needs
"We are seeing an increasing demand for homes and solutions tailored to groups with special needs. This is due to both the fact that there are more elderly people in Denmark today and a greater awareness of the importance of the physical environment for the residents' well-being and function in everyday life," says Design Director and Partner Torben Juul.
KHR Architecture is one of the oldest Danish architectural firms and has been designing welfare architecture for decades.
"Care architecture has always been a key focus at KHR. When we combine that with our competences in residential architecture and social sustainability and collaborate with experts in care architecture and dementia, we have the best possible starting point for creating the care homes of the future and more accessible public buildings and spaces," explains Torben Juul.
One of the experts is Louise Dedenroth Høj, a researcher and consultant in the field of senior housing and nursing home architecture. She holds a PhD from the Royal Danish Academy, where she focussed on homeliness in nursing homes and the dilemmas between institution and home in these types of architecture.
"I'm very much looking forward to putting my theoretical and practical knowledge into play in several concrete projects. It is important to create the right priorities that provide the optimal layout for both staff and residents when building new care homes. Through my research in nursing homes, I have experienced many things that don't work. I'm looking forward to being able to change that, so that more care homes feel like real homes."
KHR Architecture also has a close dialogue with the Dementia Alliance, which through its network is a great source for understanding the challenges in the municipalities and the specific needs of people with dementia, their relatives and caregivers.
More older people and more complex needs
Last year, DI Byggeri conducted a analysis, which shows that nationwide there will be a need for 12 per cent more care homes. In some municipalities, this figure is as high as 50 per cent, even though elderly people are staying in their own homes longer than before.
"In general, the health of the elderly has improved, but for those who need care, the pathways are more complex. For example, more people have dementia, simply because we are living longer. In fact, up to 80 per cent of all nursing home residents are affected by dementia, and this places very special demands on architecture and interior design," explains architect and researcher Louise Dedenroth Høj, who has written a PhD focusing on nursing home architecture.
It is precisely this more complex need that KHR Architecture will be even better at creating specialised architectural solutions for through the new collaboration.
"We always examine the needs of our users and the context in which a building is built, but the more specialised the user group we need to create a framework for, the more important it is to work with professionals and experts by experience," says Torben Juul and continues:
"We're already creating independent care homes with private developers, and I'm looking forward to bringing our specialised architectural advice to more developers who want to create modern care homes, either by adapting existing homes or building new ones."
You can read more about our services within care architecture or contact Torben Juul to find out more.
Dolomite houses receive DGNB Silver certification
Dolomithusene is a residential development in Ørestad, which now boasts a DGNB Silver certificate including a top score of 98 out of 100 possible points in the assessment of the building's life cycle cost (LCC). LCC looks not only at the cost of constructing the project, but also at the costs that await the owner when the building needs to be operated and maintained.
"At KHR, we've always focused on creating long-lasting architecture, so I'm very happy that life cycle costs are now more in focus. It promotes architectural and material solutions that are economical, aesthetic and sustainable also in a long-term perspective," says Janina Zerbe from KHR Architecture.
The architectural approach has made it possible to optimise the use of a difficult site by allowing the building to run across the entire site and orientate itself towards two streets. Skylights and roof terraces mean that the third facade is also utilised to create good light conditions and opportunities for outdoor living. All of which helps to support a good sense of well-being and the opportunity for good contact with other residents in the neighbourhood. The Dolomite houses also fulfil the DGNB Gold standard for process and social quality.

At KHR Architecture, we work with both DGNB and international certifications. Reach out to usClick here to learn more about the possibilities of getting your construction or renovation project certified.
Technical due diligence and extension consultancy
"Øens Pakhus is a beautiful, historic building, which naturally adds an extra dimension to our work as client consultants, where we have had some of our most experienced people carry out the technical due diligence process. We have also assessed the possibility of building an extension - both in terms of technical construction, but also in terms of ensuring a harmonious whole. Here we benefit from our close collaboration with our architectural colleagues in the building," explains Peter Nielsen, Partner at KHR Architecture and Director of Client Consultancy.
Øens Pakhus was built in 1903 with copper details, an ornate facade and a back building from 1965 that was awarded a prize by the City of Copenhagen. The almost 4,000 square metre building used to be a warehouse for Gyldendal's Publishing House, but today it serves as a showroom for a number of well-known fashion houses.
"The property fits well into our DNA, and it is with great pleasure that we add Lindgreens Allé 12 to our portfolio", says Claus Skytte, CEO of Vision Ejendomme in a press release.
If you need a client advisor in connection with a property transaction, don't hesitate to contact Peter Nielsen to learn more about what we can offer.
We have extensive experience in buyer and tenant counselling and can help with partial tasks or act as project managers throughout.