The vision for Kregmehusene is to create a special place that appeals to diversity and community. A place where people of all ages and backgrounds will be able to live out their dreams in a good, safe and community-oriented setting, where fellow human beings, nature and sustainability are key elements of the life lived. The development will be approximately 16,500 m2 with a combination of social and private housing in a delegated developer model.
By
Kregme
Country
Denmark
Client
Bo-Vita and Svanen Development
Year
2022
Area
16 500 ㎡
Sustainability
Strong and holistic sustainability focus
Partners
Sandkjær A/S
Services
Sketch project, main project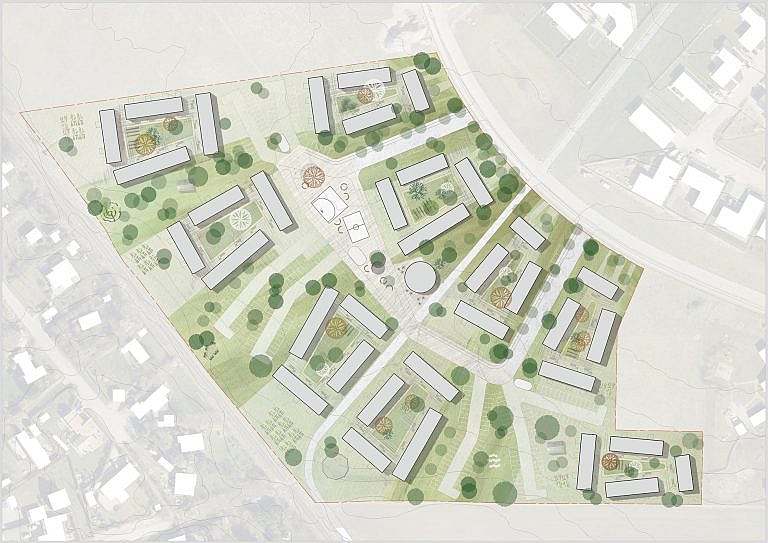 Sustainability as a guiding principle
Based on Halsnæs Municipality's visions for the development of the area, Kregmehusene has been developed from a holistic sustainability perspective, where not least social sustainability is in focus. The principles of DGNB certification are also being applied, and the ambition is for the building to be swan-labelled.
The architecture supports the sustainability ambitions through a long-lasting design and material choice that minimises operation and maintenance costs and ensures a long building life.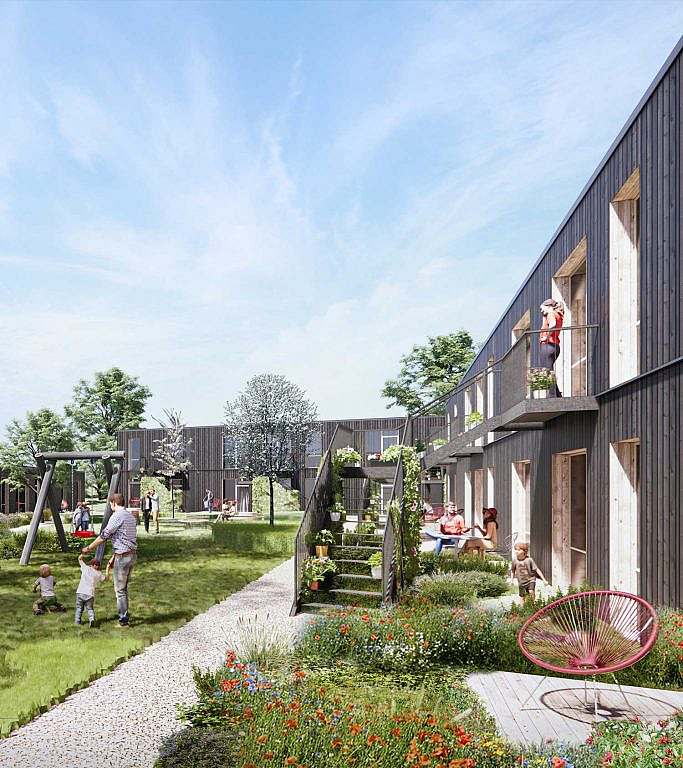 "The site plan creates a hierarchy of small and large communities, the largest of which cuts across the whole area and manifests itself at the heart of the development, where the large community centre of Kregmepark is also located."
A plan that supports the community
The Kregme houses are organised in courtyard clusters, providing smaller and manageable communities within the larger community. The apartment types are mixed so that each cluster achieves a diversity of resident composition.
All homes have both a private outdoor space and face the cluster's green courtyard, so you can alternate between privacy and community, depending on your needs and temperament, and meetings and relationships happen spontaneously.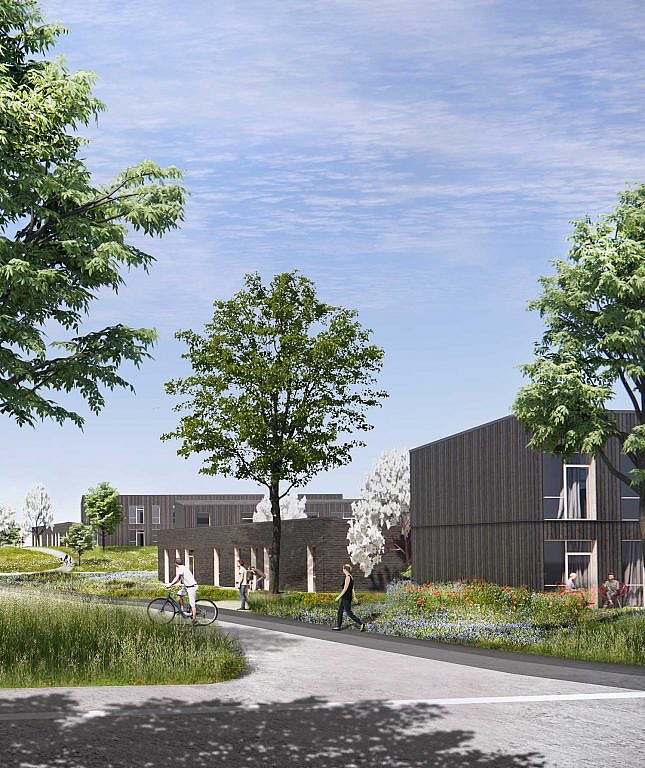 Integrated into the area and landscape
The buildings and landscaping are inspired by the classic farm motif and are based on Halsnæs' vision for the area. The Kregme houses will be uniquely situated in the beautiful landscape between Lake Arres and Roskilde Fjord.
The Kregme houses are integrated with the local area by allowing the public path system, which runs through the beautiful landscape from north to south, to pass through the Kregme houses' common areas.
The courtyard spaces are kept free of cars, allowing a community to develop around recreational functions in a safe courtyard environment.
The buildings are arranged as simple longhouses forming a series of thematic farm clusters in the landscape. Refined timber facades with a mix of vertical timber profiles, timber bays and brick facades nuance the experience depending on whether you are close or far away.