Grunwald's Garden will be a development of 223 youth housing units of 56 m2 each and a rehearsal stage for Østre Gasværk, drawing the creative environment right into the young residential environment. The building is located on the edge between Østerbro's and close to public transport.
By
Copenhagen
Country
Denmark
Client
Municipality of Copenhagen
Year
2024
Area
17 000 ㎡
Sustainability
Nordic Swan Ecolabel
Partners
UrbanLab, MOE
Services
Competition work, architectural advice, local plan, sketching, design, supervision and adaptation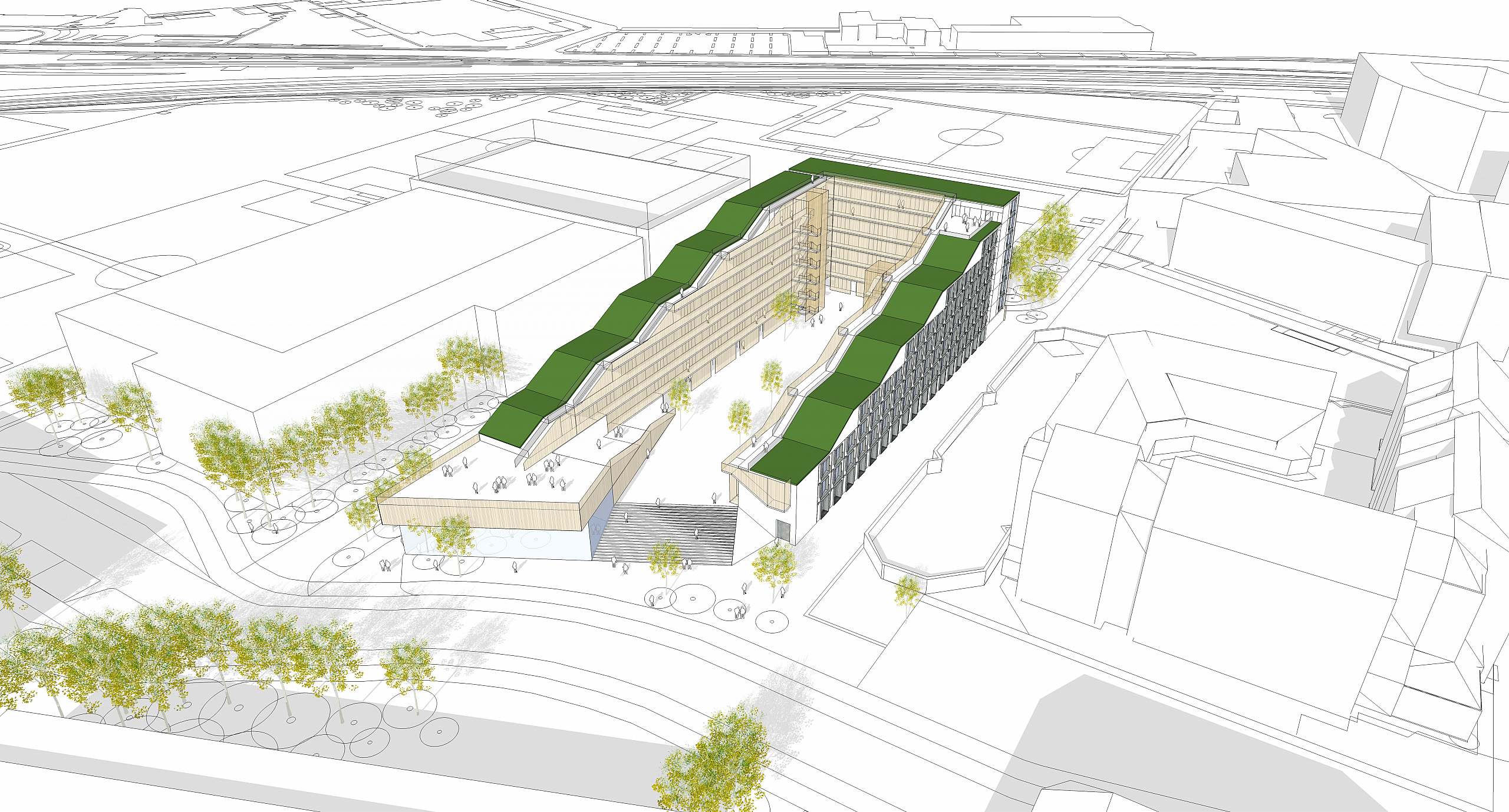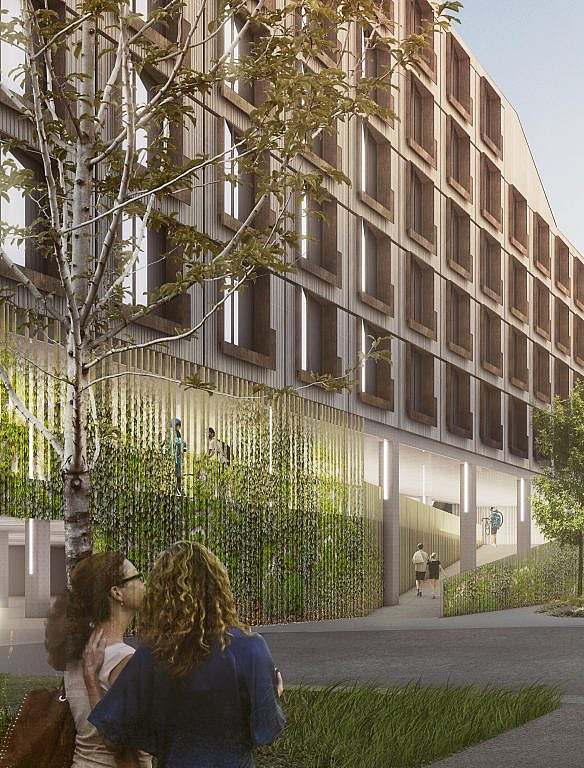 Insight to the rehearsal stage
By placing the youth housing together with the theatre's rehearsal stage, an interaction between the young people and the cultural institution Østre Gasværk is created, which benefits the whole area. A common terraced space will be created, which can be used for both living and small street theatre performances.
The rehearsal stage is equipped with large glass windows to the hall. Passers-by will thus have access to the auditorium, and the theatre will be able to open up onto the
surroundings. At the same time, we are also aware that the rehearsal situation is a vulnerable process that requires the possibility of shielding.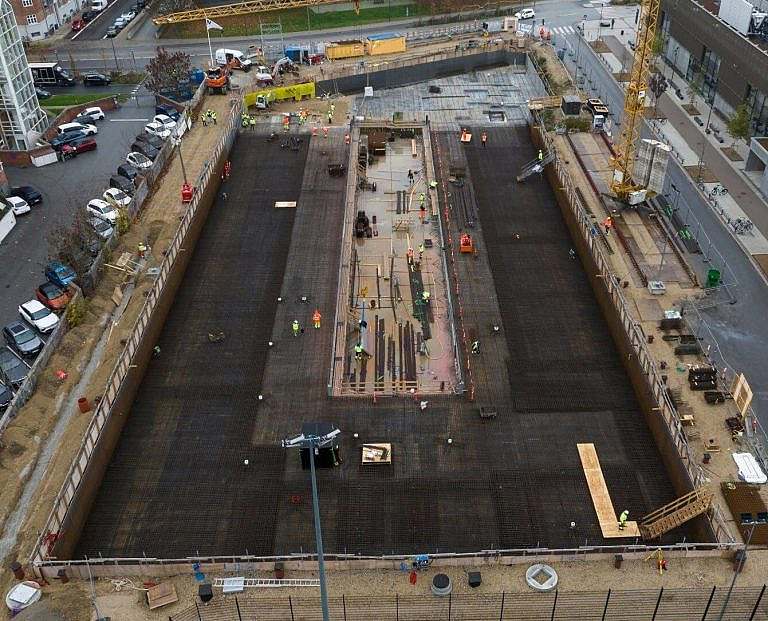 In Grunwald's Garden, youth housing is woven together with cultural life
The new youth housing will be established in connection with a modernised and multifunctional rehearsal stage for Østre Gasværks Teater. The construction will provide Copenhagen with more much-needed youth housing, and the young residents will have a home in an active district with unique opportunities to use the nearby sports facilities and cultural offerings. The housing will be in keeping with the open-plan character of the area, while the rehearsal stage will be linked to the theatre's characteristic free-standing volumes.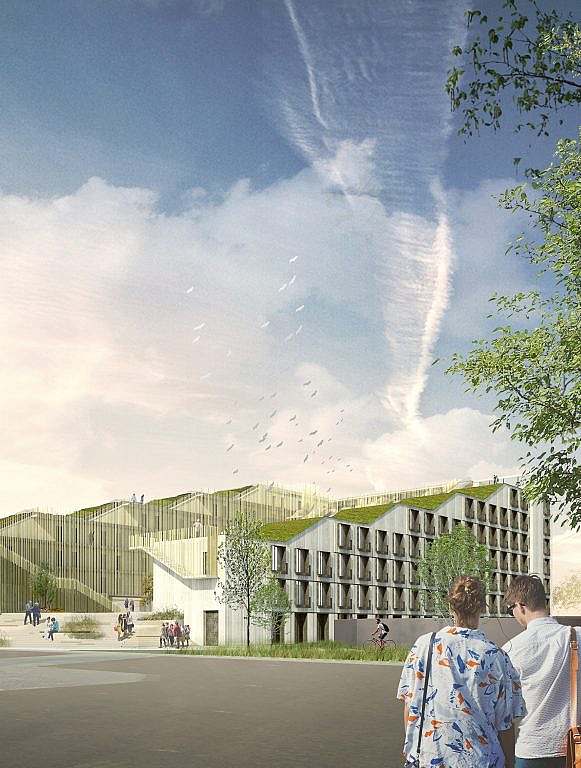 Large courtyard weaves functions together
The theatre's existing car parks are grouped together on two floors under the youth housing, in a landscaped plinth. A large staircase connects the courtyard of the plinth with the street and the entrance to the theatre, and opens up the possibility of using the staircase as seating for outdoor performances.
The form of the theatre sets it apart from the youth housing, but the functions are woven together around the large courtyard space, with opportunities for seating on a series of stairs and small multi-level squares, which also connect the building's residences via the undulating green roof.
Dronefotos: NRE