We provide holistic advice on sustainability in architecture and construction and help you put ideas into practice, so you reap the full value in both the short and long term.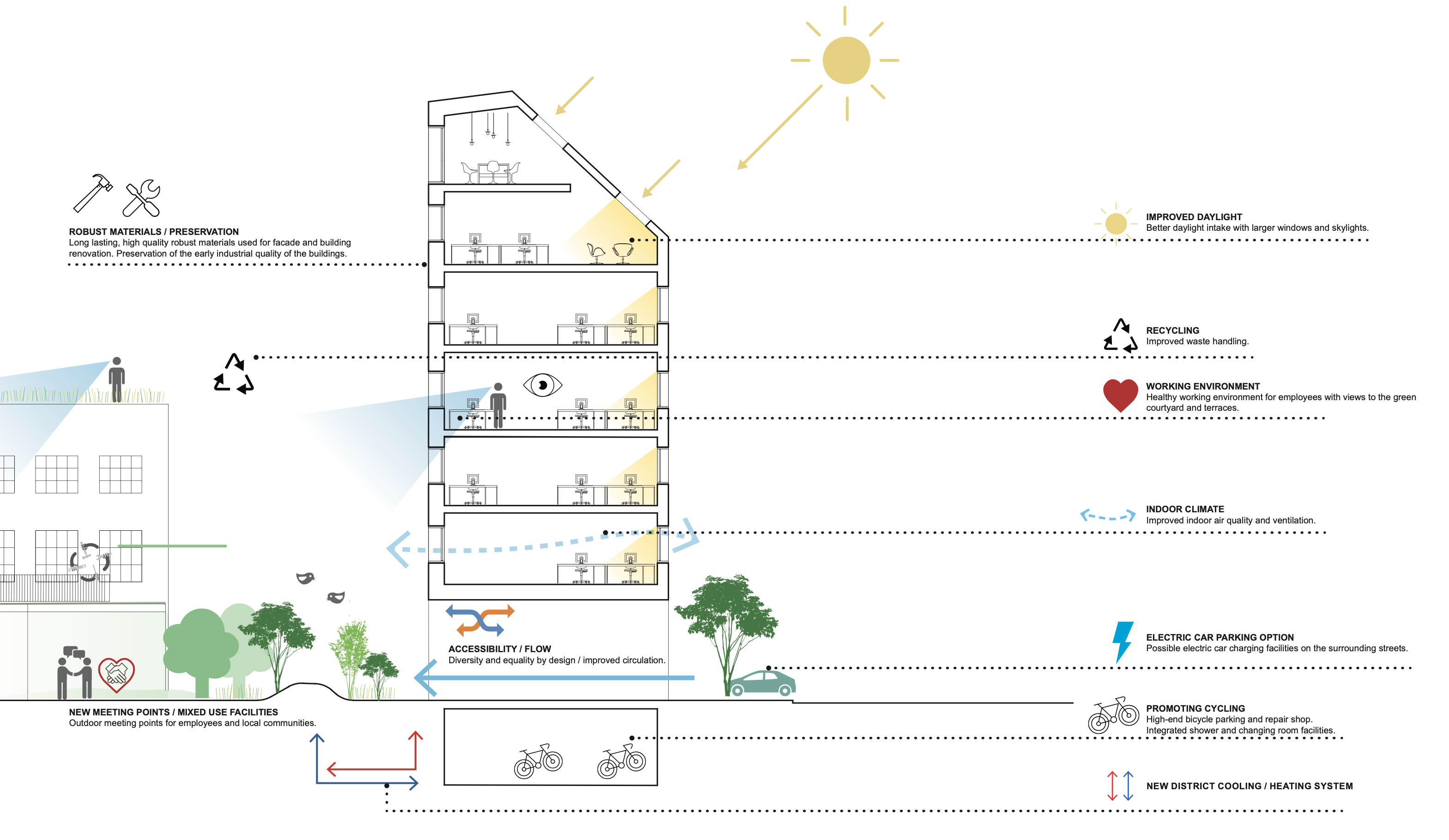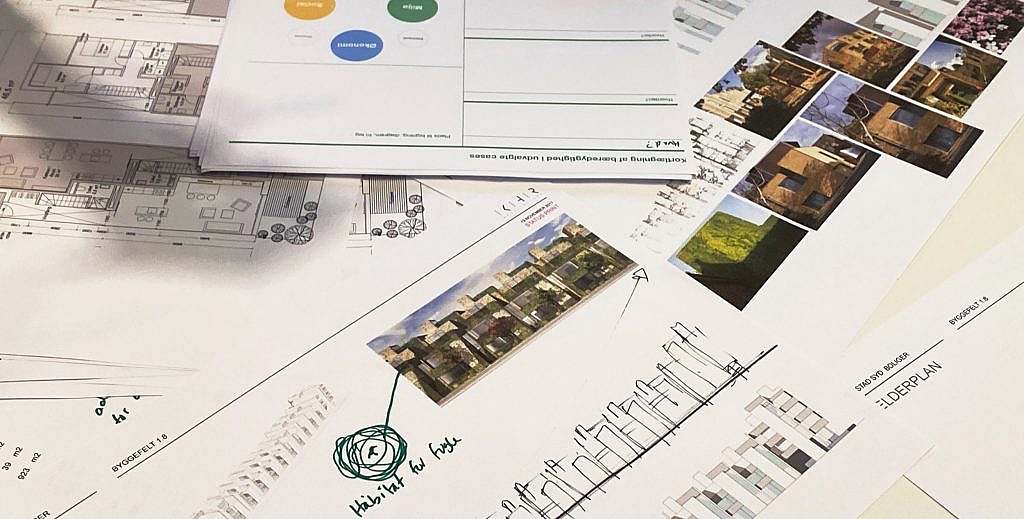 Sustainable construction is complex - we have the overview
Sustainability in architecture and construction is a complex area, and as a developer it can be difficult to see where the most sustainable value can be found in a specific project. We work with a holistic approach to sustainable architecture based on The 17 UN Sustainable Development Goals for sustainable development and EU Taxonomy.
Based on the concrete framework and opportunities, we ensure that the overall balance of environmental, social and economic sustainability is achieved. This applies to the short and long term, both of which play an important role in the overall sustainability profile of each project. Each project's sustainability profile and strategy is continuously supported by our Sustainability Technical Forum. This includes DGNB and LCA consultants as well as research expertise in the development and evaluation of sustainable solutions in architecture and construction.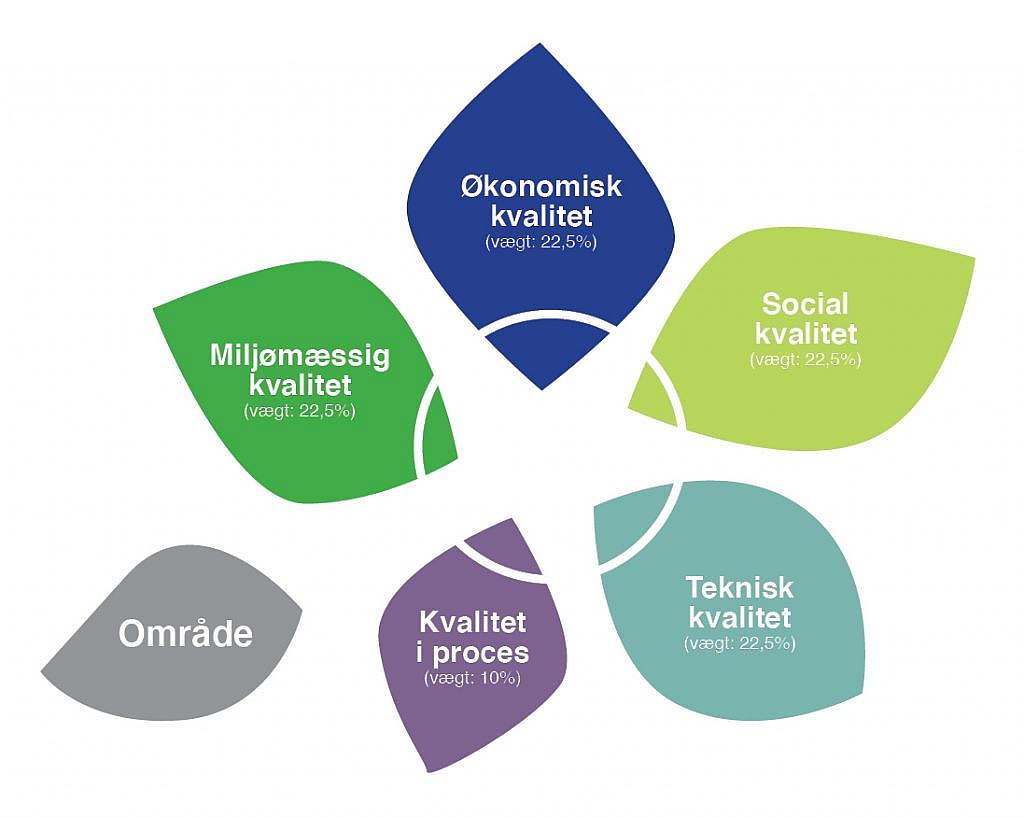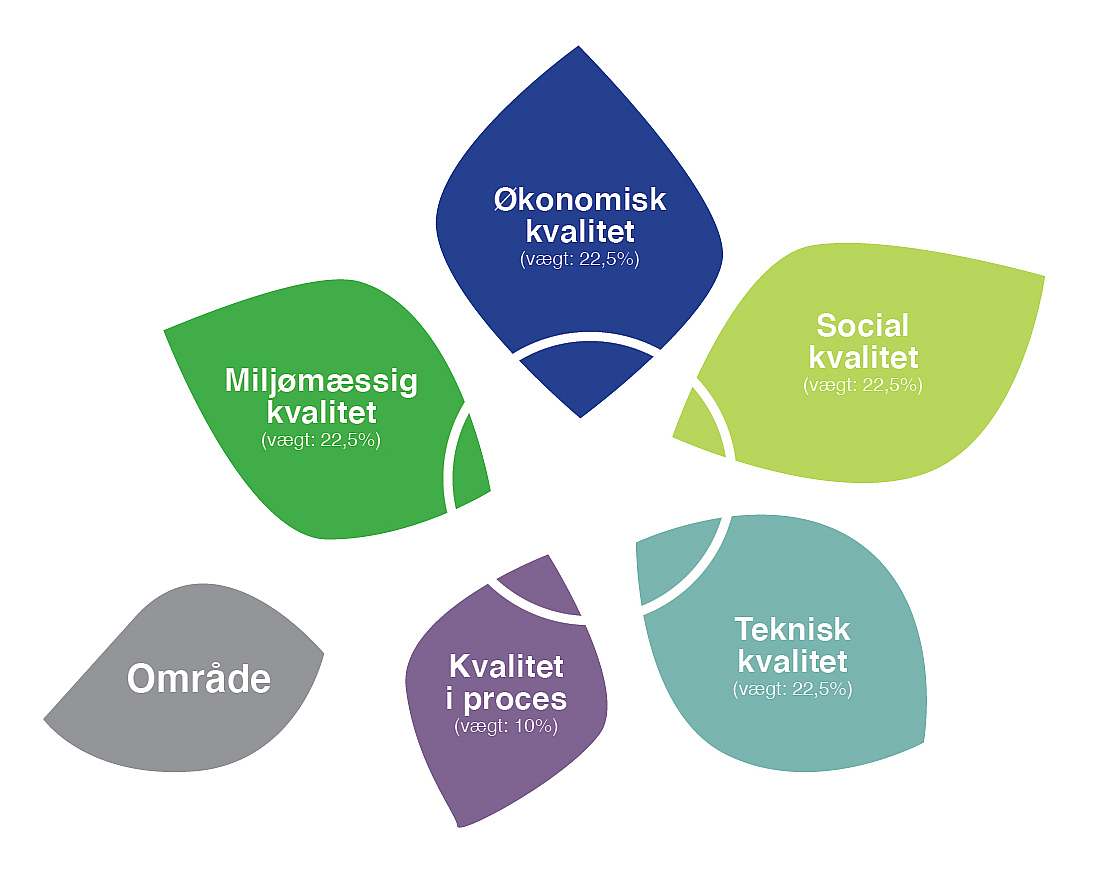 DGNB-certified consultants with 360-degree focus on sustainable architecture
Many of our clients demand Nordic Ecolabel or DGNB certification of their construction projects. We have in-house sustainability specialists trained to advise on building to the Swan or DGNB standards, which can be a useful guide even if the project does not need to be certified.
DGNB is a German non-profit organisation that works to promote sustainable construction, including through their certification scheme. DGNB is a leader in sustainability certification both internationally and in Denmark and is recognised worldwide for its unique holistic approach to assessing the sustainability of buildings. In addition to assessing a building's sustainability profile in a lifecycle perspective, DGNB is the only certification that gives equal weight to social and economic sustainability as to environmental sustainability.
We work with all three parameters in our projects - regardless of whether the building is to be certified or not.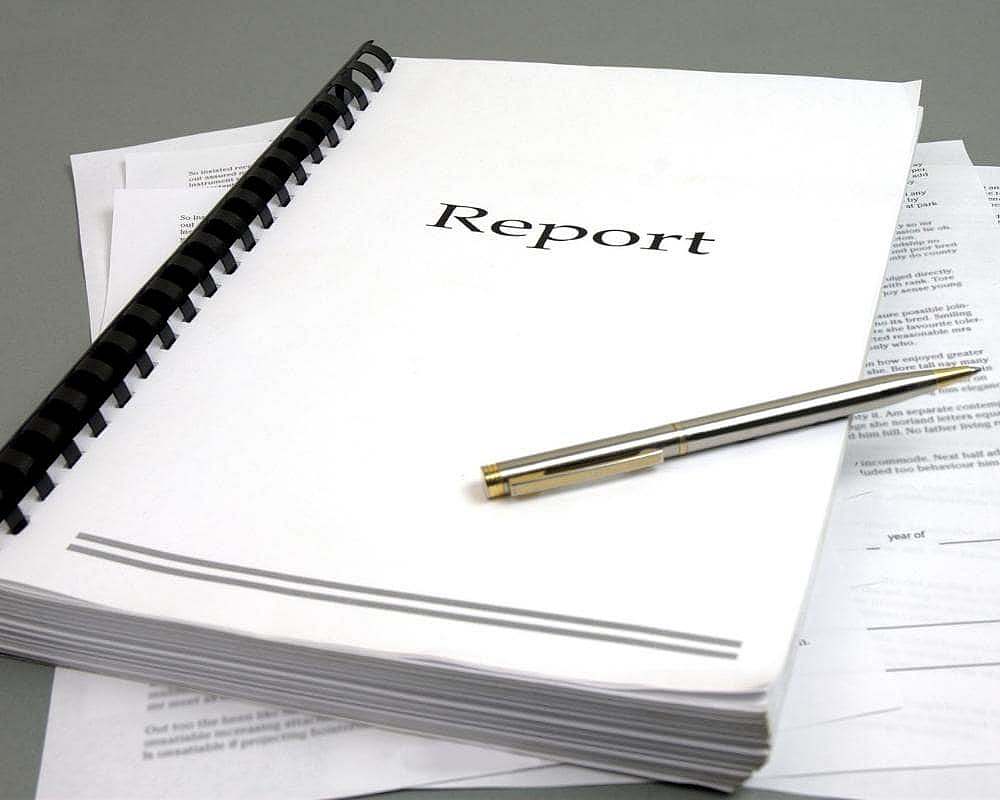 Få styr på LCA-kravene
Livscyklusvurderinger er blevet et krav for alt nybyggeri. Selvom CO2-grænseværdierne stadig er meget overkommelige, kan det virke uoverskueligt at skaffe den nødvendige dokumentation til en LCA. Vi hjælper jer med at tilrettelægge jeres projekt, så livscyklusanalysen indgår som et naturligt element, og I samtidig får mulighed for at høste afledte effekter af den viden, I indsamler til livscyklusanalysen.
Rent praktisk arbejder vi med nogle af de mest gængse LCA-værktøjer i branchen, herunder LCA Construction and One Click LCA.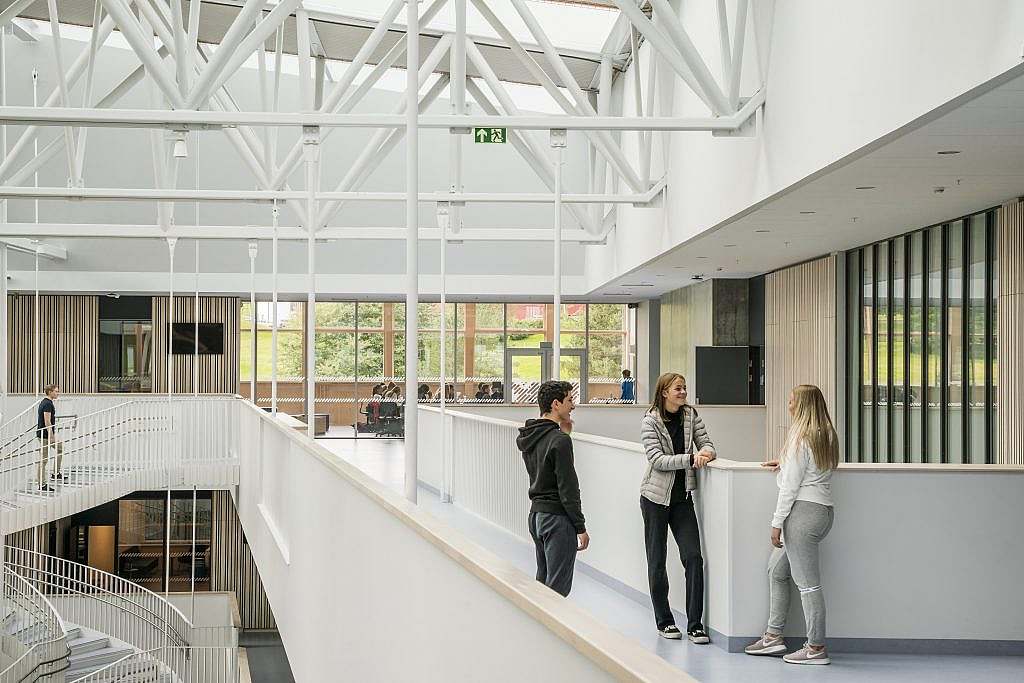 Social sustainability in architecture
Arkitektur skaber rammer for menneskers liv og trivsel - der hvor vi bor, uddanner os, arbejder eller bliver behandlet. Derfor tager vi udgangspunkt i at relationer, tilgængelighed og sociale forhold spiller en afgørende rolle for god bæredygtig arkitektur. Ved hjælp af brugerinvolvering og kvalitative undersøgelser afklarer vi sammen med jer som bygherre, hvordan vi med de arkitektoniske løsninger bedst muligt kan skabe et projekt, der bliver en succes for dets brugere og omgivelser..
Via our research unit we explore and document how our architecture can contribute to social sustainability. Naturally, we use this knowledge in our projects to create socially cohesive living environments, schools that provide space for togetherness and diversity, or children's hospitals where the child is child rather than patient.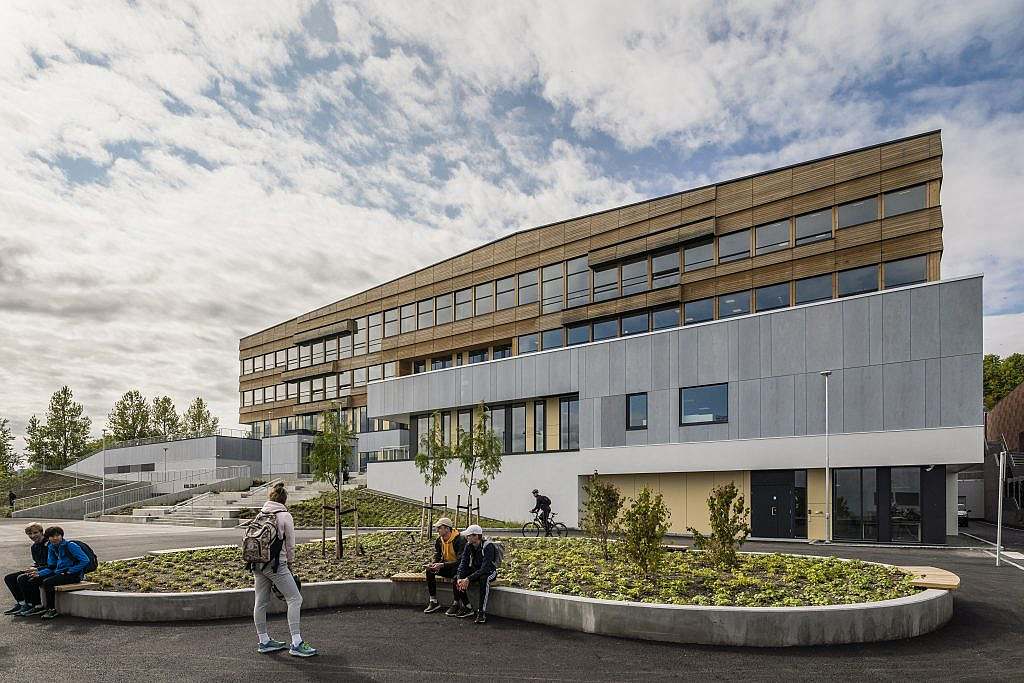 Environmental sustainability
The environmental dimension is the first thing many people think of when we talk about sustainable and green construction. Environmental sustainability in architecture is about creating healthy buildings with low energy consumption and with consideration for the climate and the environment - both backwards and forwards.
We look at the environmental impact of materials, how construction and building affect the local environment and focus on the whole life cycle from construction phase to operation and maintenance.
Precisely because the environmental impact of the materials used in construction represents a very large part of the building's environmental footprint, the lifetime of the building is crucial. We always create architecture that has a long life span in terms of function, aesthetics and durability - this has always been sustainable architecture.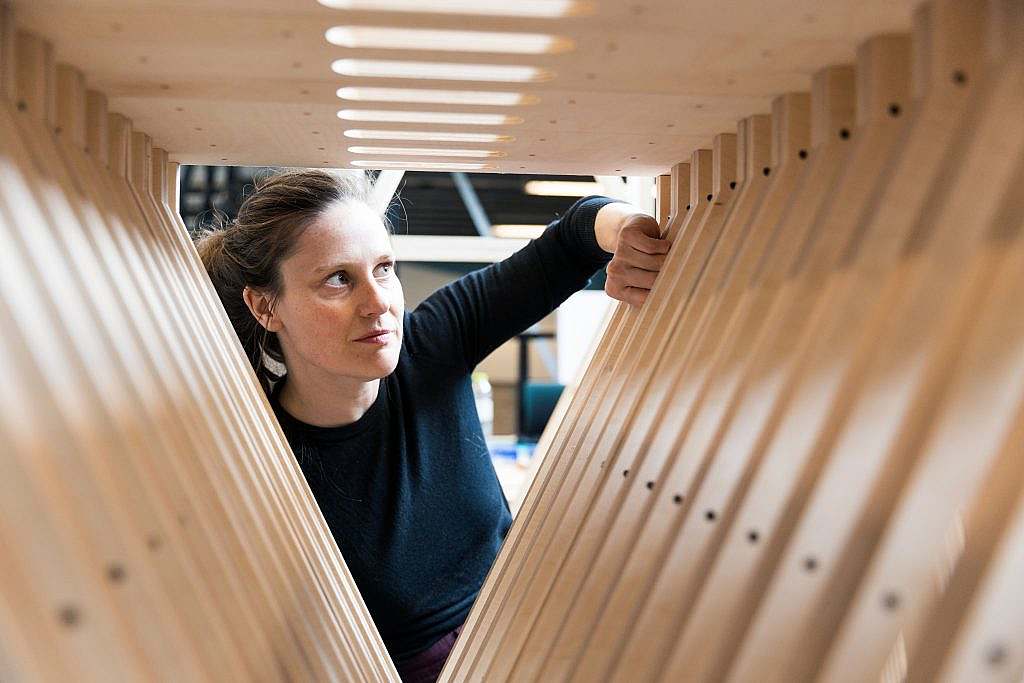 Sustainability Forum and Research
Sustainability in architecture and construction is a rapidly and continuously evolving field. In order to not only keep up, but also stay ahead, we have an internal sustainability professional forum and several ongoing research projects with a sustainability profile. In our Sustainability Professional Forum, we share knowledge and experience across our projects and professional profiles, and become skilled in the latest developments and knowledge in sustainable architecture.
Through our research projects, we gain experience, concrete solutions and knowledge that breaks the boundaries of current requirements and standards and puts us at the forefront of developments. Here we are working with innovative thinking in sustainable design processes and user involvement, new construction principles and materials, and adaptable art and daylighting solutions.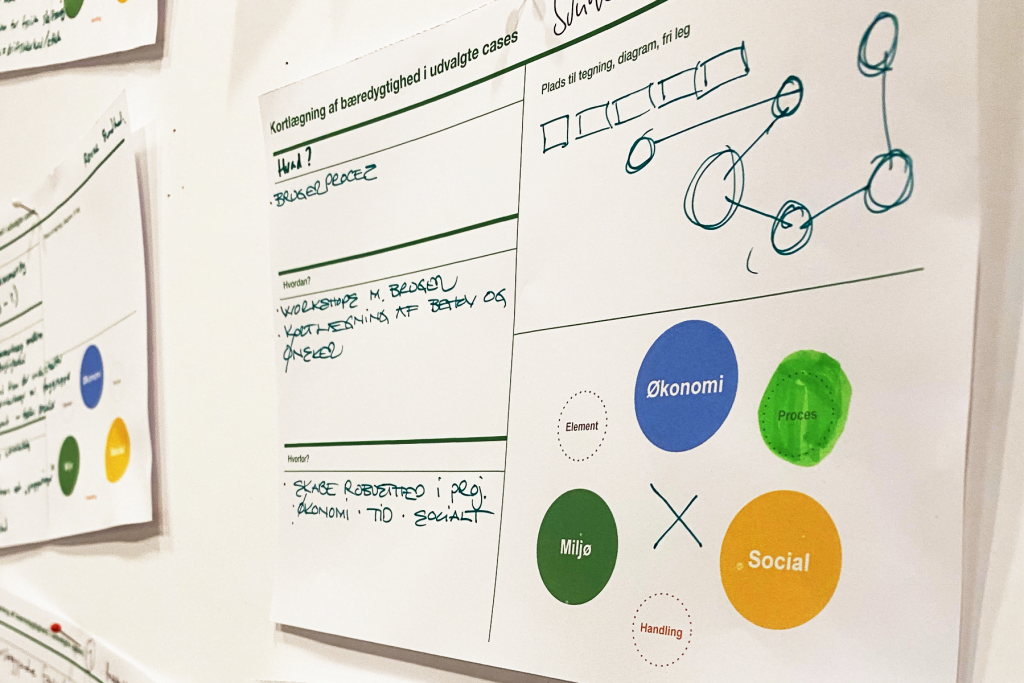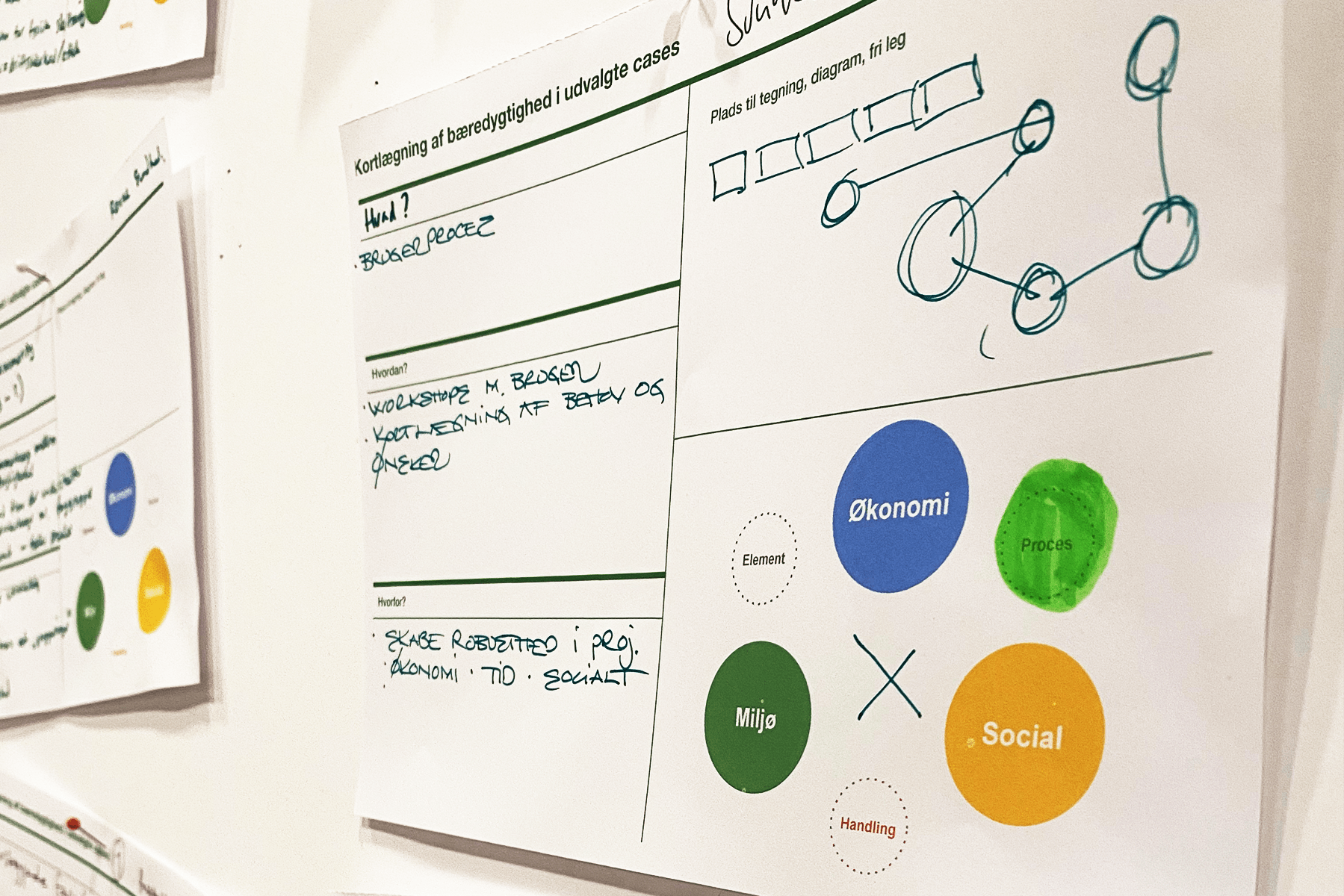 Economic sustainability
Economic sustainability is almost always a prerequisite for a building with good environmental and social sustainability to be realised at all and to have the long and thus sustainable life span that we aim for with our architecture.
Economic sustainability is almost always a prerequisite for a building with good environmental and social sustainability to be realised at all and to have the long and thus sustainable life span that we aim for with our architecture.
The spread of sustainable construction depends on us as architects also focusing on our client's budget and helping to find solutions where the three dimensions go hand in hand.
Economic sustainability is not only about the cost of building, but also very much about the subsequent costs of operation, maintenance and social impact. There is often good synergy between environmental and economic sustainability, for example in creating low energy buildings that benefit both the environment and the operating budget.