We provide holistic advice on sustainability in architecture and construction and help you put ideas into practice, so you reap the full value in both the short and long term.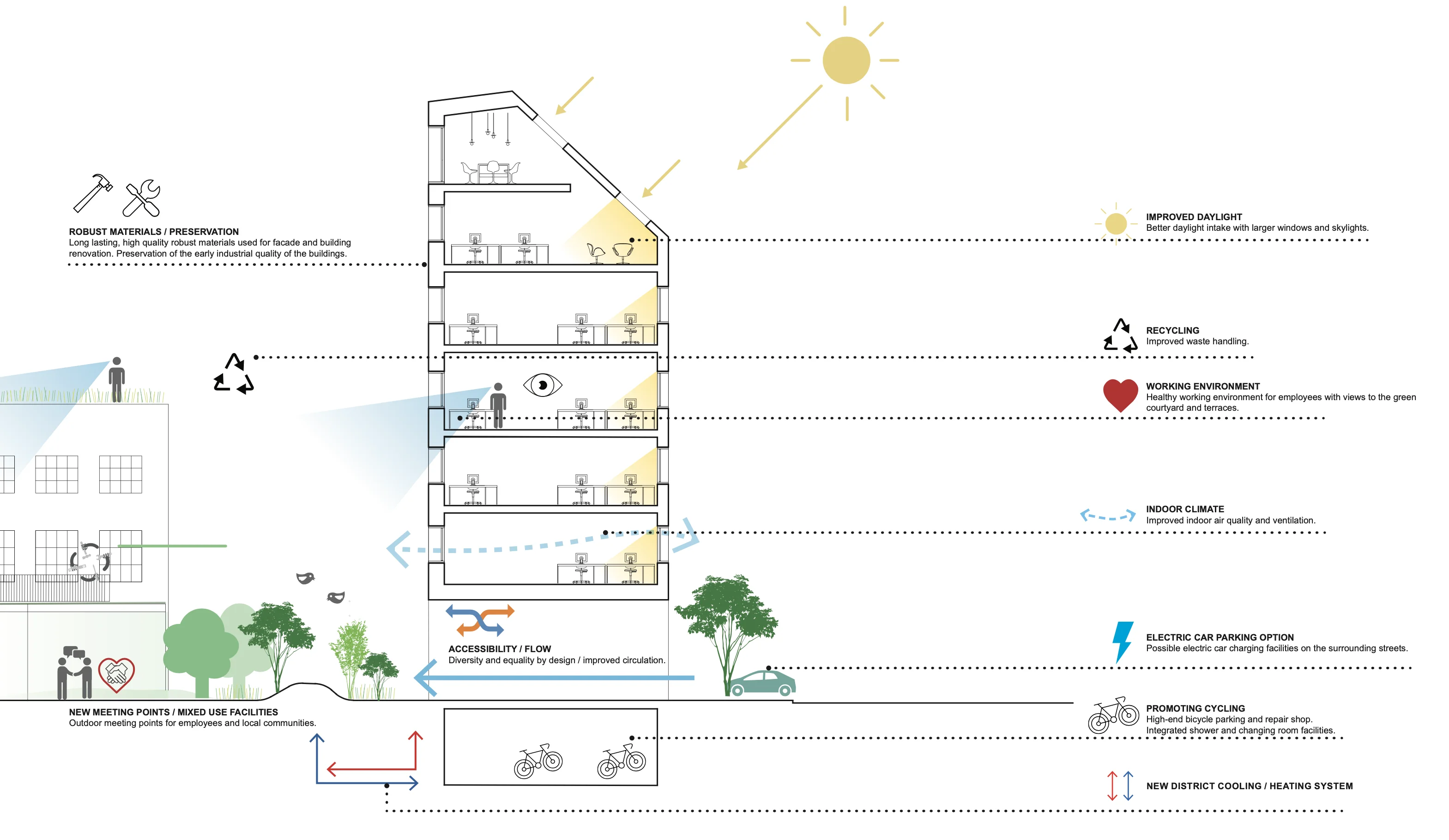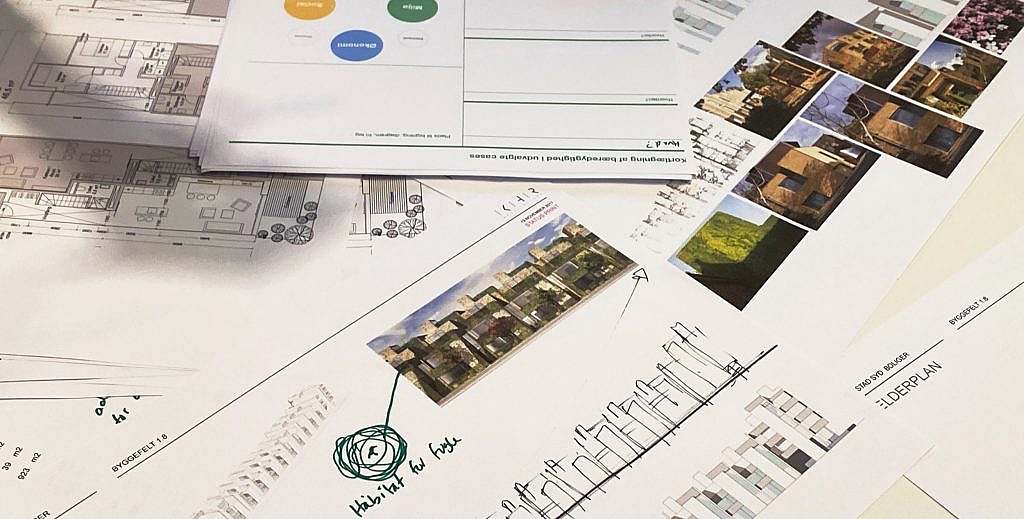 Sustainable construction is complex - we have the overview
Sustainability in architecture and construction is a complex area, and as a developer it can be difficult to see where the most sustainable value can be found in a specific project. We work with a holistic approach to sustainable architecture based on The 17 UN Sustainable Development Goals for sustainable development and EU Taxonomy.
Based on the concrete framework and opportunities, we ensure that the overall balance of environmental, social and economic sustainability is achieved. This applies to the short and long term, both of which play an important role in the overall sustainability profile of each project. Each project's sustainability profile and strategy is continuously supported by our Sustainability Technical Forum. This includes DGNB and LCA consultants as well as research expertise in the development and evaluation of sustainable solutions in architecture and construction.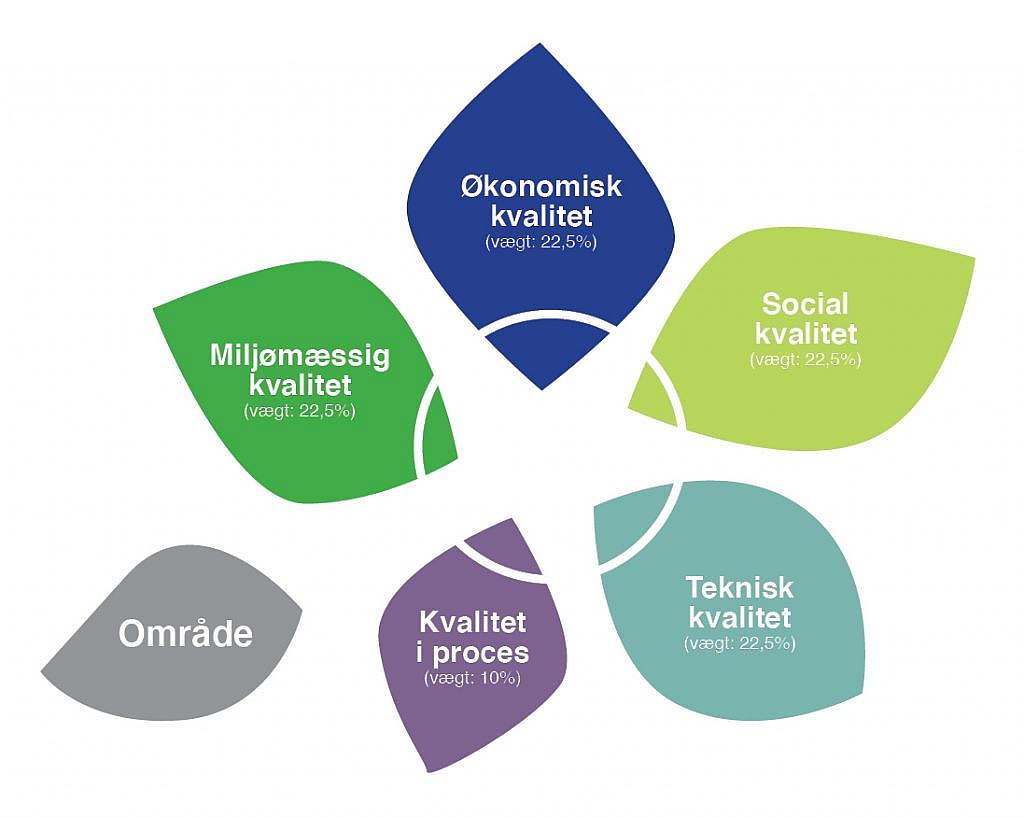 DGNB-certified consultants with 360-degree focus on sustainable architecture
Many of our clients demand Nordic Ecolabel or DGNB certification of their construction projects. We have in-house sustainability specialists trained to advise on building to the Swan or DGNB standards, which can be a useful guide even if the project does not need to be certified.
DGNB is a German non-profit organisation that works to promote sustainable construction, including through their certification scheme. DGNB is a leader in sustainability certification both internationally and in Denmark and is recognised worldwide for its unique holistic approach to assessing the sustainability of buildings. In addition to assessing a building's sustainability profile in a lifecycle perspective, DGNB is the only certification that gives equal weight to social and economic sustainability as to environmental sustainability.
We work with all three parameters in our projects - regardless of whether the building is to be certified or not.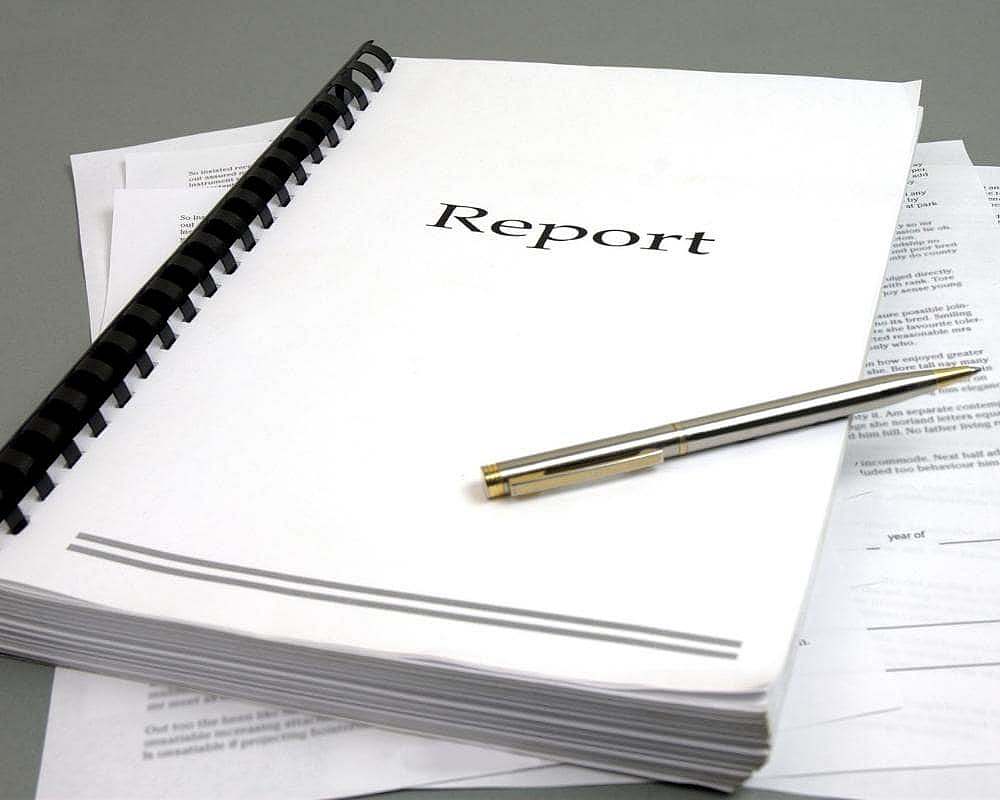 Getting to grips with LCA requirements
Life cycle assessments have become a requirement for all new buildings. Although CO2 limits are still very affordable, obtaining the necessary documentation for an LCA can seem daunting. We can help you organise your project so that the LCA is a natural part of the project and you can reap the benefits of the knowledge you gather for the LCA.
In practical terms, we work with some of the most commonly used LCA tools in the industry, including LCA Construction and One Click LCA.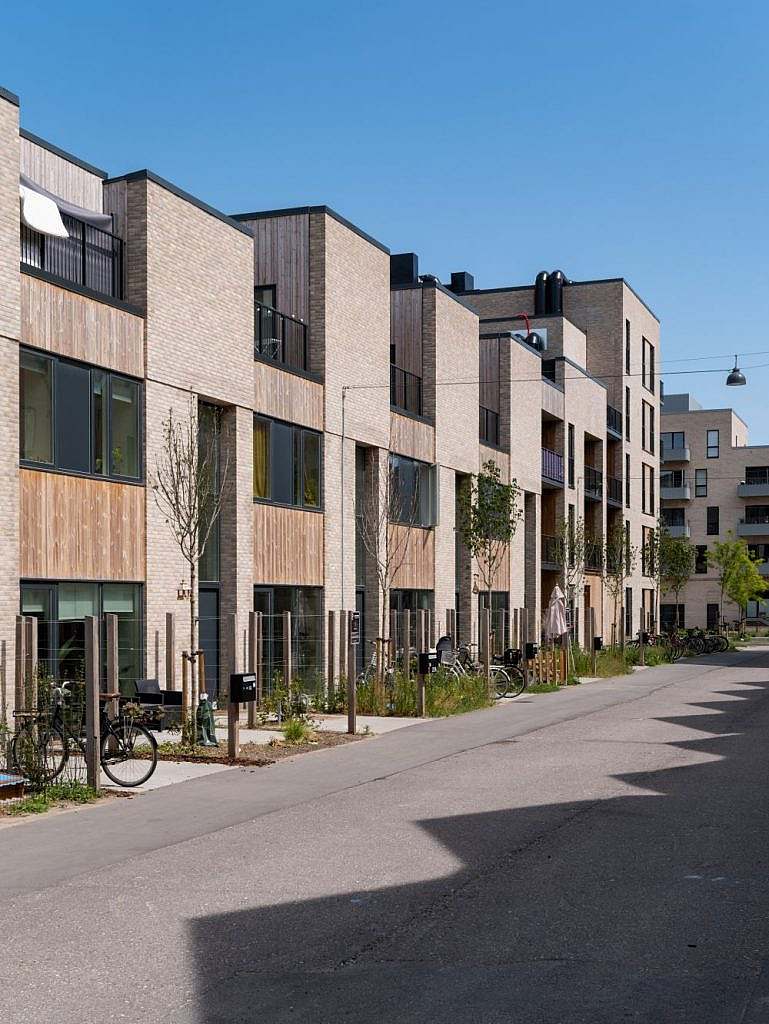 Environmental Product Declarations (EPDs) are part of the building's LCA
EPD stands for Environmental Product Declaration and documents the environmental properties of a building product.
The basis of an EPD is a life cycle assessment of the product from production to disposal and the LCA of the individual products thus becomes an essential part of the entire building life cycle assessment.
There are both general product EPDs, which represent an average for a product type, and specific product EPDs, which naturally provide a more precise calculation. Industry EPDs are typically used in the early stages of a project, when you haven't yet decided on specific products, and in the later stages if you want to use a product that doesn't have an EPD.
Among other things, we use a material platform like Revalu to make environmentally sound choices when designing and planning.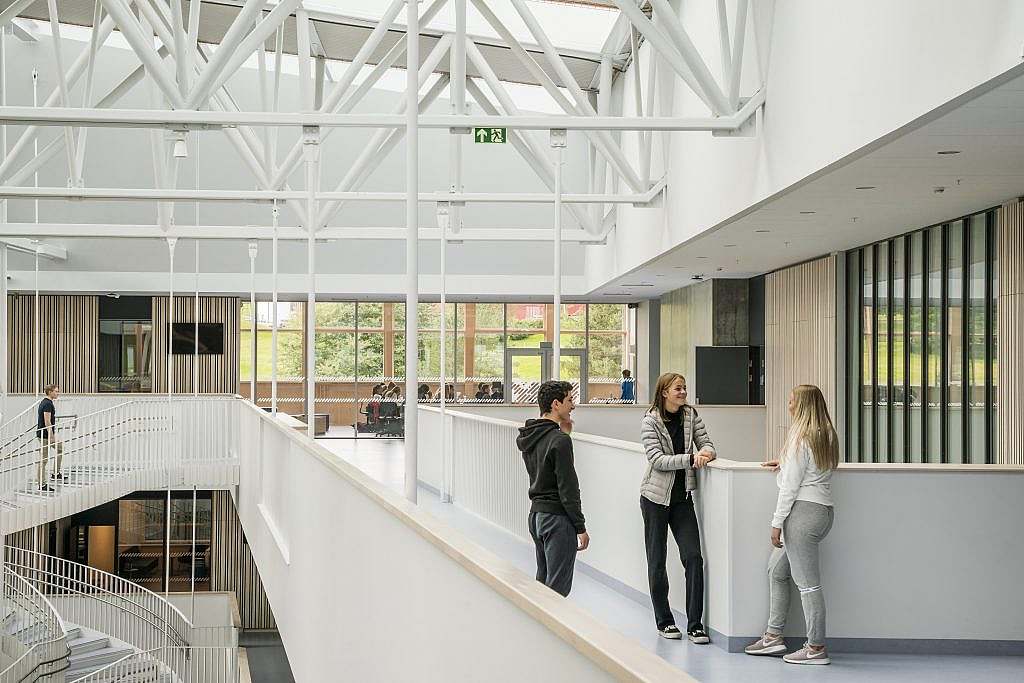 Social sustainability in architecture
Architecture provides a framework for people's lives and well-being - where we live, learn, work or are treated. Therefore, our starting point is that relationships, accessibility and social conditions play a crucial role in good sustainable architecture. With the help of user involvement and qualitative studies, we clarify with you as the client how we can use the architectural solutions in the best possible way to create a project that will be a success for its users and surroundings.
Via our research unit we explore and document how our architecture can contribute to social sustainability. Naturally, we use this knowledge in our projects to create socially cohesive living environments, schools that provide space for togetherness and diversity, or children's hospitals where the child is child rather than patient.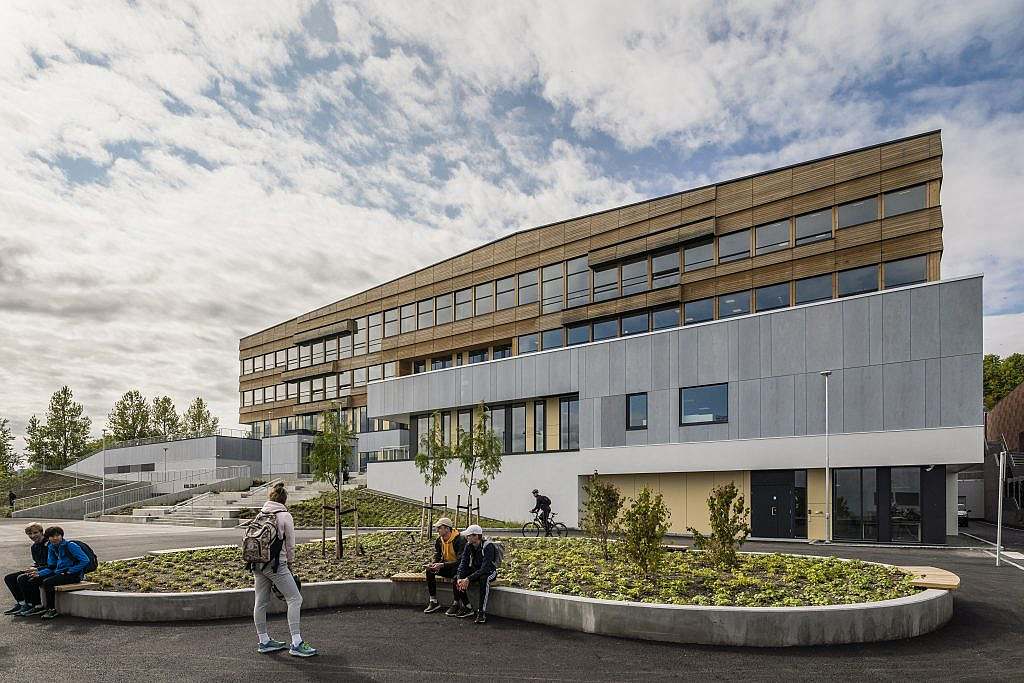 Environmental sustainability
The environmental dimension is the first thing many people think of when we talk about sustainable and green construction. Environmental sustainability in architecture is about creating healthy buildings with low energy consumption and with consideration for the climate and the environment - both backwards and forwards.
We look at the environmental impact of materials, how construction and building affect the local environment and focus on the whole life cycle from construction phase to operation and maintenance.
Precisely because the environmental impact of the materials used in construction represents a very large part of the building's environmental footprint, the lifetime of the building is crucial. We always create architecture that has a long life span in terms of function, aesthetics and durability - this has always been sustainable architecture.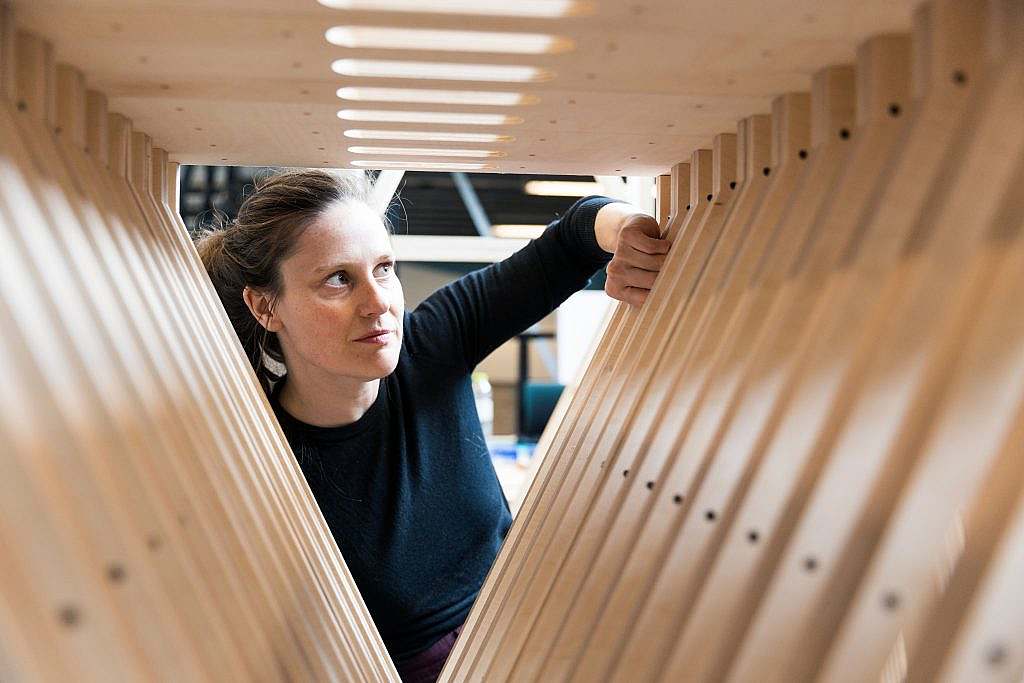 Sustainability Forum and Research
Sustainability in architecture and construction is a rapidly and continuously evolving field. In order to not only keep up, but also stay ahead, we have an internal sustainability professional forum and several ongoing research projects with a sustainability profile. In our Sustainability Professional Forum, we share knowledge and experience across our projects and professional profiles, and become skilled in the latest developments and knowledge in sustainable architecture.
Through our research projects, we gain experience, concrete solutions and knowledge that breaks the boundaries of current requirements and standards and puts us at the forefront of developments. Here we are working with innovative thinking in sustainable design processes and user involvement, new construction principles and materials, and adaptable art and daylighting solutions.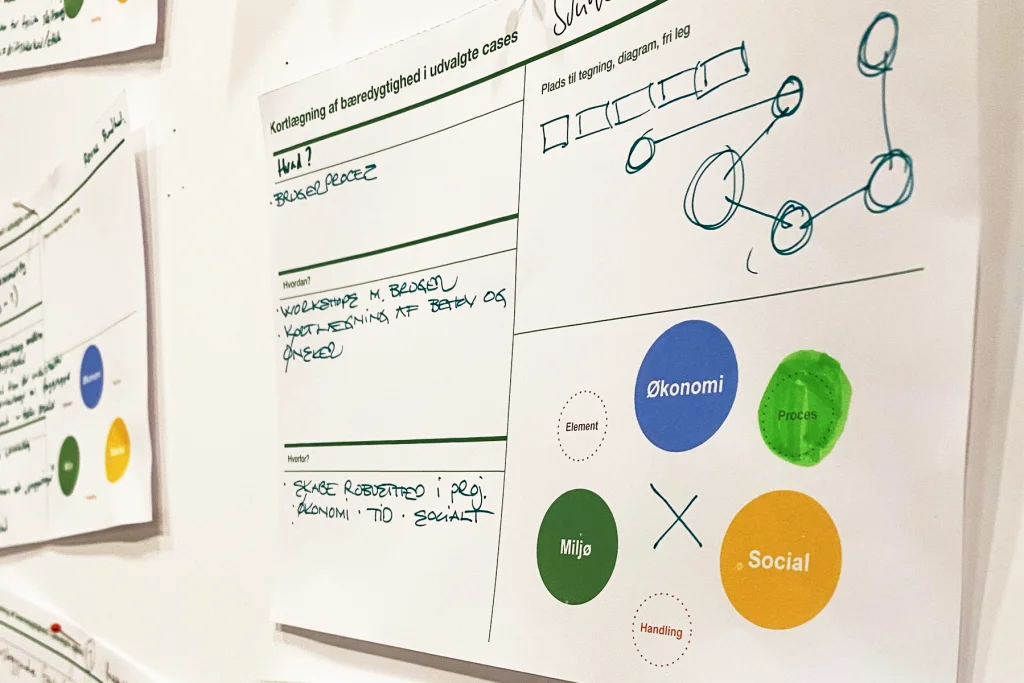 Economic sustainability
Economic sustainability is almost always a prerequisite for a building with good environmental and social sustainability to be realised at all and to have the long and thus sustainable life span that we aim for with our architecture.
Economic sustainability is almost always a prerequisite for a building with good environmental and social sustainability to be realised at all and to have the long and thus sustainable life span that we aim for with our architecture.
The spread of sustainable construction depends on us as architects also focusing on our client's budget and helping to find solutions where the three dimensions go hand in hand.
Economic sustainability is not only about the cost of building, but also very much about the subsequent costs of operation, maintenance and social impact. There is often good synergy between environmental and economic sustainability, for example in creating low energy buildings that benefit both the environment and the operating budget.