Utterslev School is the result of a project competition won by KHR in 2000. The school has two tracks and runs from kindergarten to grade 10. Nature and the natural sciences are a guiding principle in the school's pedagogy, and the breaking down of barriers between traditional subject areas and the integration of school and leisure time are a motive for the school's structure and organisation.
City
Copenhagen
Client
Municipality of Copenhagen
Year
2003
Area
9000 ㎡
Funding
DKK 162 M
Sustainability
Hybrid ventilation. daylight optimisation, roof drainage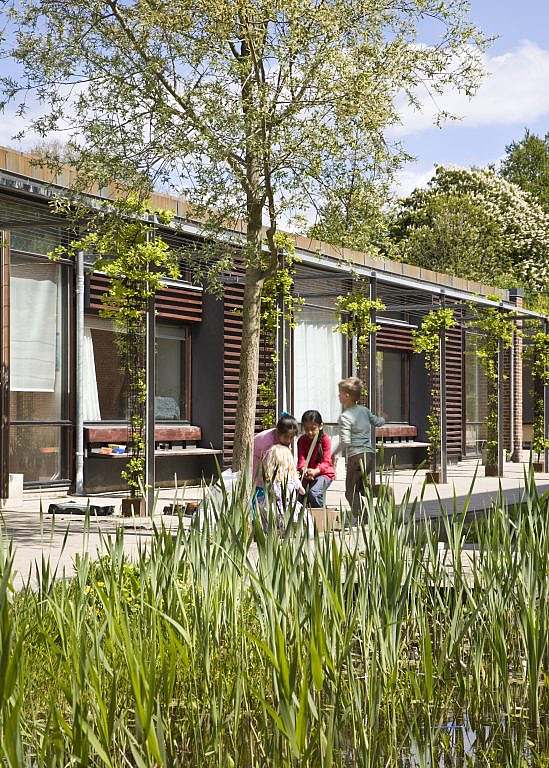 The architecture of Utterslev School is built up with scattered buildings around a blue string - the canal
The outdoor canal environment is the connecting element between Utterslev Square and Bispebjerg Cemetery. The canal and the space around it function as a public footpath, a place to stay, an experimental area for natural sciences and a meeting place in everyday life. The canal is the school's axis of rotation, a mental respite to which all the buildings relate. In this way, the school extends the open spaces of the local area and acts as a supplement to the outdoor space of the area.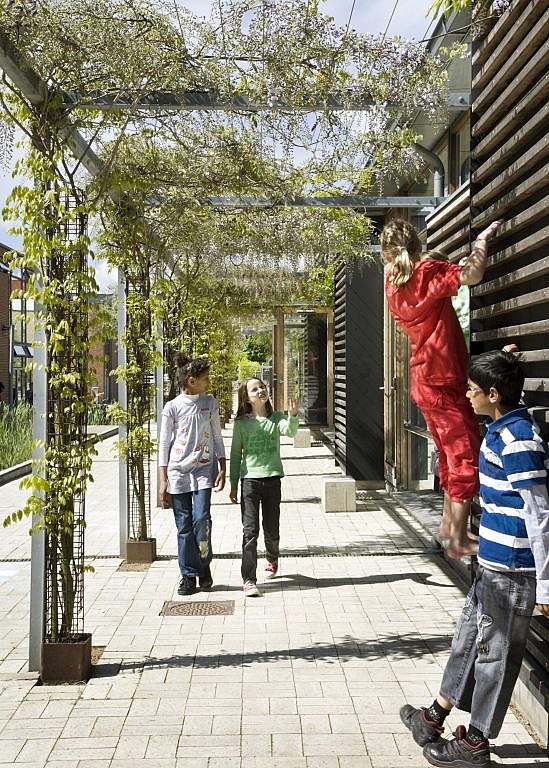 In 2006, Utterslev School was the first new primary school to be built in Copenhagen in more than 25 years
The architecture sets new standards for flexibility, indoor climate and sustainability. By making the walls movable, the school has been able to easily adapt to changing needs and the latest pedagogical developments.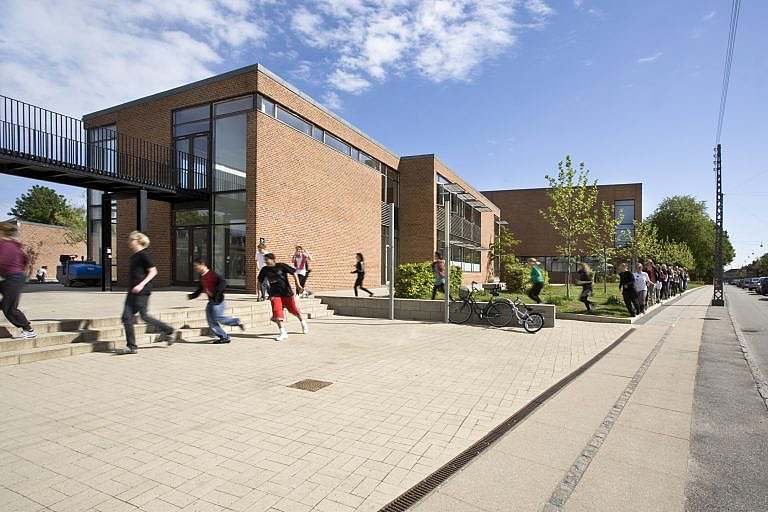 "Utterslev School is built with scattered buildings around an outdoor canal that forms the school's axis of rotation."
Mikkel Beedholm, Architect and Partner
Contact
The school's indoor climate is optimised:
Good daylight distribution and daylight control through the use of interior window partitions and exterior solar shading
Hybrid ventilation with preheated fresh air through facade dampers
Maximum reverberation reduction
Robust and easy to clean materials
The architecture supports the school's science profile
The client, the Municipality of Copenhagen, wanted to give Utterslev School a strong science profile. The architecture actively addresses this by collecting rainwater from the roof and channelling it into a canal that serves as a science experimentarium, where the canal's plants, fish and small sluices can be used in science experiments.
At the same time, the canal environment serves as a daily walking zone, a place to stay and a meeting point for the school's students and visitors.