Concept architect Douglas Brandon took a detour from Texas and a career in the consulting industry, before studying architecture in Seattle and interning in Copenhagen, where he fell in love with the Danish architectural spirit. He has been with KHR since 2016 and appreciates that he has been able to try out different roles and types of assignments, as he knows it from his time as a consultant.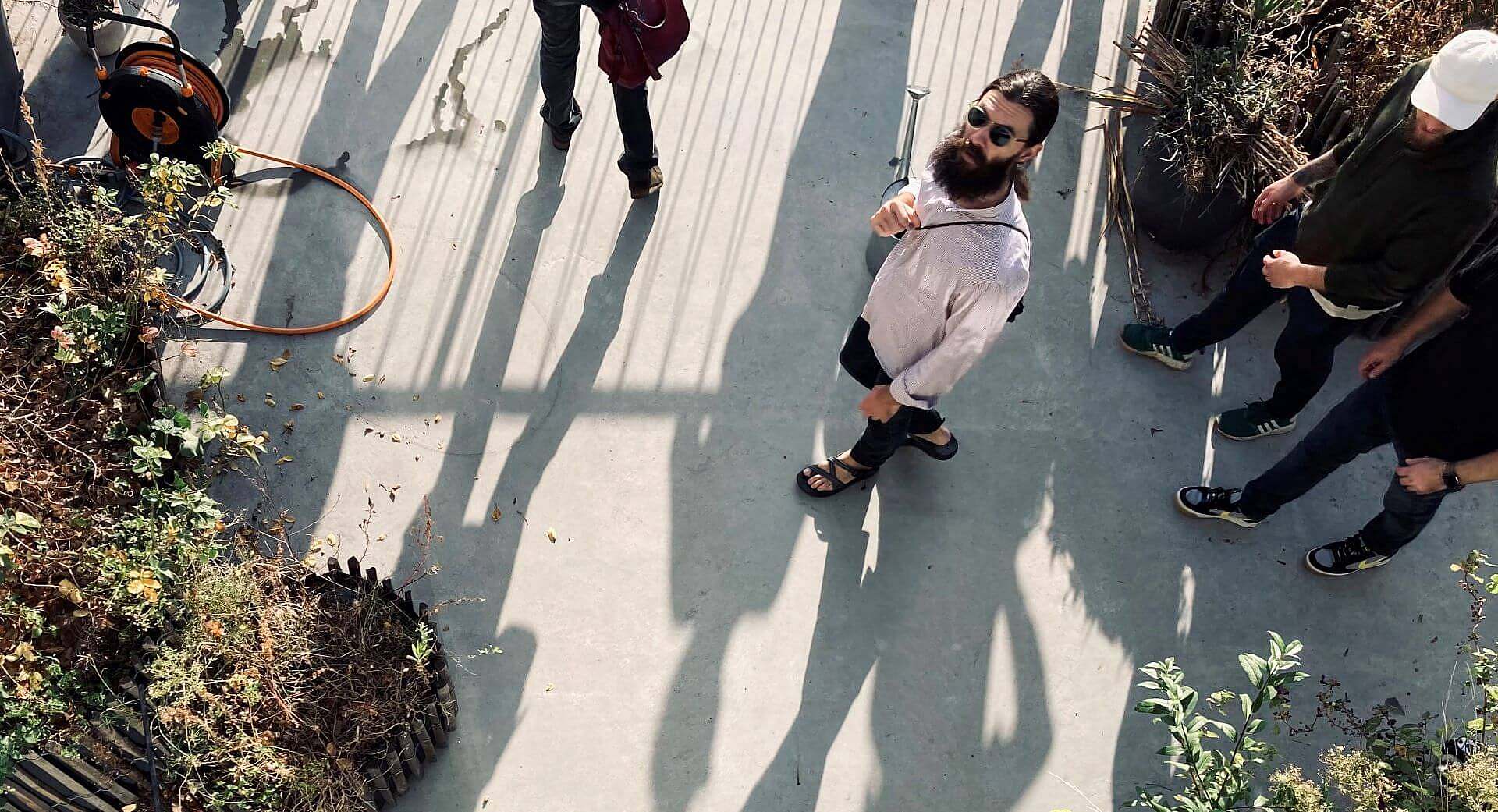 Former consultant thrives on creative versatility
Would you briefly introduce yourself?
My name is Douglas Brandon and I am originally from Texas, USA, where I was born and raised. Today, however, I live in Denmark, where I work as an architect here at KHRand live with my Danish wife and our son.
Why did you choose a career path as an architect?
I have always had a natural interest in drawing and sketching. Nevertheless, I chose to study Human and Organisational Development at Vanderbilt University in Nashville, Tennessee. For the next four years I worked as a consultant, travelling around in ties and suits helping hospitals optimise their finances. That period of my life is probably most comparable to George Clooney's role in the film Up In The Air - it was fast-paced!
Despite an exciting professional life, I did not feel at home in the role. On the other hand, I realised that I was always studying 'the built environment', as they say in English, on my many business trips. I started to carry a sketchbook with me and spent my free time drawing some of the buildings that caught my interest. However, the idea of studying to become an architect only became serious when I realised how much the human and creative aspects of the profession really matter. Previously, I had seen architecture as a subject dominated by calculations and technology.
With the support of friends and family, I applied for the architecture programme at University of Washingtonwhich has strong academic links with Copenhagen. Through the university's exchange programme, I got an internship in Denmark.
Can you explain in more detail what you do as an architect?
At KHR, I'm mainly a concept architect - but I've had many roles before this one and love new challenges.
I started as a competition architect, where I was mainly involved in the initial stages of a project. This involves looking at the site and the existing buildings and sketching a concept that can best fulfil the client's overall idea and specific requirements.
I was subsequently connected to Bispebjerg Hospitalwhere the focus was very much on arrival, wayfinding, flow, efficiency and function. A hospital is a big machine that involves a number of different flows of employees, patients and relatives, all of which must be taken into account so that the hospital can function optimally and everyone thrives. This is where my previous education came in handy, as there is of course a lot of psychology in how people perceive their surroundings, find their way around and feel at home.
For the last few years I have mostly been designing competitions, preliminary studies and sketch projects, often right up to the planning application stage.
What motivates you most in your work as an architect?
Basically, I think it is exciting to create something that can benefit and influence the user of a building, whether it is a hospital, a school, a workplace or a home. I also think that a poetic composition of spaces and materials can be felt by everyone, and that we as architects have the responsibility to fulfil and facilitate these experiences.
How does the difference between an average and a good architect materialise in practice?
I will answer this question with an analogy to painters. The aspiring painter will endeavour and try to use his entire toolbox to make each detail the best it can be, while the skilled painter will focus on the whole and create an extraordinary painting in a much more effortless way.
Similarly, a good architect can get a lot out of little. This is especially true in Denmark, where the aesthetic is very simple and straightforward compared to the US, where the average is more bombastic. Less is more, and being able to deliver a simple solution based on a strong architectural concept shows a lot of energy.
Is there a project or sub-project that you are particularly proud to have contributed to?
Right now I am quite proud to contribute to an extraordinary holiday home, where there has been a real opportunity to work with unique solutions and fantastic materials, and where I can see many of my solutions being realised right now. It has been hugely rewarding to be involved in the project from start to finish, instead of only participating in the first phases as I usually do.
Which project would you like to work on?
It would be exciting to take part in a restoration project!
When I had just started at KHR, I was allowed to witness how the restoration of the Østerport station I spent most of my time squinting at the desk of the person sitting next to me. The project was about both optimising the older elements and thinking about how new details could help preserve the station's charm. I tend to work more abstractly with the overall framework of new buildings, but I love to expand my horizons. So it would be exciting to try to work with conservation or transformation of something existing.
Can you give an example of a concrete professional challenge from a project and how you solved it?
When KHR was asked to prepare the competition proposal for a new housing development in Kregme with a very tight deadline. We drew 10 housing clusters in the landscape as a large community, within which we had to place 175 social and private flats of 15 different sizes. The aim was to present a residential environment where social and private housing and different housing types and family sizes were closely integrated.
To accomplish this task efficiently, I used the Grasshopper programming tool for Rhino to keep track of the quantity of the different types of housing without having to spend a lot of time manually solving the equation.
Which computer programs do you prefer for your architectural work and why?
As I said, Grasshopper has been useful to optimise the process of solving complex problems. I also like the modelling software Rhino for both 2D and 3D. Rhino is particularly suitable for the sketching phase as it can be highly structured by the user. I use Enscape for rendering through several different phases of the project, as it can quickly add a visual mood or expression to the project. However, despite the many great technical options to optimise, I prefer to draw and sketch freehand! It's the quickest way to visualise and test my ideas.
How do you stay up to date and inspired in the field of architecture?
Of course, I read books, magazines and blogs and look at social media, but I also find a lot of inspiration in films and their settings - not on a concrete level, but in terms of the moods and spatialities they present. Director Denis Villeneuve is very good at creating films that evoke crazy architectural moods - both in Dune and his previous art films. All the best, from Stanley Kubrick and Shane Carruth to PT and Wes Anderson, use architectural elements such as light and shadow, rhythm, tension, and space to tell stories and create atmospheres.
Do you have any advice for a future builder?
Do not underestimate the user process! It is important, and a good investment, to include input from those who will be using the building - especially if you are a less experienced developer.
Click through to see the full KHR's team or read more about our services.