The idea of the proposal is to create a new school, which together with the Snejbjerg hall is characterised by anchoring in the uniqueness of the place and at the same time fits in a quiet modernity on the edge of the residential area and the open landscape.
City
Snejbjerg
Country
Denmark
Owner
Municipality of Herning
Year
2012
Area
13 896 ㎡
Funding
DKK 146 M
Sustainability
Low energy class 2015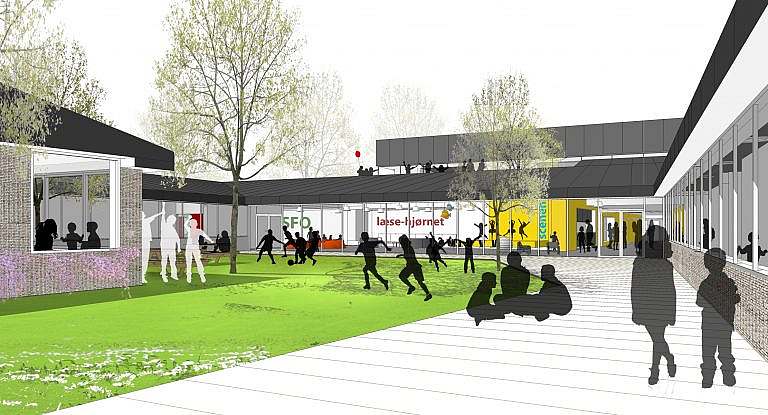 The project is based on the following architectural dispositions:
To create an alternation in scale from the large to the small, so that outdoor spaces and rooms become present and relevant.
To create clear spaces and room layouts that allow for learning pathways that alternate between immersion and community.
To create spaces and patterns of movement that always provide an experience of nature and education in context.
To create a materiality and qualitative juxtaposition of surfaces and furnishings that provide pleasant and calm spaces.
Visual coherence with the surroundings
The building must be modern at the same time as lifting the surroundings so that they are not left as outdated. This modernity must be created by creating a school that is experienced as present when people are in numbers or alone in contemplation, open and welcoming and with a consistent visual connection to its surroundings.
This concept paper is intended to support the pedagogical demands and requirements of a modern well-functioning school and the general well-being of all users, not least the pupils.