Heimdal Secondary School is a combined secondary school for 1,020 students, which in addition to classrooms also includes rehearsal rooms for music, dance and drama, a canteen, a library and a cultural hall with seating for 350 spectators. Adjacent to the school is a large multi-purpose hall with 3 handball courts to international standards. The project is the result of a first prize in an architectural competition and totals 25,000 m².
By
Trondheim
Country
Norway
Client
South Trøndelag County Municipality
Year
2017
Area
25 000 ㎡
Sustainability
Solar cells, biogas, geo-well, electrochromic window glass, area lift via sports and cultural facilities
Awards
ZEB-0 project - one of the world's most environmentally friendly schools
Partners
Rambøll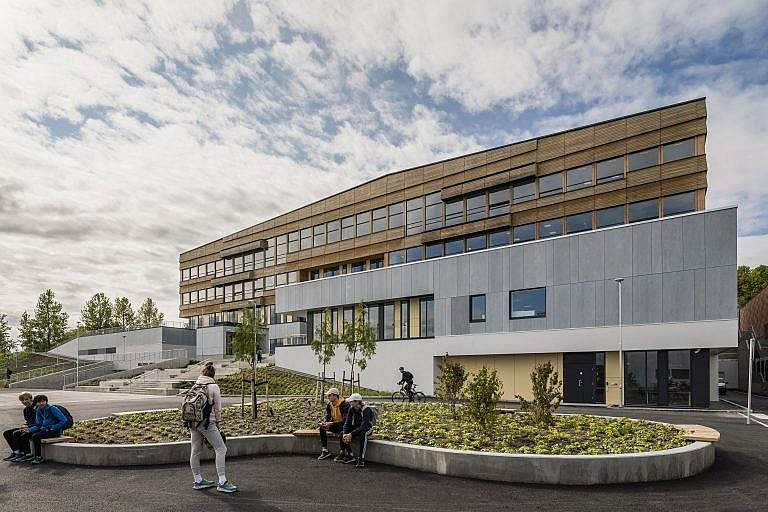 An architecture that strengthens the cohesion of the area and preserves the green passage
The team has focused on a strong urban plan, not least because Heimdal VGS is also part of the "Area Lift Saupstad" programme. Emphasis has been placed on strengthening the green corridor east-west through the area and by keeping the ''Culture axis'' north-south, a district square is created as a meeting and living place in Saupstad, with connections to existing sports fields, clubhouse, school, culture and sports hall.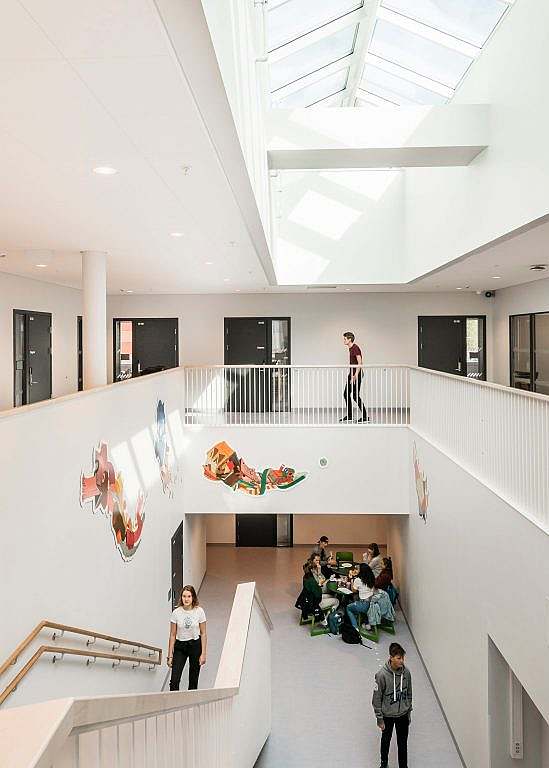 Multi hall for the benefit of the whole city
The large multi-purpose hall built next to the school can be used after school hours and thus becomes an asset for the whole district. The hall is located below hill level to use as little public space as possible. Kolstad Handball has its home ground in the hall, which can accommodate 2000 seated and 500 standing or 4000 concertgoers. The arena also has smaller halls for, among other things, ski jump and dance training.
"Heimdal Secondary School is built around a clear and simple organizing principle: a heavy base that integrates into the landscape with a light atrium building on top that defines a large common space that connects the building vertically."
Mai Svanholt, Architect and Associate Partner, KHR Architecture
Contact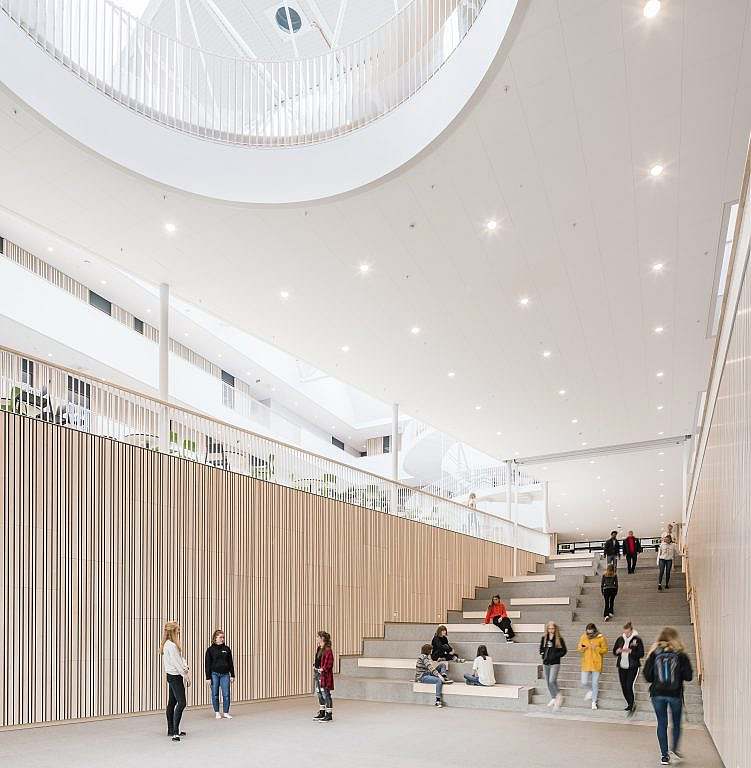 One of the world's most environmentally friendly schools
Through partnership in the research centre ZEB (Zero Emission Buildings), collaboration with NTNU and Sintef on new energy and
environmentally friendly solutions, which has resulted in a reduction
of the energy consumption of the entire 66% compared to the current requirements. Excess
heat from the school's own energy production is supplied to the swimming pool next to the school.