Kronen in Vanløse is to be revitalised, transforming the insolvent centre into a dynamic town centre with much more to offer than just shopping. KHR is the architectural advisor for the real estate developer NREP, who will turn Kronen into an attractive meeting place in Vanløse for people of all ages via an active south-facing terrace. In short, the reconstruction includes new functions on the first floor of the centre, new housing and improved outdoor spaces on the roof, and not least a completely transformed and upgraded "Metro square" on the south-facing terrace.
By
Vanløse
Country
Denmark
Client
NREP
Year
2021
Area
59 000 ㎡
Sustainability
Renovation
Services
Building consultancy and architecture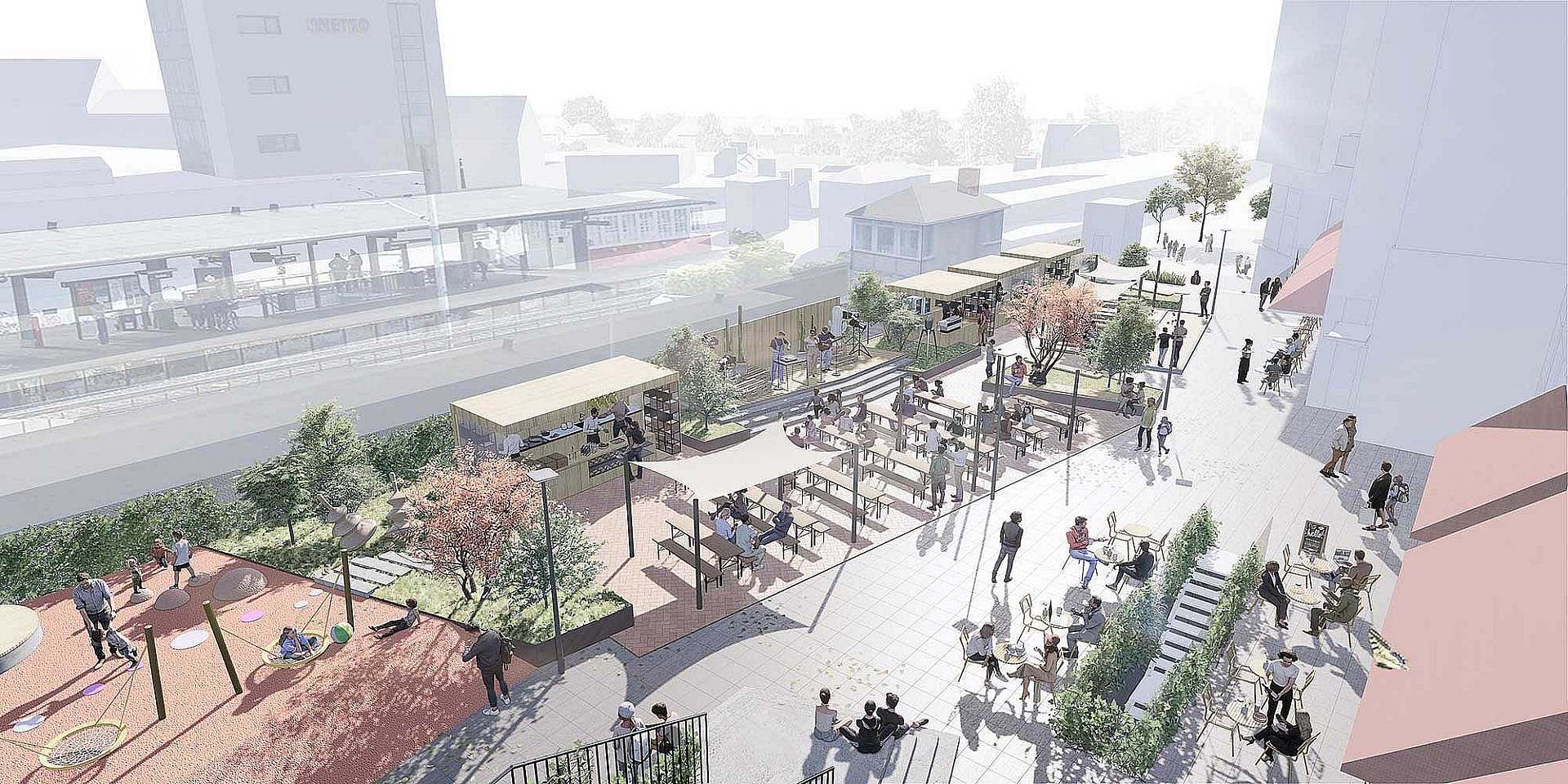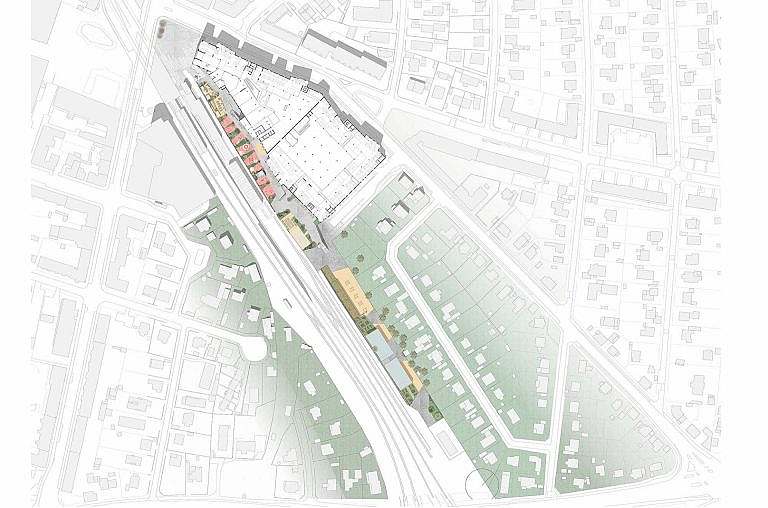 A centre that opens up to the city
One of the problems with the architecture of the existing centre is that it closes in on itself. This will be changed by opening up the facade with more windows, direct access to the south-facing terrace and a more welcoming staircase from Vanløse Torv up to Metrotorvet on the first floor.
The centre areas on the first floor along Vanløse Allé and Apollovej will be converted into offices or other liberal professions with separate access and new windows, so that the building appears more lively and welcoming both towards Apollovej, Vanløse Alle and towards Metrotorvet.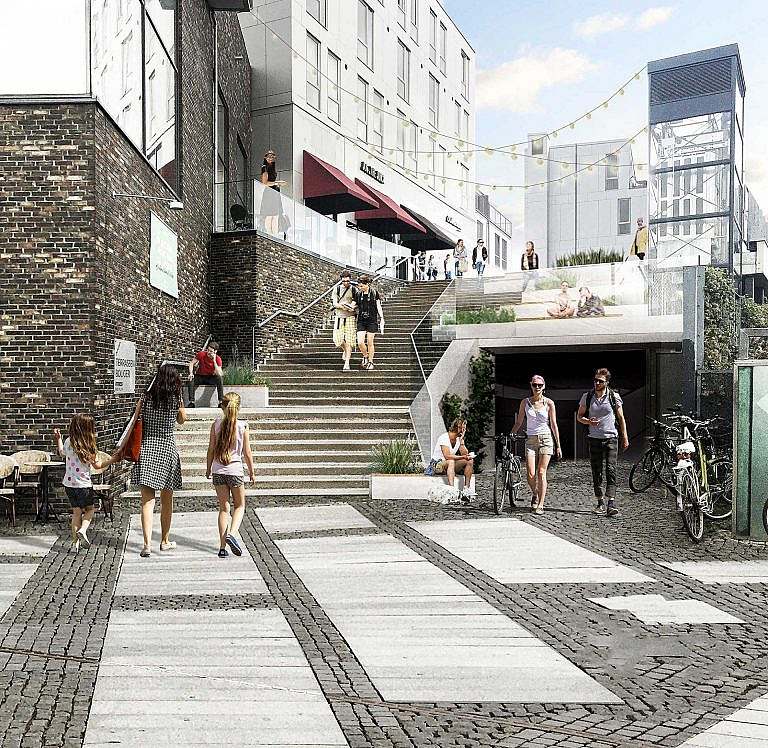 "Users and the urban context are crucial to the success of Kronen, which is why they are the natural focus of the redevelopment."
Janina Zerbe, creative partner
Contact
Metrotorvet - green terrace with outdoor seating, culture, games and sports
Metrotorvet currently appears cut off from Vanløse Torv and with a large untapped potential. With the new project, Metrotorvet will have sunny seating areas, small food stalls, green beds and a small music stage, thus becoming a recreational extension of the centre's area, as well as outdoor space for the eateries on the first floor.
One of the main attractions will be the giant playground designed to create imaginative play for both very young and older children. An outdoor exercise area for adults will be located adjacent to the play area.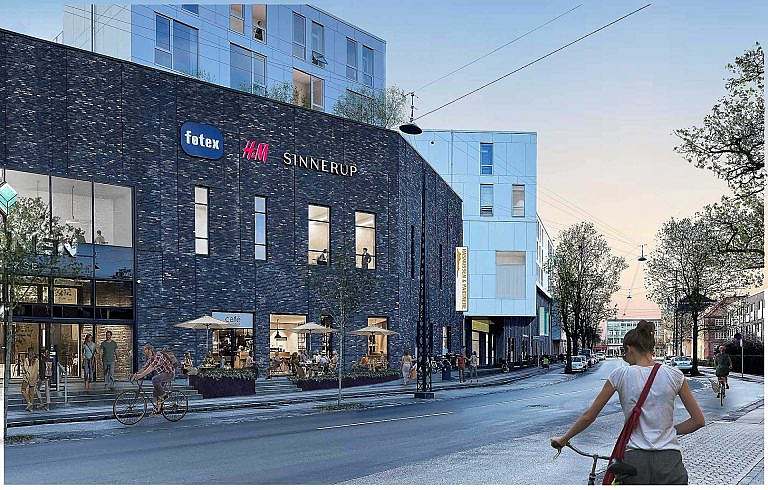 A visual connection will be created between Vanløse Torv and the activities on the Metro Square by opening up the staircase, creating a more natural flow between the two urban spaces.
Today, there is no visual contact between street level and the raised terrace, and you can only get there if you have a specific errand. This needs to be changed.
Together with a widening of the staircase to make room to sit down, green planting and new paving on the stairs will ensure that the terrace does not start when you stand on it, but already down on Vanløse square. In this way, the two urban spaces will be linked and the function of the stairs extended.