The Greenland Institute of Nature is located on a mountain in the Siaqqinneq area outside Nuuk. It is a house that dares to stand out architecturally, while insisting on living together with nature. The building is constructed of materials that age gracefully in the Arctic climate, and uses the special Arctic light conditions as an active element in the architecture.
By
Nuuk
Country
Greenland
Client
Greenland Home Rule
Year
1998
Area
2 000 ㎡
Funding
DKK 36M + 25M
Sustainability
Climate adapted construction, environmentally sound design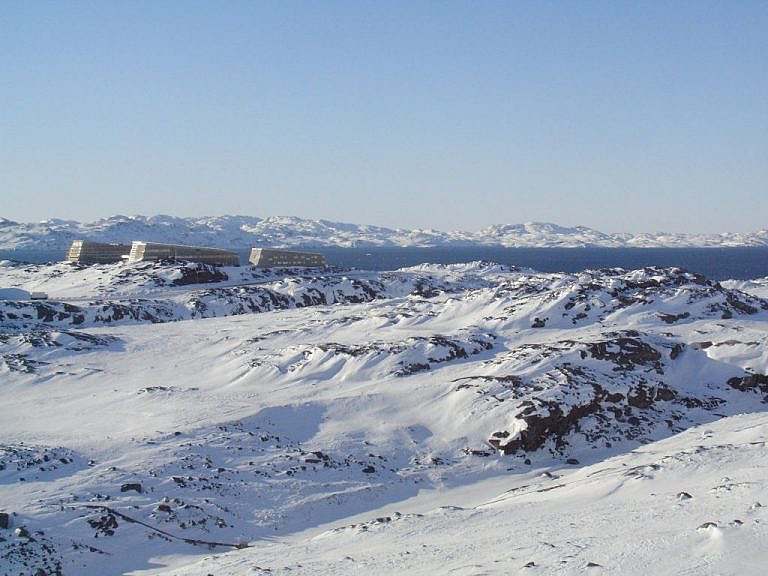 Arctic architecture
The Greenland Home Rule Government has chosen a very prestigious, but also very challenging location for the Greenland Institute of Nature, also called Pinngortilaleriffik. The building is located on a mountain range in the Siaqqinneq area outside Nuuk, which is extremely exposed to the strong Arctic wind and weather conditions.
The Greenland Institute of Nature conducts research on Arctic ecosystems and the effects of climatic and human impacts on them. The Institute also advises the Greenland Self-Government and municipalities.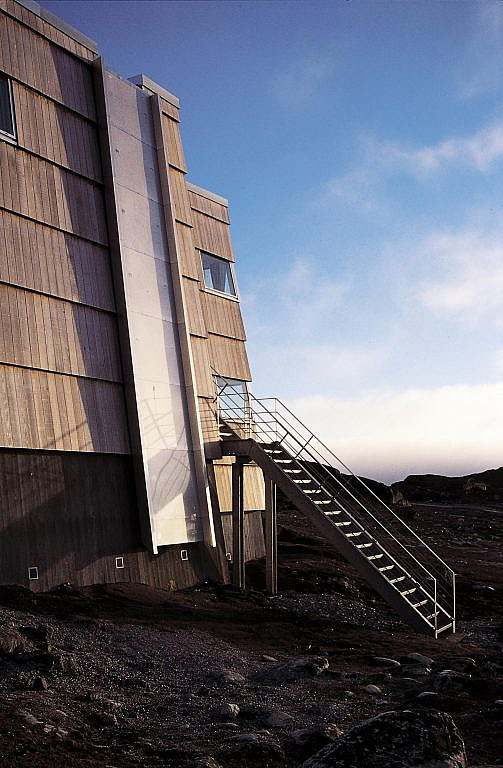 Architecture that uses light and offers magnificent views
Inside, the house's fan shape evokes a crevasse, with the walls of the crevasse rising high on either side. The crevice opens to the south and offers a magnificent view through the glass façade, which invites the midday sun right into the middle of the room. Viewed from Nuuk, the south-facing glass room of the Natural History Institute is seen at night as a luminous landmark in the mountains.
In 2006, the Greenland Institute of Nature was extended by 820 m² for the climate research department.
Like seals in the landscape
The elongated Nature Institute of almost 2,000 m² consists of two north- and south-facing poles, positioned to take account of the often strong south-southeast and north-northwest winds respectively. The positioning along the wind direction minimises wind resistance and reduces heat loss. The building sits like a seal with its back to the wind and its hoods on the front face looking out over Nuuk and the surrounding fjord system.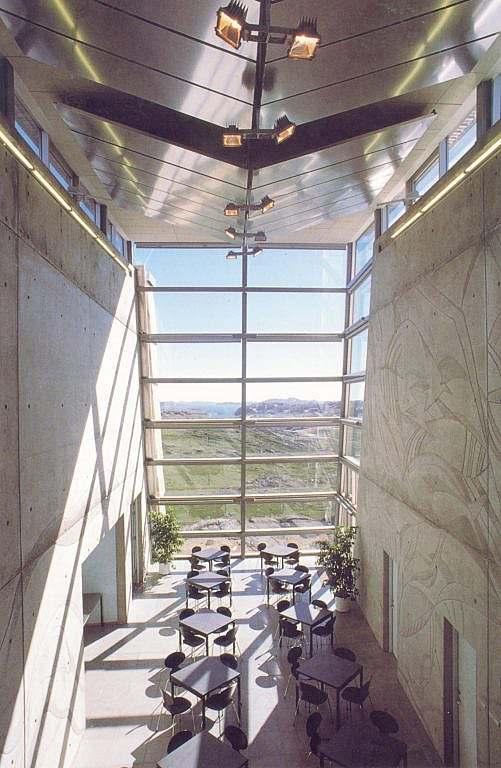 "The facade of the Nature Institute is clad with untreated Canadian cedar shavings, which in the dry climate take on a natural impregnation. Here, two decades later, the building stands in a beautiful silver-grey colour that really shows how important it is to choose the right materials for the Arctic climate."
Janina Zerbe, Architect
Contact