Schulzentrum "Achter de Weiden" will be a future-proof school centre for Schenefeld near Hamburg, offering sufficient space for both the city's primary and secondary schools.
By
Schenefeld, Hamburg
Country
Germany
Client
City of Schenefeld
Year
2021
Area
18 500 ㎡
Partners
Dohse und Partner Architekten, Kaplus Ingenieurbüro Vollert, Dittloff + Paschburg Landschäftsarchitekten
Services
Architectural work, competition proposal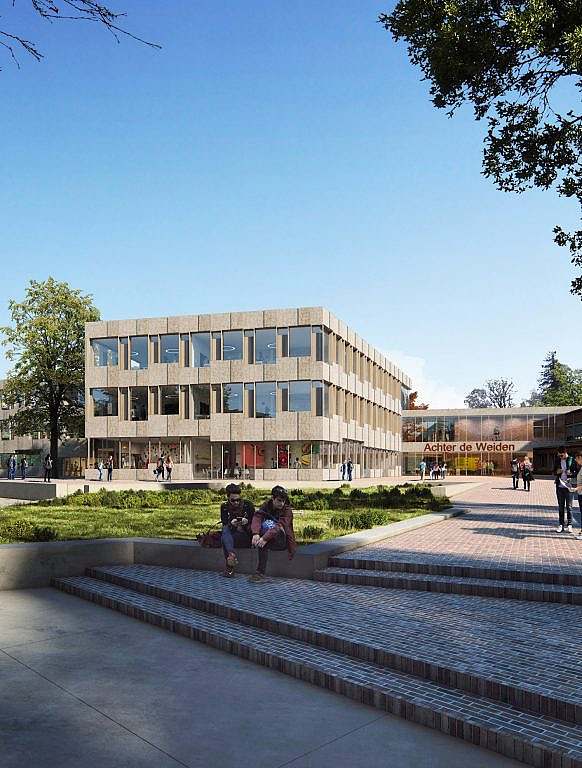 Intuitive connection between the existing and the new
The clusters for the smaller classes are "pulled back" on the two upper floors with both separate spaces and a common learning area, allowing for both optimal concentrated learning and group work in varying sizes, environments and learning situations. The pupils in the middle classes of both schools are laid out next to each other, based on a fundamental idea of the importance of social contacts across classes and year groups.
The existing paths and entrances are rearranged and merged into a clear north-south axis. Access to the school is concentrated to create an intuitive route between the existing and the new building. Disposal of traffic along the eastern façade of the existing building means a minimum of traffic around the new school building. The structure of the school building removes the separation of the courtyard spaces and makes the exterior school yards flow into each other.
Community and individuality
The extension of the existing school will create a modern and contemporary education centre. The project is based on the pedagogical idea of alternating between dividing pupils into smaller classes, which promotes pupils' individuality, and teaching in larger, cross-sectional units, which helps to provide identification within and with the larger group. The organisation of the building in a combination of special rooms and clusters has therefore been key to the solution of the task, and this clear division of functions helps to promote the approach to learning in which the children
alternately meet in smaller and larger groups.
All the functions that the primary and secondary schools share are laid out in the
ground floor, which means maximum synergy and the greatest possible flexibility for the respective schools. The common rooms are used for various internal and external events, such as exams, project days and school festivals or cultural and theatre events. Likewise, the central courtyard is suitable, weather permitting, for a wide range of these events.