The architecture of the AdO Arena and Amalie Skram Secondary School in Bergen brings the school and swimming pool together in one large, well-lit building on Nygårdstangen in Bergen. Architecturally, the school and swimming pool are integrated both visually and functionally. The school has just over 1000 students and has focused on both social and environmental sustainability.
By
Bergen
Country
Norway
Client
Bergen Municipality
Year
2014
Area
28.000 ㎡
Funding
NOK 1000 M
Sustainability
Climate adapted construction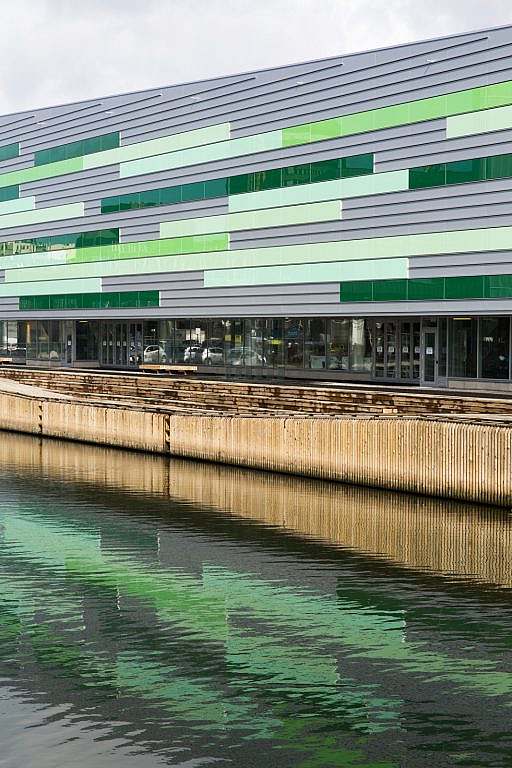 AdO Arena and Amalie Skrams Skole linked by colour and views
The building is clad in sheet metal, including tombac, which is a copper alloy with a dark brown/gold colour that intensifies over time as the material patinas.
The metal sheets on the facade are painted in shades of green and blue, which create a play of colours on the facade and tie the school and swimming pool together. The cohesive exterior is also carried into the building, integrating the school and swimming pool into the building through, among other things, views and transparency.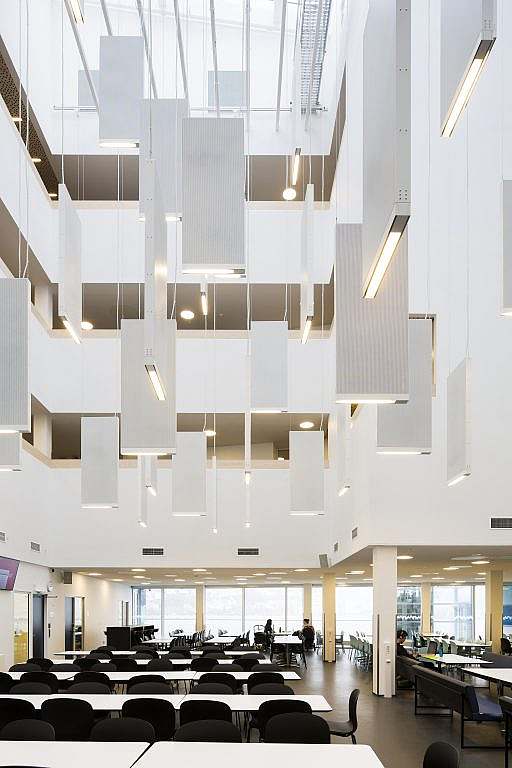 National swimming pool and popular primary school
The AdO Arena is built as a national swimming facility of 12 000 m2 with a 50-metre pool, as well as pools for jumping, therapy and learning.
The school itself is 16 000 square metres over four floors with classrooms, group rooms, as well as a library, canteen, auditorium and two large auditoriums.
Amalie Skrams School also has a multipurpose hall, which can be divided into three gymnasiums, as well as a training centre. The school has a strong sustainability profile; for example, heat from the building's waste water and excess heat from the swimming pool is used to heat the school.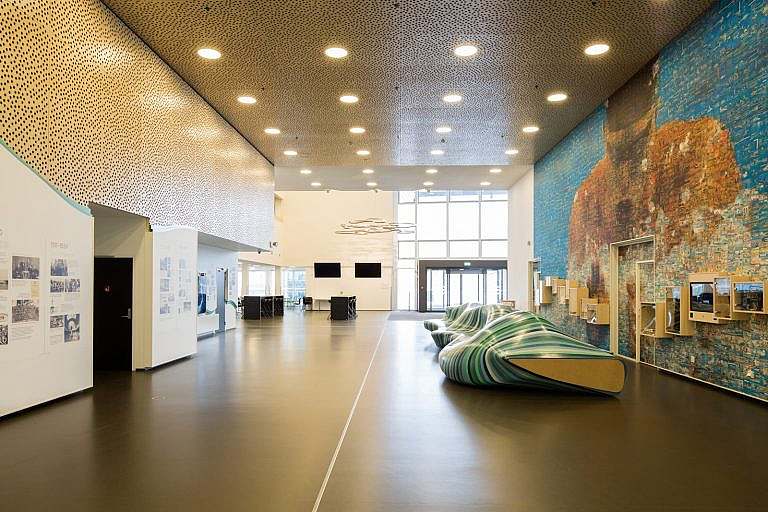 School and swimming pool designed into the terrain
When a new school and swimming pool were to be built in Bergen, it was crucial for KHR to create a building that was a natural extension of its surroundings. The meeting with the terrain on different levels is therefore expressed in the architecture of the building. From a distance, the building is perceived as a unified figure, a large stone by the water, polished and shaped by wind and weather. Up close, the figure opens up with precise carvings, as an entrance to the building, created from the lines of movement in the city. In this way, the "stone" appears as a characteristic of the city and provides shelter in a windy part of Bergen.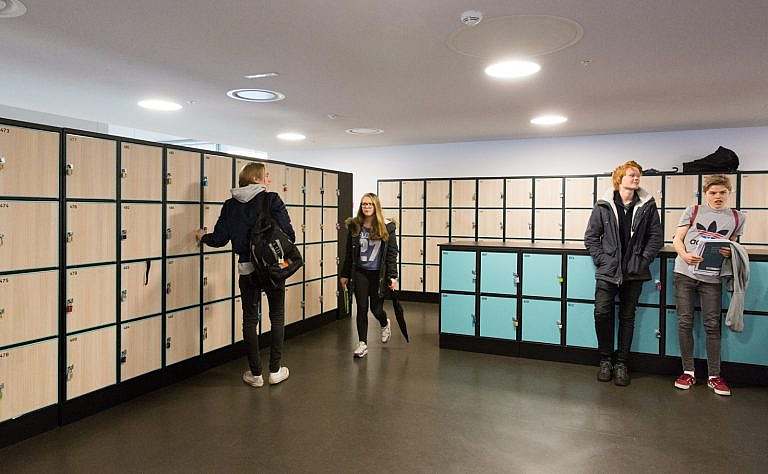 The interior spaces appear well lit at all levels thanks to overhead and side lighting. Large interior windows not only let the light flow, the visual connection also invites you to take advantage of the many possibilities under one roof.
"The connection between school and swimming pool in an open structure opens up numerous design options, allowing flexibility to adapt the building to changing needs, which experience shows always arise."
Janina Zerbe, Architect and Partner in KHR Architecture.
Contact