HafenCity in Hamburg is a popular new district that has emerged in recent years. A new 8-track secondary school and day care centre will meet the rapidly growing demand for education and care. At the same time, the school will be a meeting place for the local community and associations after school. KHR Architecture was one of 12 teams selected to participate in a closed architectural competition for the prestigious building.
City
Hamburg
Country
Germany
Client
SBH School Construction Hamburg
Year
2022
Area
14 000 ㎡
Partners
Renner Architects, Boye and Bode
Services
Competition proposal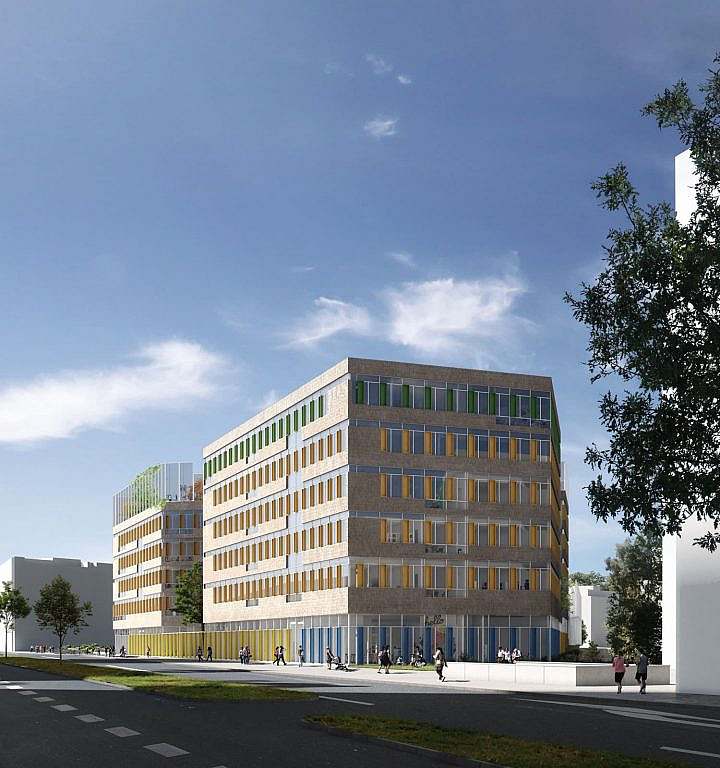 "The arrival square on the corner connects the school visually, iconically and logistically with the city. The plaza weaves together the school's outdoor recreation and indoor learning spaces in an intuitive flow that invites children to explore without getting lost."
Mikkel Beedholm, Creative Director and Architect
Contact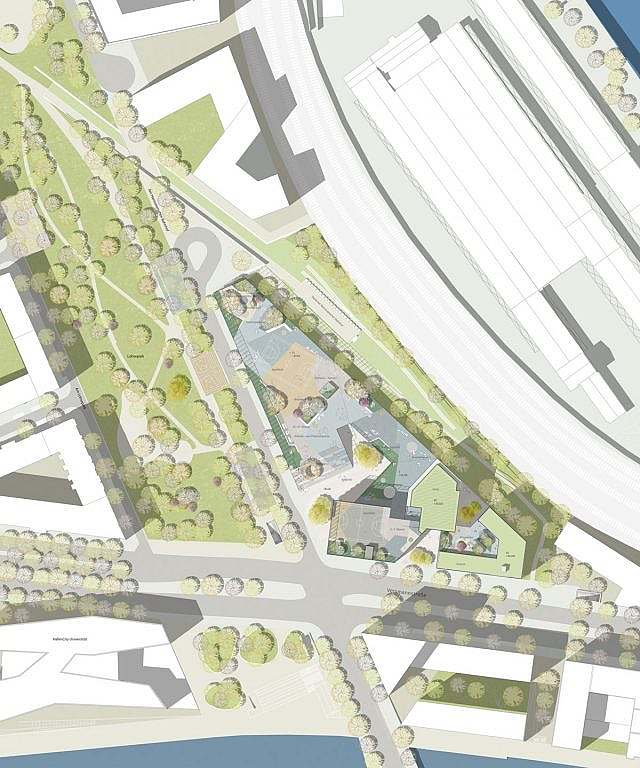 A facade in interaction with the surroundings
The facade of the school is in vertical brick in a warm yellow tone, which frames the window areas in horizontal bands. The window niches are kept in colours that mark the different classes and are coordinated with the position of the sun and the urban context. A composition that reflects the weight of the neighbourhood's brick buildings while creating a bright, open house with unobstructed views.
Intuitive wayfinding and good flow
The heart of Campus HafenCity is located at the main entrance and is the starting point for a playful loop that invites children to explore the school both indoors and outdoors. The two large staircases, one indoor and one outdoor, connect to the raised playground and further up the school building to the children's classrooms and the raised play areas on the roof. The good flow and the many destinations along the way create a building without dead ends that invites you to play and explore.
The upper part of the school consists of three clusters, each located around a central staircase with good views of the city. Clusters are placed close to each other, providing a compact building with intuitive wayfinding, while creating smaller units within the school that provide security and manageability.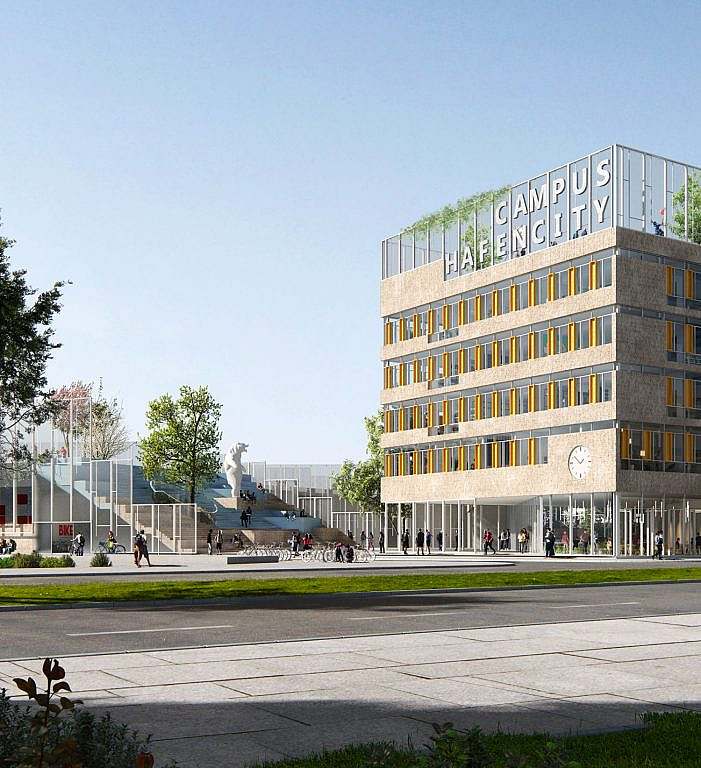 Room to play - even after school
A number of outdoor playgrounds of different sizes and themes make up the school's main recreational area. By utilising the large roof terrace of the sports halls, the main playground is connected to the entrance area by a large staircase, creating a visually inviting recreational area for the school and the wider neighbourhood, which can easily be used by the public after hours in synergy with the adjacent Lohsepark.
Strategically placed entrances allow the general public to use the large sports halls and the open common area after school, while the rest of the school building can be easily demarcated.