Designer Frederik Sidal is driven by creating something that benefits others, and has sustainable projects on his wish list. Read his advice to other graduates, and which project he's proud to be a part of right now.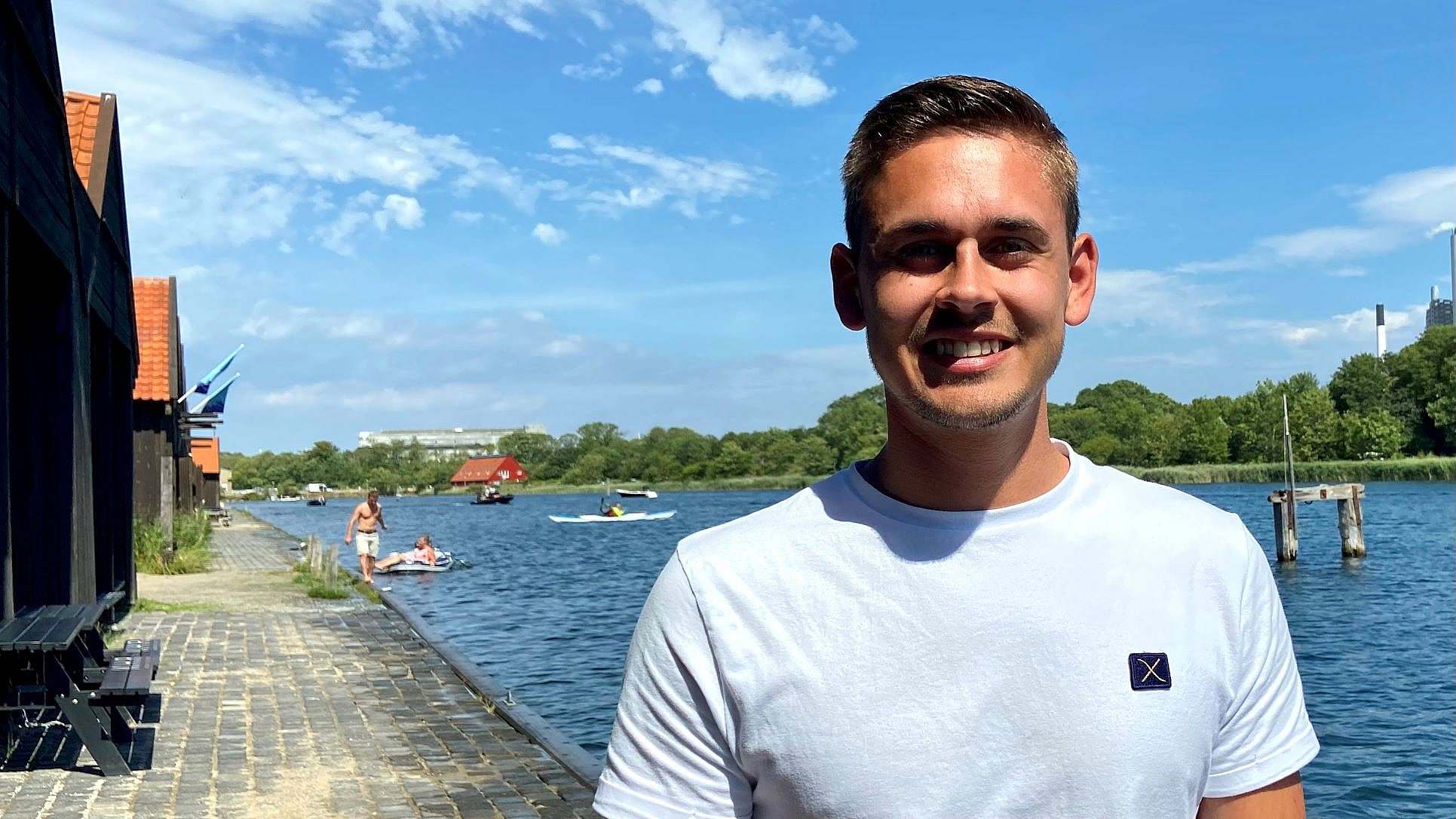 Vil du kort præsentere dig selv?
Jeg hedder Frederik, er 23 år gammel og har læst til konstruktør på KEA. Jeg blev færdiguddannet i januar i år, hvorefter jeg startede hos KHR i mit første rigtige job som konstruktør.
Kan du forklare nærmere, hvad du laver som nyuddannet konstruktør?
Jeg projekterer og arbejder lige nu på et boligprojekt i Roskilde og på shoppingcenteret Kronen i Vanløse.
Til dagligt er jeg med til at løse teknisk udfordrende problemer. Jeg har en tæt en dialog med mine arkitektkolleger for at sikre designet og med eksterne ingeniører og konstruktionsingeniører om dimensioner og bæreevner, som vi skal bruge i vores projektering. Man kan sige, at jeg som konstruktør er et bindeled mellem arkitekter og ingeniører. Vi samprojekterer typisk i Revit eller henter modeller fra AutoCad, som ingeniørerne har lavet, ind i vores Revit-model.
At Grey Friars House var min opgave at gøre Revit-modellen overskuelig, så der var den passende mængde informationer, og at færdigprojektere alle detaljer. På Crown har jeg arbejdet meget på to store trapper, der har stor betydning for det torv, som skal have et løft.
Hvorfor valgte du en karrierevej som konstruktør?
Jeg har altid haft en stor interesse for at tegne og løse tekniske problemstillinger, og jeg kan godt lide at følge en proces fra start til slut, hvor man ser noget blive skabt. Jeg tænkte at byggebranchen kunne være mig, fordi man er med til at skabe noget for andre.
Hvad motiverer dig mest i dit arbejde som konstruktør?
Det motiverer mig at skabe noget, som folk på en eller anden måde kan have glæde af.
Hvis vi for eksempel laver etageboliger, så er det fedt at de folk, der kommer til at bo i det, kan glæde sig over kvaliteten og løsningerne. Ved projektet Kronen er der meget fokus på at skabe et Metrotorv, som kan blive et samlingssted for byen. I og med at Vanløse station er et knudepunkt, kan rigtig mange få gavn af det, jeg sidder og laver, og det er en god følelse.
I forhold til processen kan jeg - i hvert fald nu, hvor jeg stadig er ung og nyuddannet - godt lide at arbejde i teams, hvor folk har forskellige synspunkter og erfaringer, så man både kan lære af dem, og hvor jeg kan se, at jeg selv har noget bidrage med, som for eksempel mit gode kendskab til Revit.
Sidst men ikke mindst er det tilfredsstillende at aflevere en høj tegningskvalitet, så fx entreprenører har det bedste afsæt for at føre projektet ud i livet.
Er der et projekt eller delprojekt, som du er særlig stolt af at have bidraget til?
Jeg synes det er rigtig spændende at arbejde med Metrotorvet ved Vanløse station, hvor jeg især har arbejdet meget med to trapper, en ny og en eksisterende. Torvet er tænkt som et samlingssted for lokalområdet med alt fra madboder og musikscene til legeplads og træningsfaciliteter, og det kan blive rigtig godt, tror jeg.
Hvilket projekt gad du godt få mulighed for at arbejde på?
Jeg kunne rigtig godt tænke mig at arbejde på et stort byggeri i København. Hvis man for eksempel nævner at Axel Towers, så ved folk godt, hvad man taler om, så at være med på et projekt af den størrelse i København kunne være interessant.

Derudover har jeg en stor interesse for bæredygtighed og kommer forhåbentlig til at arbejde på mange bæredygtige projekter i fremtiden, ligesom jeg nu arbejder på Gråbrødre skole, der er prækvalificeret til en DGNB-certificering. Min interesse for bæredygtighed startede på 4. semester, og jeg har også skrevet speciale om DGNB, så mit mål er helt klart at blive DGNB-konsulent på sigt. Jeg starter allerede på et LCA-kursus (Life Cycle Analysis) her i næste måned, og jeg er med i det udvalg på tegnestuen, der fokuserer på bæredygtighedscertificeringer.
Kan du give et eksempel på en konkret faglig udfordring fra et projekt, du har arbejdet på, og hvordan du løste den?
Så skulle det være transformationen af den eksisterende trappe op til Metrotorvet, som vi skal have udvidet og åbnet op. Her var udfordringen at lave en pæn og funktionel løsning. Vi har tre betonelementer, som skal sættes sammen på en måde, så helheden fremstår flot og naturligt. Det er i praksis ikke helt nemt og vi har haft en del ideer oppe og vende, men jeg synes, vi er kommet godt i mål i et tæt samarbejde på tværs af faggrupperne.
Hvilke computerprogrammer foretrækker du til dit arbejde og hvorfor?
Jeg foretrækker 3D-programmet Revit, i forhold til Autocad, som er 2D, fordi jeg nemmere kan rykke rundt og se tingene ordentligt, når det er i 3D. Man kan også bedre samarbejde flere faggrupper i samme model, hvilket fungerer rigtig godt.
Hvordan holder du dig opdateret og henter inspiration inden for dit fag?
Jeg bruger Linkedin og er medlem af Konstruktørforeningen, som giver mulighed for at komme på rundvisninger, som jeg synes giver god inspiration. Derudover tager jeg kurser for at specialisere mig, som nu mit kommende LCA-kursus.
Har du et godt råd til en kommende eller nyuddannet konstruktør?
Du skal ikke være bange for at spørge dine kolleger og andre i branchen om råd. Jeg har lært rigtig meget af at spørge en erfaren kollega til råds her på tegnestuen, og det har jeg kun fået ros for. Det er langt bedre at spørge en gang for meget, end at lave fejl, som man i værste fald skal bruge lang tid på at udbedre på et senere tidspunkt, og det er en supereffektiv og social måde at få en stejl læringskurve på.

Klik dig videre for at se hele KHR's team eller læser mere om vores services.