The architectural firm from the inside - meet construction architect Frederik Sidal
4 August 2022
Construction architect Frederik Sidal is driven by creating something that benefits others, and has sustainable projects on his wish list. Read his advice to other graduates, and which project he's proud to be a part of right now.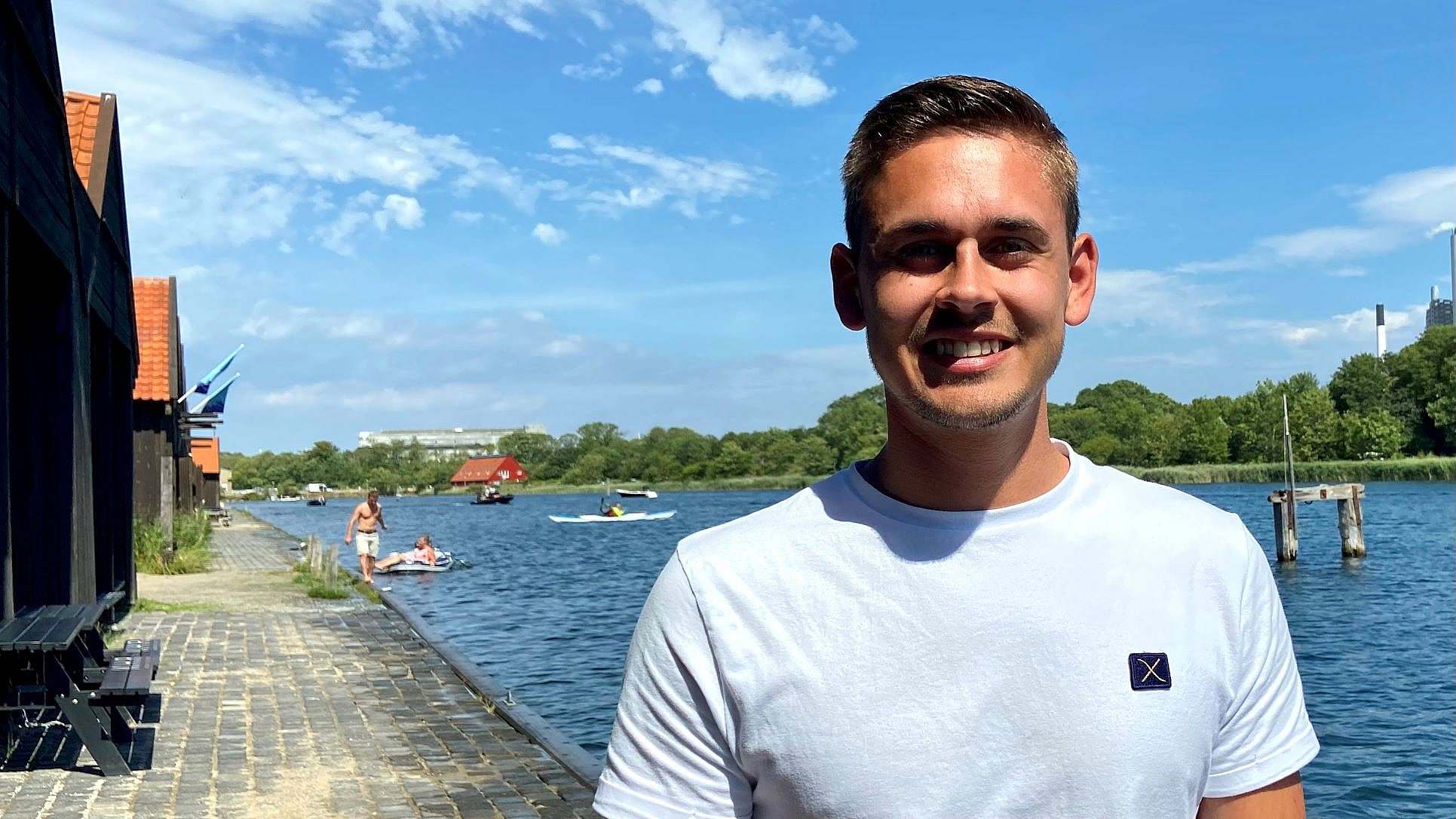 Would you briefly introduce yourself?
My name is Frederik, I'm 23 years old and I studied construction architecture at KEA. I graduated in January this year, after which I started at KHR in my first real job as a constructing architect.
Can you explain in more detail what you do as a newly qualified construction architect?
I am currently designing and working on a housing project in Roskilde and on the Kronen shopping centre in Vanløse.
On a daily basis, I help solve technically challenging problems. I have a close dialogue with my architectural colleagues to ensure the design and with external engineers and structural engineers on dimensions and load capacities that we need to use in our design. You could say that as a structural engineer I am a link between architects and engineers. We typically co-design in Revit or pull models from AutoCad that the engineers have created into our Revit model.
At Grey Friars House my task was to make the Revit model clear, so that there was the appropriate amount of information, and to finalise all the details. At Crown I have worked a lot on two large staircases that have a great impact on the square, which needs a boost.
Why did you choose a career path as constructing architect?
I have always had a great interest in drawing and solving technical problems, and I like to follow a process from start to finish, where you see something being created. I thought the construction industry could be me because you are helping to create something for others.
What motivates you most in your work as an constructing architect?
It motivates me to create something that people can enjoy in some way.
For example, if we do multi-storey housing, it's great that the people who are going to live in it can enjoy the quality and the solutions. In the Kronen project, there is a lot of focus on creating a Metro Square that can become a gathering place for the city. With Vanløse station being a hub, a lot of people can benefit from what I'm doing, and that's a good feeling.
In terms of process, I like - at least now that I'm still young and a new graduate - to work in teams where people have different views and experiences, so you can both learn from them and where I can see that I have something to contribute, such as my good knowledge of Revit.
Last but not least, it is satisfying to deliver high quality drawings, so that contractors, for example, have the best starting point to carry out the project.
Is there a project or sub-project that you are particularly proud to have contributed to?
I find it really exciting to work with Metrotorvet at Vanløse station, where I have worked a lot with two staircases, one new and one existing. The square is meant to be a gathering place for the local area, with everything from food stalls and a music stage to a playground and exercise facilities, and I think it can be really good.
Which project would you like to work on?
I would really like to work on a large construction project in Copenhagen. For example, if you mention Axel Towers, people know what you're talking about, so being on a project of that size in Copenhagen could be interesting.

I also have a keen interest in sustainability and will hopefully be working on many sustainable projects in the future, as well as now working on Gråbrødre School, which is pre-qualified for DGNB certification. My interest in sustainability started in my 4th semester and I also wrote my thesis on DGNB, so my goal is definitely to become a DGNB consultant in the long term. I'm already starting an LCA (Life Cycle Analysis) course here next month, and I'm on the committee at the design office that focuses on sustainability certifications.
Can you give an example of a concrete professional challenge from a project you have worked on and how you solved it?
Then it should be the transformation of the existing staircase up to Metrotorvet, which we need to expand and open up. The challenge here was to create a neat and functional solution. We have three concrete elements that need to be put together in a way that makes the whole look nice and natural. In practice, it's not easy and we've had a lot of ideas come and go, but I think we've achieved a good result in close cooperation across all the professional groups.
Which computer programs do you prefer for your work and why?
I prefer the 3D program Revit to Autocad, which is 2D, because I can move around and see things more easily when it's in 3D. You can also collaborate better between several disciplines in the same model, which works really well.
How do you keep up to date and get inspiration in your field?
I use Linkedin and am a member of Constructors' Associationwhich gives the opportunity to go on tours, which I think give good inspiration. In addition, I take courses to specialise, such as my upcoming LCA course.
Do you have any advice for a future or newly graduated constructing architect?
Don't be afraid to ask your colleagues and others in the industry for advice. I've learned a lot from asking an experienced colleague for advice here at the design office, and I've received nothing but praise for it. It's far better to ask once too often than to make mistakes that, in the worst case, you'll have to spend a long time rectifying at a later date, and it's a super-efficient and social way to have a steep learning curve.

Click through to see the full KHR's team or read more about our services.