The architectural studio from the inside - meet architect and ICT manager Nina Yazgur
13 September 2022
Architect Nina Yazgur has been associated with KHR since 2006, when she was still studying at the School of Architecture. In recent years, she has specialised in ICT management. Read her advice for future developers, what motivates her most in her daily work and which software programme she highly recommends for interdisciplinary collaboration.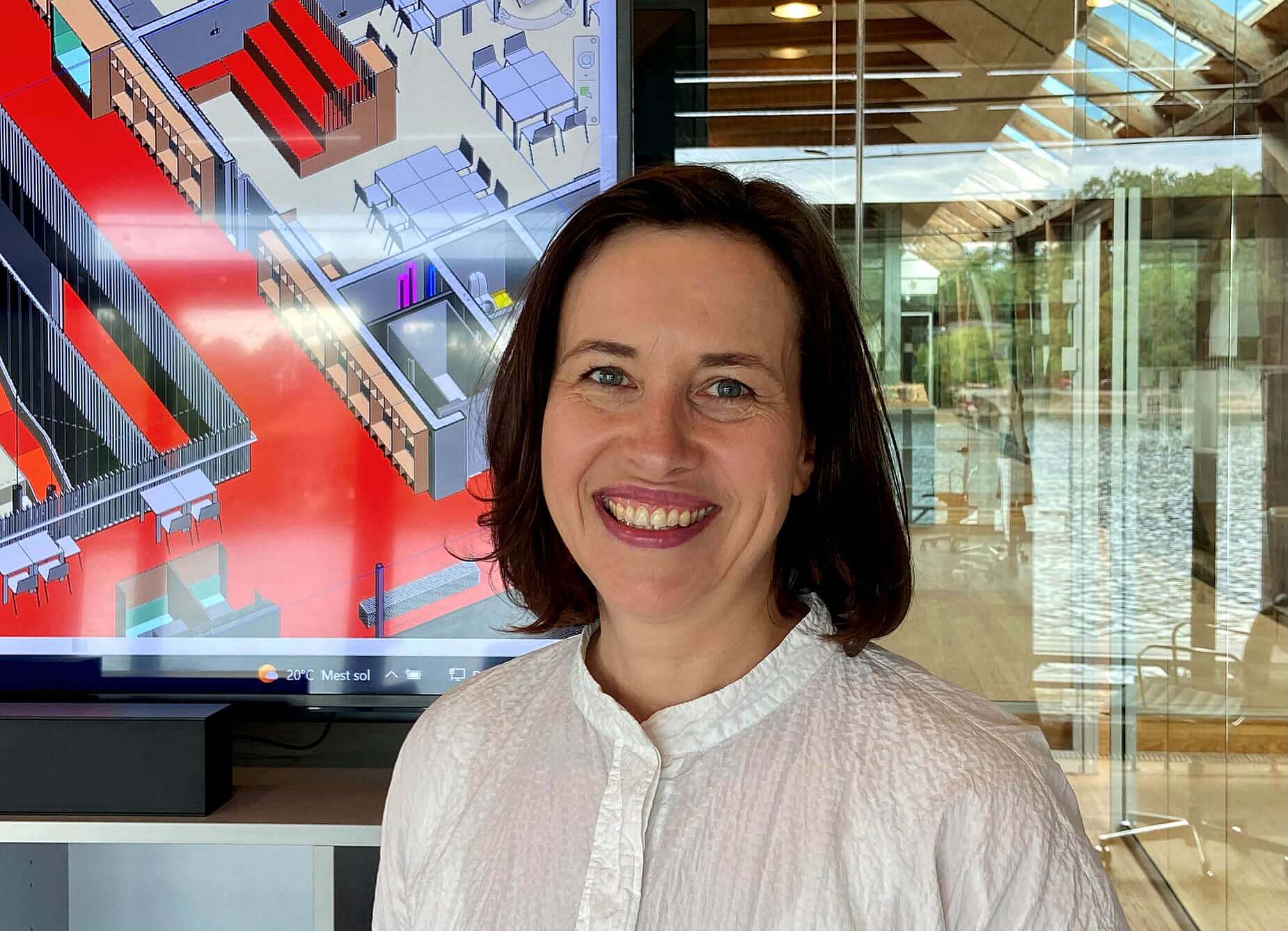 Would you briefly introduce yourself?
My name is Nina and I am an architect. I was born and raised in St. Petersburg, where I graduated as an architect in 1999. Since then I have studied at School of Architecture at the Academy of Fine Arts in Copenhagen, where I graduated in 2012. My profession is a big part of my identity and I love what I do.
Why did you choose a career path as an architect?
As a child, I loved to draw, build and construct. When I was young, I was exposed to artists and architects, which gave me a lot of insight and inspired me to study architecture. A choice I have never regretted.
Why did you specialise in BIM and ICT?
When we designed Sct. Hans New Rehabilitation Psychiatry there was a very strong ICT Leader from Rubow, who ran the project superbly, and it inspired me. I got the support of management to train as an ICT manager at Molio and were given more ICT and BIM responsibility on projects.
Can you explain in more detail what you do as an architect and ICT manager?
As an architect, I work with later phases of the project, where both architectural and construction solutions at detailed level.
In my new role as ICT officer, I make sure that all KHR's projectsr meet the ICT requirements.
What motivates you most in your work as an architect?
The good atmosphere in the project team is extremely important to me. It means everything. It motivates me to come to work every day.
It is also a great pleasure when the project is well connected both architecturally, but also that our BIM models are in order.
Is there a project or sub-project that you are particularly proud to have contributed to?
Nuuk school. The cooperation has been very good, both internally and externally, the result looks really promising (Nuuk school is under construction and expected to be completed in 2024).
Which project would you like to work on?
Since I'm not working on the concept phase, it's not so much which building, but more the team and a good process that is essential for me.
Nuuk school is a really good example, where we as a team have complemented each other super well with our skills. The collaboration with the Icelandic contractor and builder Ístak and the Icelandic engineers from Verkis has also been a real pleasure. They are super professional and have a positive attitude. Of course, challenges arise along the way, but they have always been handled in a constructive, solution-oriented manner. So this is the kind of team and design process I would like to see more of.
Can you give an example of a concrete professional challenge from a project you have worked on and how you solved it?
I am new to the role of ICT manager of the design office and I think it is a classic challenge to take on a new role in the same organisation. ICT is a somewhat authoritarian discipline because each project has its own contractual ICT requirements that must be met. So it's not good to take "cares" from a previous project - even if it worked well. If it is not the product the customer ordered, problems will arise later in the process, and it is of course the ICT manager's job to ensure that everyone complies with the specifications.
Which computer programs do you prefer for your architectural work and why?
We use Revit for design and Enscape for visualisation. It is both a help to ourselves in the design process, but also a super tool for the client and other involved parties who do not have the prerequisites to read our more technical drawings. Through Enscape, they can get a really good impression of the future building and even move around the future building via VR glasses if they wish.
We have very good experience with BIM 360, which is a powerful solution both for working with large complex BIM models and for interdisciplinary coordination.
Not least during covid, when virtually all communication was via Teams, it was a brilliant tool. For example, you can see plumbing drawings in combination with architectural drawings and immediately identify if something needs to be adjusted.
How do you stay up to date and inspired in the field of architecture?
In relation to the architecture, I use different sources, such as The Architects' Association, ArchDaily, This one and Linkedin.
On the ICT professional side, I am happy with the newsletter from Molio and webinars from NTI, which keeps me well updated. I supplement this with courses and reference books when I need to delve deeper into a subject.
Do you have any advice for a future builder?
My advice as an ICT manager is that they should make sure they have a good ICT agreement in place. Unless they have a lot of experience themselves, they should get advice on drawing up the specifications. In my experience, this is a very good investment because it avoids a lot of corrections and mistakes, both in the design and construction phase, while at the same time it can save a lot of resources in the operational phase.
As a developer, you first need to be clear about what the ICT specifications are for, so that the level is set right. A good advisor will be able to help clarify and evaluate the options, and then translate this into concrete specifications.

Click through to see the full KHR's team or read more about our services.