Eight new interns specialising in architecture, construction, sustainability and communication have landed in our old gunboat sheds. They are already putting their study experience to good use in real-world projects, and we look forward to their fresh perspectives on the design and construction of the future.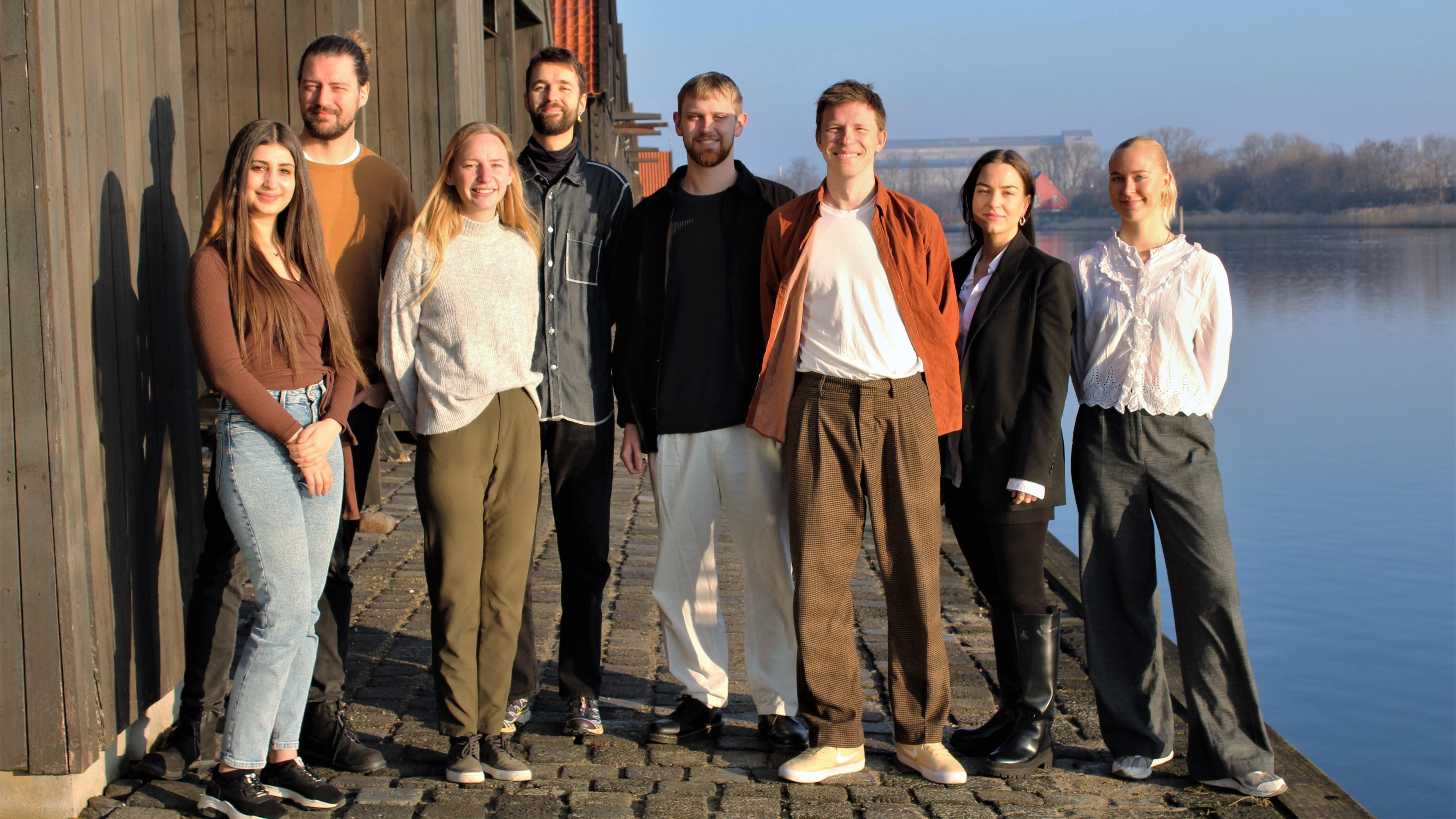 Internships as architects, designers, sustainability specialists and communicators - meet our new interns
This time we have welcomed five talented trainee designers: Sulin, Mads, Mia, Jacob and Casper, who are all studying to become building designers at KEA.
Mads and Sulin are already part of the revitalisation of the Kronen shopping centre in Vanløse, and they will in future be helping with the design of the Kregmehusene housing project in Halsnæs municipality.
Casper is linked to the construction of the youth housing at Østre Gasværk; Grunwalds Have, and Mia works with description structures and building part descriptions. Jacob is working on the revitalization and expansion of Hvidovre's Butikstorv, where he is, among other things, making floor plans for the future apartment buildings.
Marcus is currently studying building design at DTU and is a sustainability intern. He will be part of our sustainability team and will help develop and explore KHR's sustainability strategy.
Our architectural intern, Johanna, is studying architecture at KTH in Stockholm, and she is assisting with the space planning of Orienthuset. Esther is our communication intern, currently studying HA(kom.) at CBS. She will help produce content - like the news you are reading here - as well as strengthen KHR's online presence.
About KHR Architecture
KHR Architecture is one of Denmark's oldest design studios, founded in 1946. We are known for creating welfare architecture such as education, infrastructure and healthcare buildings with people at the centre and respect for the environment. Today, we also create commercial and residential buildings with the same respect for users and ambition to create long-lasting, socially sustainable architecture.
We draw on our heritage and experience, but above all we are a company that looks to the future and, through an in-house innovation and sustainability department, focuses on challenging and developing our business and the projects we create for our clients.
Are you doing an internship this autumn?
As an intern at KHR, you will have the opportunity to try your hand at a wide range of professional challenges and to strengthen your social and professional network - for example over our delicious lunch or in the Friday bar - which, by the way, overlooks Holmen's beautiful canals.
If you are going on an internship this autumn and would like to be part of one of Denmark's oldest architectural houses with a flat organisation that values innovation and the development of architectural practice, we look forward to reading your application:
Building design trainees for autumn 2023
Architecture interns for autumn 2023

Sustainability intern for autumn 2023
Communication interns for autumn 2023
You can read more about KHR as a workplace here since.