A new sustainability intern will support KHR's work to implement sustainability in the work processes and services of the architectural office.
Read about the projects she is involved in, the challenges and opportunities she sees for the construction industry in relation to the new sustainability requirements, and how she keeps herself updated in the field.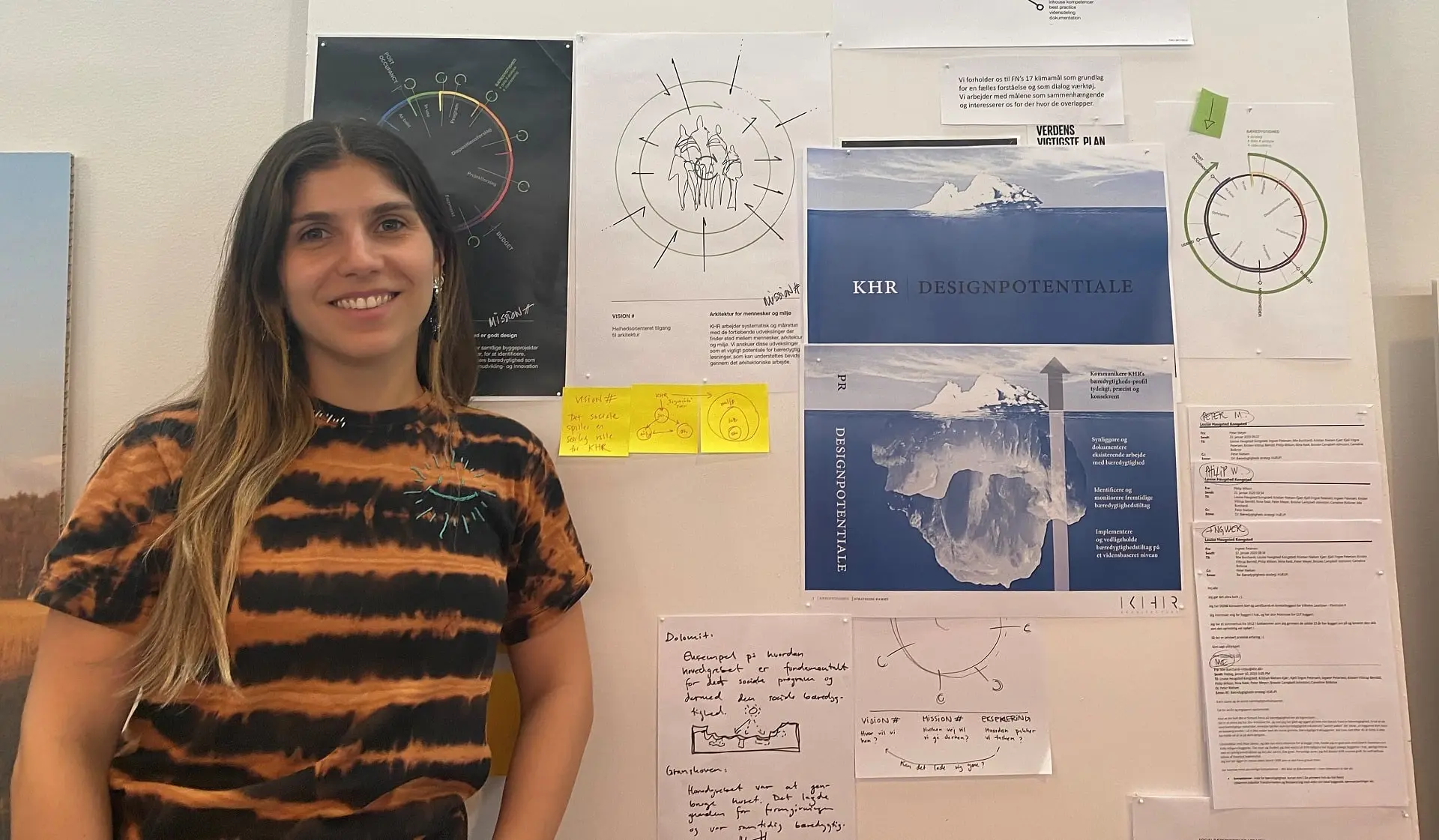 Meet KHR's first sustainability intern
Sustainability intern Valeria Lalinde Vallejo will contribute to the development of KHR's sustainability-related business processes and services. Combining her design background with current sustainability studies, she brings new perspectives and knowledge to KHR's mission to be at the front within socially sustainable architecture.
Would you like to briefly introduce yourself and your professional background?
My name is Valeria Lalinde and I am a designer with a great passion for sustainability. I was born in Colombia, a country with incredible biodiversity and the most resilient and extraordinary people, which has always inspired me to look around, take care of the environment and figure out society.
I did my bachelor's in Industrial Design with a focus on product, interior, and urban design. I worked for a construction + architecture company for 4 years, where I gained experience in the housing and building industry in a multidisciplinary workplace. Some of the projects that I led include implementing sustainable design strategies and circular economy for building materials, Eco-design and Up-cycling developments in collaboration with universities, and a prototype of a futuristic and highly sustainable urban project.
Why did you choose to study a Master's in Sustainability at Aalborg University?
When I started getting involved in sustainability projects at my job, I lacked a lot of knowledge and skills that were essential to do the job. First, I took a course in sustainability and learned about the basics: I learned about the Sustainable Development Goals, planetary boundaries and circular economy, and other relevant topics. However, there was a missing link between my previous studies and sustainability. I believe that design has the potential to take sustainable development further and create a positive impact on different industries and countries. Design can take sustainability to another level, supporting and enhancing it. That's why I decided to study a master's degree in Sustainable Design Engineering at Aalborg University in Copenhagen.
What is your key interest in sustainability?
My key interest in sustainability is the concept of Circular Economy and how it empowers people, industries, and even countries, to change their mindset and see waste as a resource for others. It has managed to unite businesses and governments to work together, create regulations to support change, and work in a systemic way to achieve many of the transformations we need.
What is your role as a sustainability intern at KHR?
As an intern in KHR, I participate in mainly 3 projects, the monitoring and implementation of new sustainability requirements for the building sector, the creation of new services around social sustainability and the development of a sustainable profile and strategy for the company.

KHR has initiated a collaboration with external consultancies to develop a solid sustainable strategy and profile for the company. My role is to facilitate the collaborations and co-create the strategy to achieve the desired outcome. In addition, the building sector is increasing the number of requirements around sustainability, some regarding operation and others regarding the design process. My role is to monitor the new requirements, especially LCA and sustainability certifications, and investigate the tools, guides, and competencies required to achieve the new regulations.
Although, sustainability is a growing need and interest among the building sector and its clients, the social aspect has been left behind by the relevance that the environmental side has obtained. KHR has a special interest and experience in people-centric design and is therefore looking to offer novel and outstanding services within social sustainability. My role covers the analysis of the existing portfolio and conceptualization of several sustainability models to implement these new services.
What do you expect to achieve during your sustainability internship?
I want to understand how sustainability is being understood and assessed at a company, industry, and national level and use design as a useful tool to untangle, strengthen and establish sustainability. I would like to contribute to the sustainable development of KHR as a company and help position it as a referent in the sector. I want to motivate other colleagues to engage in the business transformation and create awareness both professionally and personally.
In a broader perspective, where do you see opportunities for the construction industry to contribute to a sustainable transition?
The building industry is a key player in the sustainable transition, as it accounts for 40% of the global carbon emissions, uses huge amounts of resources and materials, and employs a great number of people around the world. As one of the strongest sectors in the world's economy, it has the power to influence other industries and create transformations that can have a positive, relevant, and global impact. Therefore, I see many opportunities within the industry, related to the use of sustainable materials, low-carbon construction processes, passive buildings, and people-centric design, promoting inclusion, health, and diversity, among other strategies.
In the close future, what do you see as the biggest challenge for the building industry in terms of meeting new demands for projects and buildings with a more sustainable profile?
For me, the biggest challenge is the dimension and complexity of the projects that the building industry deals with. In terms of materiality, a building uses hundreds of different materials and resources that are more difficult to evaluate, certify or replace than at a product level. In addition, the sector collaborates and engages with diverse types of actors, including partners, clients, municipalities, and users, which bring a set of different needs and requirements that must be considered as part of the social practice.
How do you stay up to date and inspired professionally? Do you have a role model or organisations that you think we should look out for?
To keep myself updated I usually check digital magazines like The Guardian, which has a blog on sustainability with interesting and serious articles and news in various fields. To get a quick insight, I follow relevant initiatives, newspapers, organisations or activists sharing simple and relevant information on social media, such as. Greta Thunberg and Future Earth.
At a local scale, I think that Danish Design Center is doing it well because they are using design methods, tools and knowledge to empower businesses to innovate and collaborate across industries and drive green, digital, and social transformations.
What does your future look like? What's next for you and where would you like to be in 5 years?
I envision myself running my own consultancy business, working across companies and sectors to help them implement sustainability, collaborate, and create a big network. I see myself helping people understand sustainability and create awareness of how important it is to make changes both in the industry, as well as in society. In the end, I see myself being a change driver and create the biggest positive impact.
What would you recommend to companies that want to focus more on sustainability but don't know where to start?
First, I would recommend looking around to identify what the competitors, the industry, and partner companies are doing, as well as what the potential clients or users are asking for or expecting. Then, I would look inside the business for key actors, processes, and tools to determine the starting point and create a common understanding and direction. Finally, I would collaborate with experts (consultancies or specialists) to draw a strategy and action plan to follow and start making changes.
Read more about KHR's sustainability services or contact us for a no-obligation conversation about the possibilities.