Trine Christensen didn't plan to become a client advisor when she graduated as a structural engineer and went on to complete her Master's degree in Management and Informatics in Construction. But with an academic understanding of processes, a huge drive to support customers' business cases and the joy of an outgoing and versatile role, the job as a client advisor was made for her.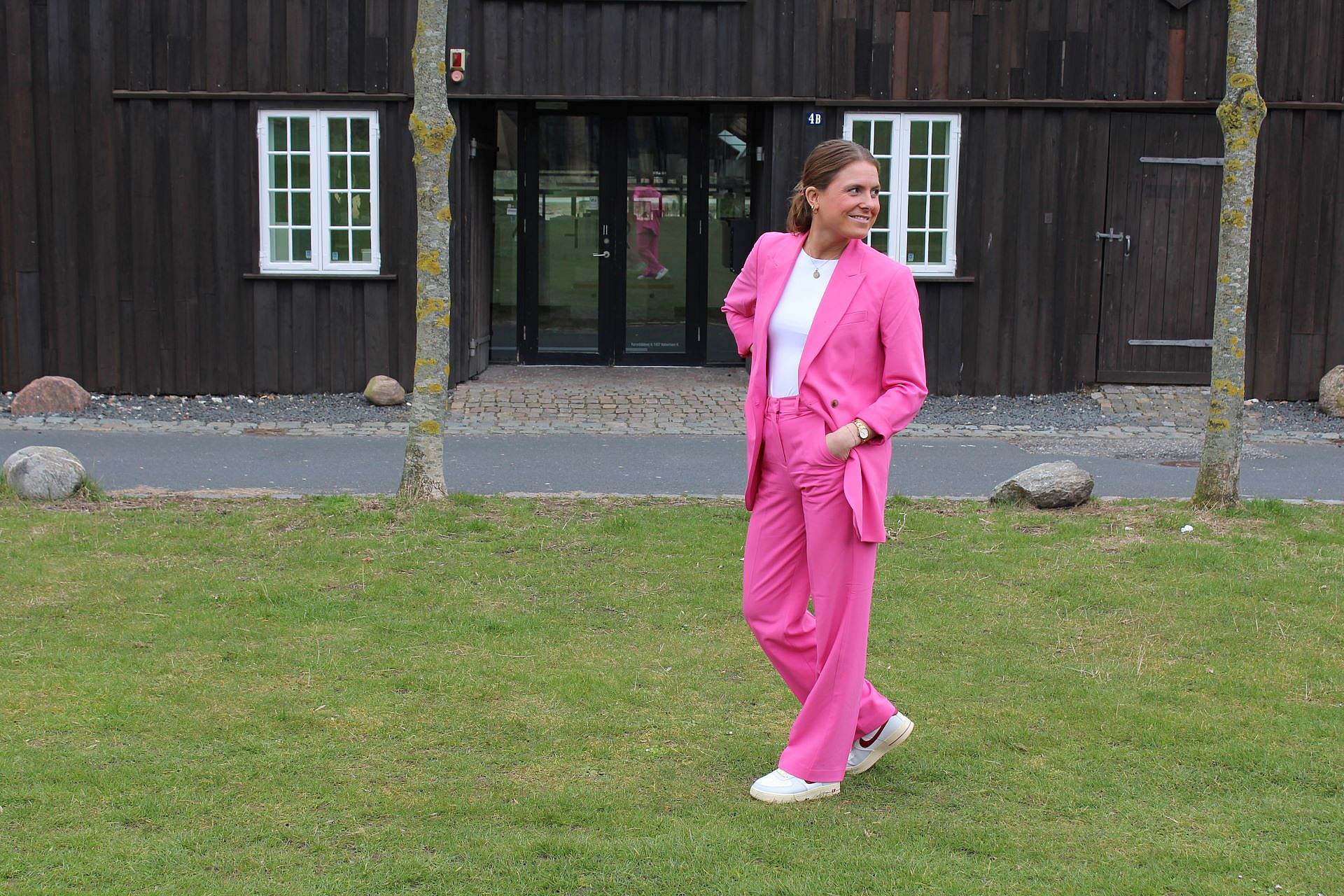 The business case is the driving force for client advisor Trine Christensen
Would you briefly introduce yourself?
My name is Trine, I am 29 years old and I work as a developer advisor here at KHR. I have studied for structural engineer at the Copenhagen Business Academy (KEA) and then studied a master's degree in 'Management and Informatics in Construction' at Aalborg University (AAU) in Sydhavnen.
I spend my free time socialising with my loved ones, working out, running and reading different books - both those that tap into my interests and those with content I know nothing about, in order to broaden my horizons. Every year, I actually have a goal - a New Year's resolution, if you will - to read at least one book a month. In 2023, I've set it to a minimum of 2 books a month. I've done this to reduce my 'screen time' and really just to activate and ventilate my brain through literature.
Why did you choose a career path as a client advisor?
For the longest part of my studies, I didn't really know about the role of a client advisor, so it's a bit of a coincidence that I ended up here.

I started in the role of client advisor when I was studying at Aalborg University. During my thesis programme, the company I wrote my thesis on offered me a position in their client consultancy department, which was my start in the role. After being there for a year, I switched here to KHR, and I have never had any doubts that this was the right path for me.
However, I also believe that you never stop learning. That's why this summer I'm starting an HD Part 2 in Finance alongside my work, as a financial background in combination with my construction knowledge will position me better in relation to the players I represent. I'm really looking forward to getting started with that.

Can you explain in more detail what you do as a client advisor?
In my position as a client advisor at KHR, I advise our clients on the development, construction and purchase of property.
The task is different depending on whether I represent a developerwho need a new build or renovation, or a buyer of a turnkey construction project - what we call a 'Forward Purchase' - often buying the project as a complete building without necessarily having anything to do with the development.
I usually represent buyers, which is my starting point here. When I act as a client advisor for the buyer, I represent the buyer. In this case, the buyer and seller will have made a SPA (sales & purchase agreement), which sets out the contractual and legal requirements - my role is to drive the process from agreement to handover between seller and buyer.
The main focal point is the monthly client meetings where the contractor, client and myself, on behalf of the buyer, discuss the process, progress and any project decisions. The buyer has the opportunity to make additional purchases, and it is my job to look after the buyer's interests in the best possible way. Based on an assessment of project decisions that may result in additional costs, I submit my recommendation. Here I always have three things in mind;
The architectural / aesthetic
Operations
The economy.
If the buyer wants to make an additional purchase that will actually be an additional cost, it is my responsibility to assess whether it is 'nice to have' or 'need to have' - i.e. whether it can increase the quality of the project and thus the value of the buyer's portfolio.
As we approach the handover of the project, the contractor, the client and myself will review the provisional finished building. We identify any defects and deficiencies to ensure that the buyer actually takes over the project in the agreed quality.
Finally, we participate in the handover between the contractor and the client, and subsequently the handover between the client, i.e. the seller, and the buyer. The handover is considered to be the final interaction, what we call 'closing'. After this, however, various things may arise in relation to the project 'post-closing', which we as representatives of the buyer must handle.
What motivates you most in your work as a client advisor?
Business cases. Broadly speaking.
But beyond that, I'm motivated by helping to ensure that the buyer takes over the project as agreed, and that I've been the prime mover for the buyer throughout the process.
Which project would you like to work on?
There are no specific projects that I dream of working on, as for me it's more about the process of completing a project - whether it's student housing, commercial rentals or something else when it's handed over.
However, I am very fascinated by both urban development and foreign projects. I generally watch a lot of documentaries presenting special projects around the world, and a lecture on construction in Dubai that I once attended particularly caught my interest. Dubai builds on a completely different scale and because of their economic foundation in the construction industry, almost any technical solution is possible, which allows for some exciting and complex buildings.
Given my fundamental interest in foreign construction, it is definitely something I would like to do at some point.
How do you keep up to date and find inspiration in the construction industry and your profession?
I do this especially through my work and sparring with colleagues. In addition, I often participate in various presentations and lectures within the industry and am a member of relevant networks. In relation to this, I am in the process of establishing a network for women in the real estate industry, together with two competent women who work as lawyers and asset managers respectively.
The purpose of the network is not to divide the industry by gender, but rather to create a forum where women with the same level of ambition and career-orientated mindset can share knowledge, spar and help each other develop. In my view, development is most effective if it takes place among like-minded people who you can mirror yourself in both professionally and privately. I am therefore very excited to get this forum up and running, and I hope that it can contribute to the industry and its future development to some extent.
Do you have any advice for a future builder?
Developers should always secure a developer advisor early in the process. Value is created through in-depth knowledge of the project, as this provides a better basis for making decisions - big or small.
Having said that, of course, you have to choose your advisor carefully. I recently read where architect and professor Lars Juel Thiis states that 'client counselling has become a very lucrative zone to be in'. In his view, client advisors 'persuade' their clients to hire them early to put themselves in a profitable position. He questions the competences of the advisors and whether they really know what they are saying,
In this way, he emphasises the value of the role of the client advisor and explicitly encourages the individual client to ensure that they really get the service they have asked for. I agree that the role of the client advisor is based on competence, but it is still crucial that they also have this in-depth knowledge of the specific project that I mentioned before. I would therefore continue to recommend early involvement combined with professional competence.
Click through to see the full KHR's team or read more about our services in building consultancy.