The architecture studio from within - project architect and associate partner Morten Nøhr Frandsen
17 February 2023
At KHR, he keeps a leash on a large Greenlandic school project; in his spare time, he unleashes his creativity in his studio. Morten Nøhr Frandsen has been interested in building aesthetics since childhood and chose architecture because it is a creative discipline that has a direct impact on people and society. Find out why Morten always values good dialogue in interdisciplinary collaboration, why he would like to take on projects in the provinces, and who he invites to his studio.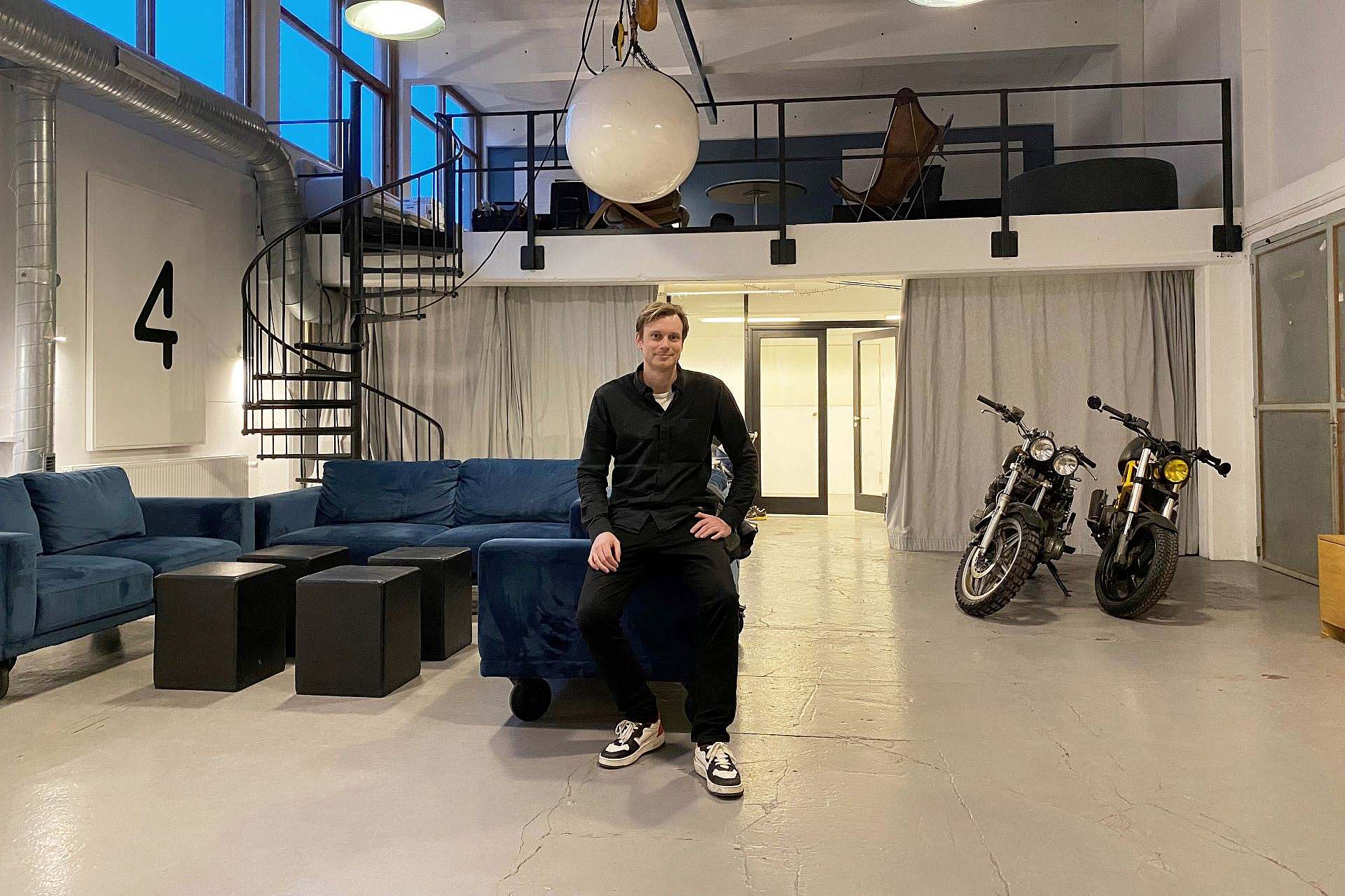 The search for the strongest architectural idea and the most beautiful solution
Would you briefly introduce yourself?
My name is Morten and I have a background as both a structural engineer and an architect. Since 2015 I have been employed at KHR Architecture, where I am now an associate partner and part of the creative management focusing on architecture and design development, architectural identity and quality of projects.
In my spare time I spend a lot of time in my studio, working mainly with wood. Among other things, I make kitchens and furniture on a large and small scale. I also use the studio as a creative space with my three children, who also love to be down there and let off steam. It works really well to have a place where the ceiling is high in every way.
Why did you choose a career path as an architect?
Ever since I was a child, I loved drawing and using my hands, and quite early on I found inspiration in architecture. I considered applying to the Academy of Fine Arts but chose architecture school because as an architect you help create the framework for the lives we live. Unlike art, architecture is tied to its context and place. It shapes people's lives for decades or longer. I think that's exciting - but it also puts a lot of responsibility on us as architects.
Can you explain in more detail what you do as a case architect?
Currently I work as a case architect at a big new schoolwhich is under construction in Nuuk. It's a big project that I've been involved in from the sketching stage and I'm happy to see it through to completion. In the final phase of the project, which we are now working on, I am very much in dialogue with the construction site, which faces daily challenges that we have to solve together. There is not so much drawing work in this phase, but more coordination of all the choices made in the earlier phases of the project. On the other hand, it is really satisfying to see how what you have designed takes shape in the real world. Close dialogue - even now in the final phase - is crucial to a successful outcome.
What motivates you most in your work as an architect?
I love the diversity of our profession - from the first sketch to the finished work. The artistic development work, the constant search for the strongest idea or the development of the most beautiful solution.

In my role as a case architect, I also really like to facilitate and work together in a team, where everyone has their own skills and can therefore create a good project together.
Is there a project or sub-project that you are particularly proud to have contributed to?
Nuuk school will be a really nice project supported by a strong architectural concept, which we have managed to implement in high quality. Of course, there have been challenges along the way due to the harsh Arctic climate and a number of Corona disruptions that, among other things, made it virtually impossible to travel to Greenland for long periods.

The project shows how much good collaboration between architects, engineers and contractors means for the final result. Even though there have been disagreements and challenges along the way - which is unavoidable in such large projects - we have never stopped the dialogue and we have always shared the goal of creating a fantastic and inspiring environment for the children and the local community in Nuuk.
Which project would you like to work on?
In my career I have worked mostly in urban contexts, but I come from the countryside and know how important infrastructure, urban spaces, schools and good cultural institutions are when you are outside the big cities.

I think it's absolutely crucial to create less polarisation and better cohesion between rural and urban areas that we focus more on the province and the spaces that are created here. In small communities, there are not as many alternatives as in cities, so it is more important that urban spaces and buildings create the right framework.
Which computer programs do you prefer for your architectural work and why?
When I worked as a concept/competition architect I drew a lot in AutoCAD, SketchUp, V-Ray and the Adobe package. For the last few years I have mainly drawn by hand on manifolds to quickly explore the best solution with collaborators who can then draw it into the project, for example in Revit.
How do you stay up to date and inspired in the field of architecture?
At the office, we talk a lot about our current and future projects and what's happening in the industry, including internationally. I therefore get my inspiration mainly through my daily dialogue with my colleagues at the design office and when we are on our travels and study trips. When you're deep into a project, it's often the act of detaching from it by going for a walk around town, building Lego with the kids or going to the woods that gives you new perspectives.
The concrete architectural ideas for new projects grow especially when we sit in the team and develop the project together. The approach depends on the specific project, but the context is often crucial. Take Nuuk School, for example, which is located on the edge between the plain and the city. Both are reflected in the architectural idea, where the roof ridges mimic the mountain landscape in the background, and the facade is decorated with colourful animals that on the one hand refer to the local fauna and on the other hand grab hold of the colours found in Nuuk's urban spaces. The use of colour in buildings is also a Greenlandic tradition and thus part of the cultural context.

In this project, we use the input of the context to break down a large school into smaller units that suit the users, create learning and wayfinding via the colourful animals on the facades, and good lighting thanks to the special roof geometry inspired by the surrounding mountains.
Do you have any advice for a future builder?
Make sure you maintain good dialogue and mutual trust. This is crucial to creating good projects on time, trust each other's competences and talk about things even when you disagree. Construction is complex and can only be done at a high level if people are able to work together.
Click to see the whole KHR's team or read more about our services.